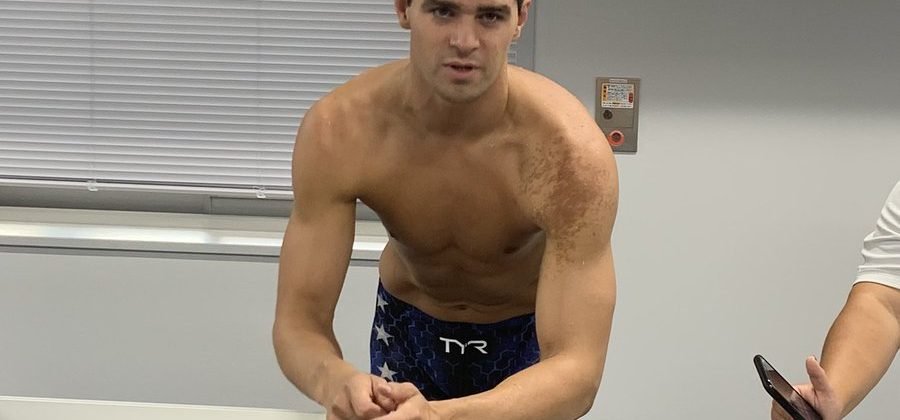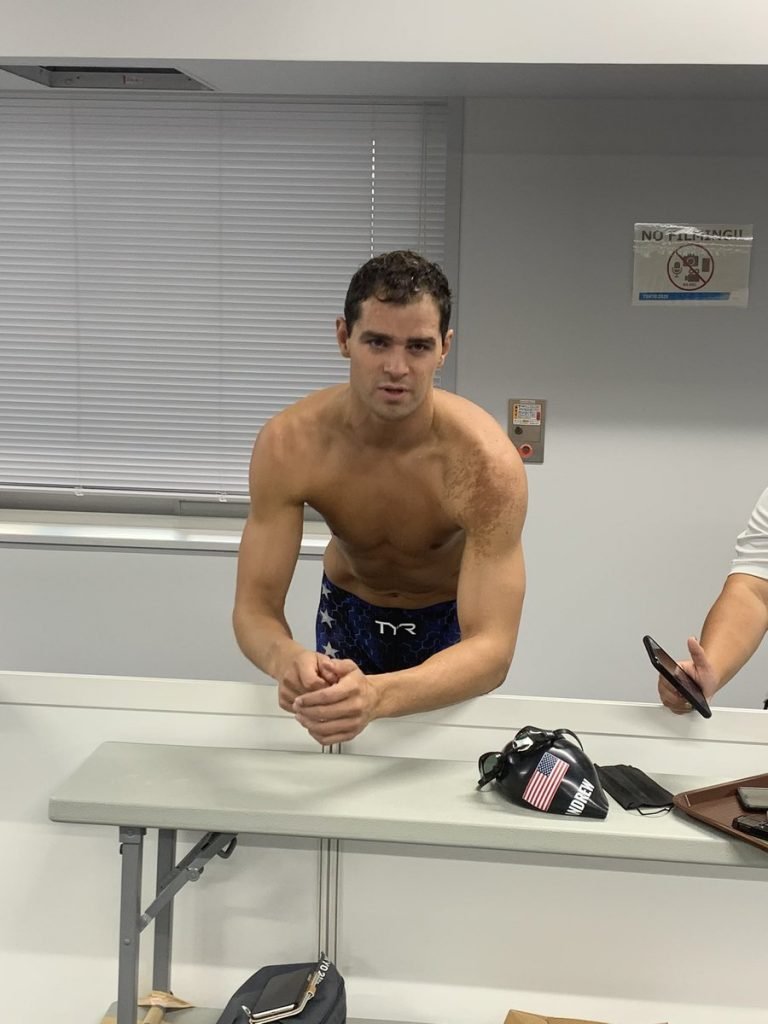 His name is Michael Andrew and he ran out of gas on the last leg of yesterday's final in the 200 meter individual medley. Watch:
Rowdy Gaines said it all: "He's done."
Out of the pool, Michael Andrew is a big story at the Tokyo Olympics. He is the only American swimmer who is not vaccinated against COVID-19 and yesterday he refused to wear a mask in common areas.
Here is David Shenin of The Washington Post:
It was the latest soul-crushing disappointment for the swimmer who has been a flash point at these Games for things other than swimming. The only member of the U.S. Olympic swim team who has acknowledged being unvaccinated, he has answered far more questions about that stance than about the fact he was swimming in three individual events in Tokyo, with the added possibility of a medley relay or two, and was poised, if all went well, to come out of the Games with a hefty haul of medals.
Instead, he has met only heartbreak: a fourth-place finish in the men's 100-meter breaststroke, missing the medal stand by half a second, and now this.
Notably, Andrew went maskless in his session with reporters in the mixed zone immediately after his race, citing his inability to breathe as well with his mask on. Despite that, almost every other athlete during this meet has worn a mask while in the mixed zone, an interaction that almost uniformly occurs immediately following races.
After investigating whether Andrew had committed a violation of Tokyo 2020 covid protocols, the USOPC determined he was within his rights to keep his mask off in the mixed zone.
"Michael has been reminded of the Games policy and established covid protocols," the USOPC said in a statement, "and has acknowledged the importance of following all guidelines intended to keep athletes and the community safe."
Andrew's freestyle split in Friday's 200 IM final — an unsightly 30.69 — may haunt him the rest of his life. Wang, the winner, and Scott, the runner-up, went more than three seconds faster — a stunning amount of time over 50 meters of freestyle.
Read the rest here.
Back in 2013, Andrew enrolled in Liberty University Online Academy, the evangelical university's homeschool wing. A Liberty University website announcing Andrew's enrollment compared him to Michael Phelps. Here is a taste of that press release:
Andrew is thankful for the spiritual upbringing his parents have provided.
"Without the support that they give me, I wouldn't be able to do what I do," he said. "They help with my spiritual walk and we do quiet times together in the morning and evening."
He realizes that achieving his academic and athletic goals simultaneously will be extremely challenging and require a tremendous amount of discipline.
"If you don't have the drive and the Lord on your side, and if you don't work hard at it, it's not going to happen," said Andrew, whose Twitter profile reads, "Without God, we are nothing."
The young teenager is not only ambitious, but spirit driven and zealous to serve the Lord.
"I want to be a shining example for God and to glorify Him in all I do," Andrew said. "Before and after each race, I give all my races to the Lord. I believe He's got amazing goals for me. He's given me these gifts to break records and compete in the Olympics as a platform to spread His Word to as many people as possible around the world."
Andrew's role model as a Christian athlete is New England Patriots quarterback Tim Tebow, who spoke at Liberty's March 8 Convocation.
"I really look up to Tim Tebow, how he's been through so much, and the Lord has been with him and blessed him through everything," Andrew said.
As Andrew faded quickly in the last 50 meters of the 200 IM, he said that he was "praying for some holy spirit power to get me home." Apparently sometimes the Holy Spirit has other plans.
Andrew will race in the 50 freestyle this weekend.
ADDENDUM: 10:15am: One might say that Andrew also got "embarrassed by bad performance":
"