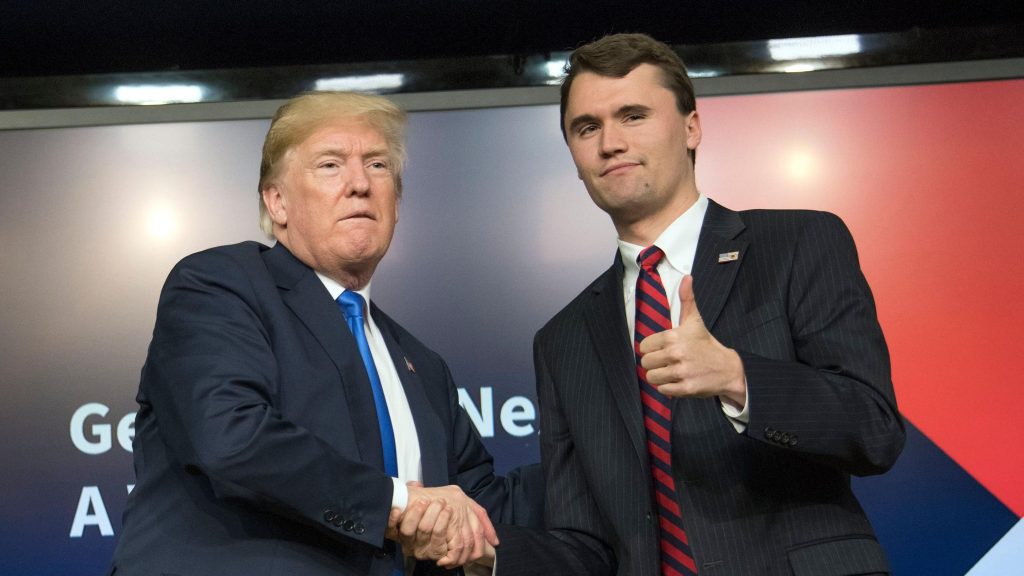 Earlier this week, the conservative evangelical Trump-follower said that Simone Biles is a sociopath. He doubled-down on the comments yesterday:
Today we learn how Kirk is stoking vaccine resistance through his "pro-Trump youth group" Turning Point USA.
Here is Isaac Stanley-Bekcer at The Washington Post:
A young emergency room doctor stood before dozens of students in a Tampa convention center this month and gave them a script for resisting coronavirus vaccines.
"You say, 'I'm 18 years old. I have no health conditions. Based on the five-year mortality data, I have a highly likelihood of dying from flu vs. covid, and I don't get the flu vaccine, so I'm not going to get this one,'" Sean Ochsenbein, a 33-year-old attending physician in Johnson City, Tenn., told students gathered for a summit hosted by the conservative youth group Turning Point USA, according to a recording of the session obtained by The Washington Post. "Drop the mic. You're done. That's it."
That presentation is just one way the group led by Charlie Kirk, 27, has recently sought to rally young people against vaccine mandates.
Text messages announcing Kirk as their author warn that President Biden is "sending goons DOOR-TO-DOOR to make you take a covid-19 vaccine." Facebook ads from Kirk's tax-exempt nonprofit insist the government has "NO RIGHT to force you to inject yourself with an experimental vaccine," and say the best response to outreach about the shots is to, "LOCK YOUR DOORS, KIDS!!"
These statements stand on a slew of falsehoods and mischaracterizations, according to vaccine experts. At least 400 people 18 and under have died of covid-19 in the United States, making the virus more lethal than the flu, said Paul Offit, director of the Vaccine Education Center at Children's Hospital of Philadelphia. The coronavirus also carries the risk of an inflammatory syndrome that can affect the lungs, heart, and kidneys of children and young adults. Federal health authorities recommend the Pfizer-BioNTech vaccine for children as young as 12. "Any reasonable person who looks at the data would conclude the safer choice is to get the vaccine," Offit said.
But the communications by Turning Point USA and its affiliate, Turning Point Action, reflect the increasingly hard line taken by the group, which describes itself as the "largest and fastest-growing youth organization in America" and claims a presence on more than 2,500 college and high school campuses. Its dire warnings about a government-backed inoculation program — now a major theme of its Facebook ads, which have been viewed millions of times — illustrate how the Trump-allied group is capitalizing on the stark polarization around vaccine policy.
Experts say the messages, many of which steer online audiences to donation pages, threaten to undermine vaccine confidence among young people, who have already proved particularly reluctant to roll up their sleeves. And they could incite conflict over vaccine requirements as students return to campuses wrestling with how to safely reopen this fall, with some battling in court to require vaccination.
The input from Turning Point USA is "not so much about the particular topic as having a politically divisive social issue that can rally the troops," said Kevin G. Welner, director of the National Education Policy Center at the University of Colorado at Boulder. "That's unfortunate for any issue, but when we're talking about life and death, it's particularly troubling to me."
Read the rest here.
Evangelical Christians must reject the rhetoric of Kirk and his buddy Eric Metaxas. Yet evangelical pastors continue to invite these speakers to their churches. In the last couple of years, Kirk has preached at the following evangelical churches:
Calvary Chapel in Chino Hills, California
Godspeak Calvary Chapel in Newbury Park, California
Calvary Chapel in Chattanooga, Tennessee
Cross Assembly of God in Raleigh, North Carolina
Rise Church in San Marcos, California
Global Vision Bible Church (with Greg Locke) in Mt. Juliet, Tennessee
Awaken Church at multiple campuses in California
Destiny Christian Church in Rocklin, California
Calvary Chapel in San Juan Capitstrano
Dream City Church in Phoenix, Arizona
The House Church in Snohomish, Washington
Westgate Chapel in Edmonds, Washington
Ignite Church in Williston, Vermont
Legacy Church in Albuquerque, New Mexico
Freedom House Church in Charlotte, North Carolina
Emmanuel Enid Church in Enid, Oklahoma
We need more pastors like Chris Hodges of the Church of the Highlands in Alabama. He apologized to his congregation for liking social media posts by Kirk.
CORRECTION: A previous version of this post implied that Kirk charged churches $20,000 to $50,000 in speaking fees. According to Turning Point USA spokesperson Andrew Klovet, Kirk does not charge speaking fees for churches. The previous version also suggested that Kirk is an "anti-vaxxer." Klovet informs us that Kirk is "anti-vax mandate" (not anti-vax). We sincerely apologize for the mistake.