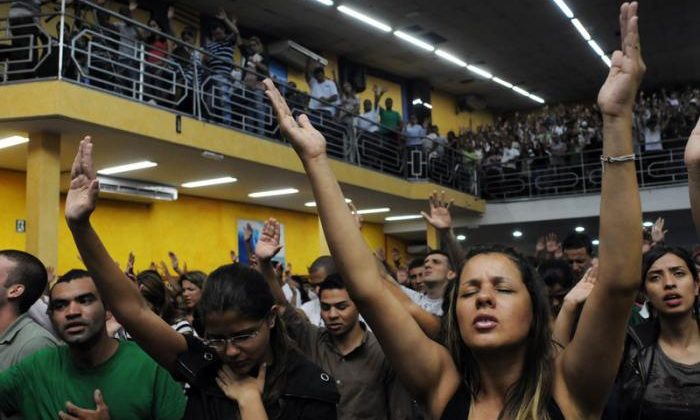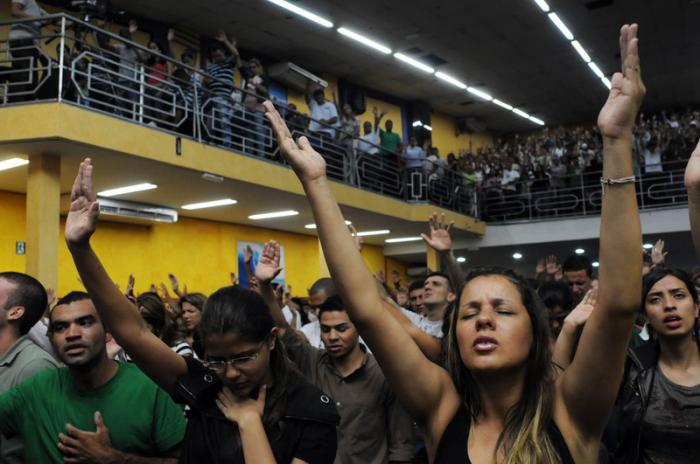 Here is Meaghan Winter at The Atlantic;
Latinos are leaving the Catholic Church and converting to evangelical Protestantism in increased numbers, and evangelical organizations are putting more energy and resources toward reaching potential Latino congregants. Latinos are the fastest-growing group of evangelicals in the country, and Latino Protestants, in particular, have higher levels of religiosity—meaning they tend to go to church, pray, and read the Bible more often than both Anglo Protestants and Latino Catholics, according to Mark Mulder, a sociology professor at Calvin University and a co-author of Latino Protestants in America. At the same time, a major demographic shift is under way. Arellano, who supports Light & Life's Spanish-speaking campus, Luz y Vida, told me, "By 2060, the Hispanic population in the United States is expected to grow from 60 million to over 110 million." None of this is lost on either Latino or Anglo evangelical leadership: They know they need to recruit and train Latino pastors if they're going to achieve what Arellano describes as "our vision to see that the kingdom of God will go forward and reach more people and get into every nook and cranny of society."
The stakes of intensified Latino evangelicalism are manifold, and they depend on what kind of evangelicalism prevails across the country. The term evangelical has become synonymous with a voting bloc of Anglo cultural conservatives, but in general theological terms, evangelicals are Christians who believe in the supremacy of the Bible and that they are compelled to spread its gospel. Some Christians who identify with the theological definition fit the political stereotype, but others don't. That's true among evangelical Latino leaders too—they have very different interpretations of how the teachings of Jesus Christ call them to act. Every pastor I spoke with told me that they want to see more Latino pastors in leadership positions, and they each had a different take on what new Latino leadership could mean for the future of evangelicalism. When we spoke over the phone, Samuel Rodriguez, the president of the National Hispanic Christian Leadership Conference and the pastor of New Season Worship, in Sacramento, California, told me, "We're not extending our hand out, asking, 'Can you help us plant churches?' We're coming to primarily white denominations and going, 'You all need our help.' This is a flipping of the script."
Although Latino congregations are too diverse to characterize in shorthand, one of the few declarative statements that can be made about Latino Protestants is a fact borne out with numbers: They are likelier than Latino Catholics to vote Republican. The expansion of Latino evangelicalism bucks assumptions that Democrats and progressives will soon have a clear advantage as the white church declines and the Hispanic electorate rises. "Some counterintuitive things that have happened [in our national politics] would make more sense if we better understood the faith communities that exist within Latinx Protestantism," Mulder told me over the phone, alluding to the differing perspectives Latinos hold on many issues, including immigration, and how more Latinos voted for former President Donald Trump in 2020 than in 2016. According to the Public Religion Research Institute, Protestant affiliation correlated more with Hispanic approval of Trump's job in office than age or gender.
Read the rest here.
What will historians say when Latino evangelicals start defining themselves using the Bebbington Quadrilateral?
A lot of what I am reading here makes me think about how much I understood my evangelical conversion in the early 1980s as primarily a theological move away from Catholicism.