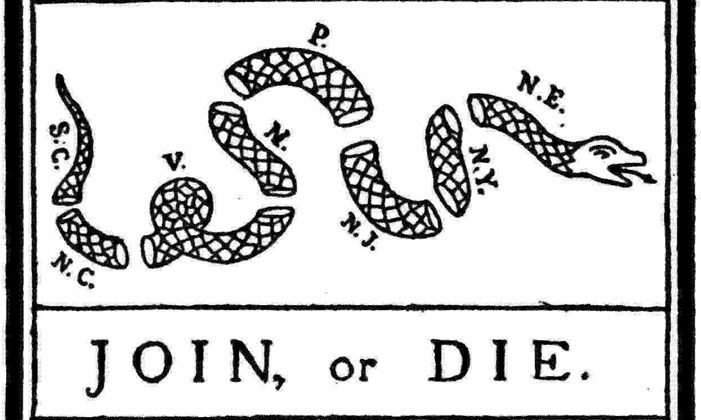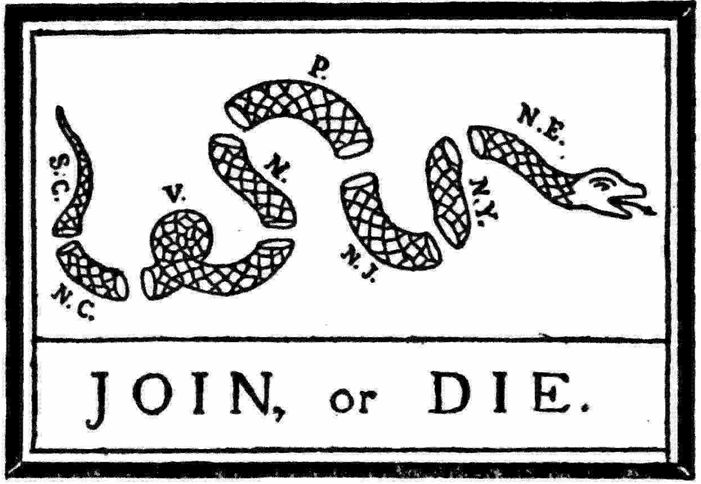 My first or second year at Messiah College, the student history club produced t-shirts with Ben Franklin's famous "Join or Die" snake image (see above) on the front. It was partly an attempt to raise the club's membership. Messiah is a school with pacifist roots, but as the adviser to club I thought it was a creative idea. Join or die!
Every now and then a student will ask me why Franklin chose a snake to illustrate colonial unity in 1754. J.L. Bell of Boston 1775 fame explains at the Age of Revolutions blog. Here is a taste:
For the American Revolutionaries, the rattlesnake held three important qualities. First, it was dangerous, ready to defend itself. Nonetheless, it gave fair warning to anyone coming too close, thus behaving more honorably than people expected of serpents. Finally, like the glass snake that broke into many pieces but supposedly could rejoin, the rattlesnake was an American native. It reflected the continent's special place in the world, according to the best science. In the heady years of the Revolution, Americans could set aside their traditional, Biblical, and agronomical aversion to snakes and adopt them as admirable symbols of the new nation—coming together, treating others fairly, and able to strike with deadly effect.
Read the entire piece here.