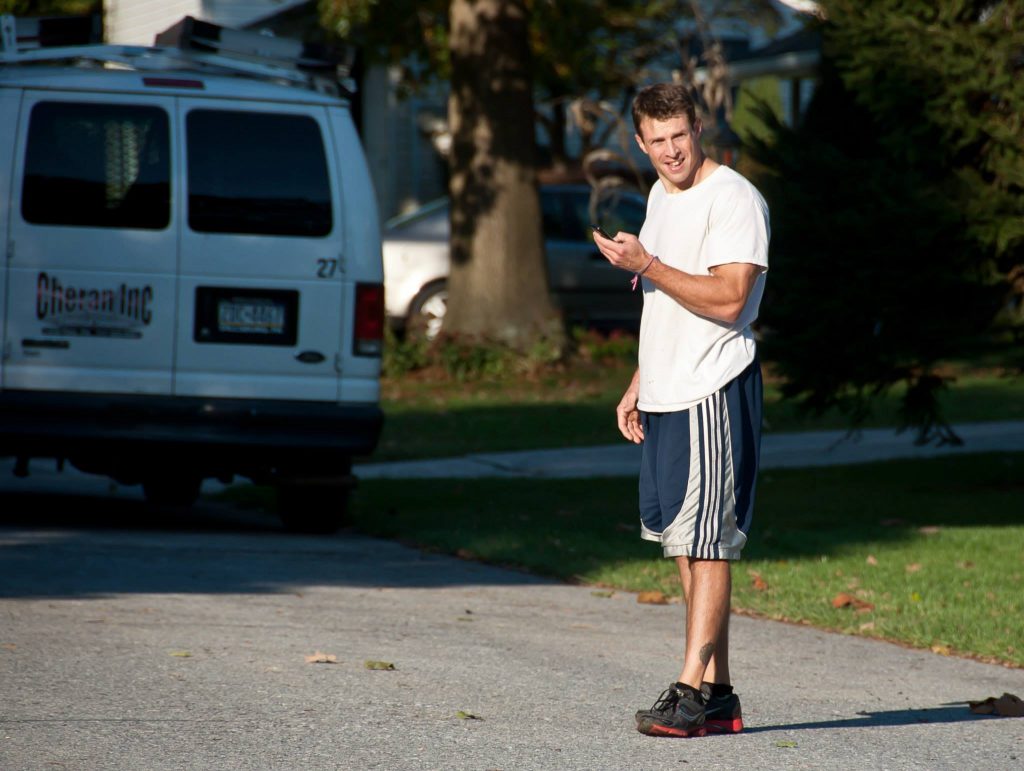 I can't remember when I met Bob Gorinski (I am writing here about Bob Walter Gorinski, not to be confused with his father, the former Minnesota Twins designated hitter). I am guessing it was sometime around 2007 or 2008, but I could be off a few years. Having said that, I will never forget how we "met."
It was one of Messiah College's famous noontime pick-up basketball games. I was on the "shirt" team. Bob, with his bulging muscles, six-pack stomach, and zero-percent body fat was on the "skins" team. He had the ball at the top of the key and decided to drive to the basket. My 6'8″ 240 pound frame (at the time!) was waiting for him in the paint as the last line of defense. Bob came at me like a runaway freight train. ("Runaway" is an apt word. Bob was a good basketball player, but he was usually out of control when making a move to the basket). I didn't budge. His body slammed into mine. The ball fell to the ground. The game stopped. Everyone on the court just stood there–staring. We called our own fouls in noontime basketball. Bob did not call a charge on himself and I did not call a block on myself. I don't remember what happened after that, but I do recall that over the course of the next three days I probably emptied a body of Advil to alleviate the soreness.
This is what I was dealing with:
A few years later, Joy became Bob's physical therapy patient. He told her that he had been reading my blog regularly and was enjoying it. He recalled our days on the basketball court and told Joy that he had been training some folks at his house on Bonny Lane in Mechanicsburg and wondered if I was interested in coming over. I was probably in my mid-forties at the time. I had bad ankles and had gained some weight, but thought that with a personal trainer like Bob I might be able to extend my pick-up basketball career by a few years. When I asked how much money such training would cost me, Bob seemed to dismiss the question. "We'll work something out–don't worry about it."
So there I was–an honorary member of the Bonny Lane Club. A guy who was trying out for American Ninja Warrior was training me and he was charging me well below the going rate for this kind of thing. Though we never discussed it directly, I got the sense that Bob didn't really care about the money. He knew I needed the discipline of a twice-weekly training session and he wanted to talk about history, theology, or whatever else I was writing about in that particular week. I guess it was a good deal for both of us. Soon Bob was training my daughter Allyson, a volleyball player, and my daughter Caroline, a soccer player. Ally just reminded me that the members of the Bonny Lane Club gathered together in front of Bob's TV on November 19, 2016 to watch her win the national championship with her Calvin College teammates.
Anyone who has worked-out with Bob knows that his training methods are unorthodox. During my time at the Bonny Lane Club I jumped on and off picnic tables and boulders, crawled under slack lines, swung at a giant tractor tire with a strange device made out of an axe handle taped to a construction boot, pushed a car down Bonny Lane, and walked a quarter mile through residential neighborhoods carrying dumbbells by my side–Bob called it a "farmer's walk."
We spent a lot of time talking during those workouts. Bob was homeschooling his five kids and he always had questions about American history and appropriate course materials. He couldn't wait to share with me what he had seen on the latest History Channel documentary. He always cranked-up the Springsteen whenever I arrived. We talked about Christian nationalism, historical thinking, the meaning of democracy, Wendell Berry, N.T. Wright, the dark side of ambition and social climbing, our mutual distaste for Donald Trump, the sadness we felt seeing so many evangelicals support Trump, and what the most recent guest on The Way of Improvement Leads Home Podcast had to say (Bob was one of our first patrons). If I was teaching Sunday School at a church or giving a local lecture, Bob either showed-up for the talk or wrote me a note apologizing for having to miss it. It did not take me long to learn that my first impression of Bob was all wrong. He was not some muscle-headed jock. He was a Christian intellectual with a mind that always seemed to be on fire–ever curious and always learning.
Bob died on July 8, 2021 after a battle with cholangiocarcinoma, also known as bile duct cancer. He was 44. He was married to Amy and had five kids. I am losing my breath as I type these words. It is going to take a long time for me to make sense of this. Actually, I doubt I will ever make sense of this.
I went to Bob's memorial service on Saturday. Ally flew-in from Grand Rapids to join me. The church was packed with family, clients, fellow churchgoers, athletes Bob trained, and, of course, the members of the Bonny Lane Club–the young men and women who seemed to look-up to Bob as a second father. When they played Springsteen's "The Rising" during a photo montage of Bob and his family, I wept. Great song choice, Bob!
Matt Hunter, a former Messiah College colleague who now teaches at Southern Wesleyan University, described Bob beautifully in this testimonial at the memorial service:
People will remember Bob for his skills as an athletic trainer, his care and compassion for his patients, his love for his family, his humility and kindness, and the community he created at Bonny Lane. I will remember him for all of these things too. But I will also remember him as someone who worshipped God with his mind.
I write about the Christian intellectual life here at The Way of Improvement Leads Home and I sometimes worry that my readers come away with the impression that being an "intellectual" means that you need to have a Ph.D, work as a professor, or devote yourself to the full-time reading of books. But this is not true. Intellectual discipleship is required of all Christians. In Matthew 22, Jesus called us to "love the Lord your God with all your heart and with all your soul and with all your mind…and love your neighbor as yourself." Bob understood this. My prayer is that all of my students, whatever fields they pursue, have Bob's passion for learning and ideas. I have rarely seen someone fuse Christian thinking and neighbor-love like quite like him.
As I prepared this post, I read through all the entries in Bob's Bonny Lane Club blog. I also looked at a few posts at Bob's older blog, "So Whattya Think, Robert?."
Bob was interested in just about everything that helped him understand what it meant to be human. He wrote about St. Stanislaus, the patron saint of his ancestral Poland. He reflected on what it meant to be a good steward of the earth. He was ever aware of the brokenness of this life and the glorious restoration soon to take place in the next. He loved the rituals of his Catholic upbringing in Western Pennsylvania. He struggled with the idea, popular among many conservative evangelcials, that the Bible should be used as a science or history book. He hated the anti-intellectualism of the church, its tribalism, its failure to appreciate mystery, and its captivity to the almighty dollar. He began posts about Halloween with quotes from C.S. Lewis.
In 2018, Bob urged physical therapists in training to "take your Liberal Arts seriously." If not, he added, "you will earn a degree and box full of awards while knowing very little. You may end up making donations to the Creation Museum in Kentucky because you're excited to make a difference in the world and have been persuaded it's a Christianly thing to do….Well roundedness will bring you appreciation for the knowledge of others, curiosity, and a creative edge to your work."
In the same year, Bob started a blog post this way: "When business minded people quote or refer their students to Dale Carnegie, I barf inside my mouth a little bit…. Even the idea of 'How to win friends and influence people' has always struck me the wrong way. How to pretend to be nice and manipulate? No thanks." He then moved into a discussion of vocation.
If success means making a decent living while doing something you love and having a reasonable amount of time with your wife and five children…then okay, we can talk….If I amassed a fortune doing something else and had traveled the world a little, paid off the house and student loan, then had time to do what I wanted, I would work with–as in actual do the work of–rehabbing and training athletes of all abilities and ages at Full Reps Training Center and in and around the back yard at Bonny Lane. I had a dream that I would intentionally drive an older care, still be thankful to eat peanut butter and jelly sandwiches, still be looking at the back yard with a creative eye to make seriously fun and effective training equipment and challenges. I hope that I would have the courage to give much of that fortune away. One thing I would certainly NOT be doing is sitting on my rear creating sales funnels, on-line platforms and other techniques that would allow me to be off in Punta Cana while computers or someone else does all of the work [and[ receives the real gains for me.
This was a rant inspired by Wendell Berry. He ended by quoting The Art of the Commonplace: "I believe that the community–in the fullest sense: a place and all its creatures–is the smallest unit of health and that to speak of the health of an isolated individual is a contradiction in terms."
And then there were the quick Facebook messages he regularly sent to me:
December 10, 2013: Bob read a review of Marilynne Robinson's book The Death of Adam: Essays on Modern Thought. He wrote: "This piqued my interest. Almost ordered it at one point. Any thoughts or knowledge of the author?" A few weeks later I was sitting at a diner with Bob, Matt Hunter, a local pastor, and a friend from Bob's church drinking milkshakes and discussing the book. I couldn't make it to any more meetings of this book group. Now I regret it.
July 1, 2014: "John! Miss you buddy. I know you have a pretty tight schedule w/ projects and stuff for the summer, but just wanted to let you know that we'd like to have you at book/milkshake club if you can swing it. Still every third Sunday of the month and our next book will start this month…pretty short but definitely looks like something that makes you think and challenge the status quo; The Secret Thoughts of an Unlikely Convert: An English Professor's Journey into Christian Faith by Rosaria Champagne Butterfield.
August 13, 2014: "Hey John a quick question: Last night I saw your post RE Wendell Berry quotes. Have you read any of his stuff or anything by him that you would recommend? Thanks and hope your project is coming along well." (I recommended he start with Jayber Crow and Hannah Coulter).
January 29, 2016: "In part, from reading you I have been trying to pay attention and understand how the culture wars are seriously one of the worst things for the country. But it seems to be getting so much worse. I'd like to help make it better…there's your next blog or podcast conversation – suggested ways for normal people, maybe in some small way, "steer this country down the right course." If you don't have time to attend to this – I truly don' take it personal. There doesn't seem to be a lot of trustworthy sources that "know their stuff" but without an agenda. Much unlike clergy people, historians are increasingly striking me as people who know what's in their 'wheel house"' and what's not, being clear to say what's more their opinion or beyond the scope of their profession."
July 6, 2017: "In my small experience, many Christians still fail to understand why getting Jesus enmeshed with the state is bad for God, bad for us."
December 1, 2018: "Have you been to a Philadelphia 76ers game lately? A few friends and I went last night. The game was fun. But whoa…the whole theme down there is an odd amalgamation of the founding fathers, Rocky Balboa related boxing, and basketball. You tend to forget that the visiting team is also still American haha. Ben Franklin is holding a Carona beer mug on the basket goal posts. The Liberty Bell has a crack in it, but they're ringing it as the cheerleaders take the floor and do a semi-indecent dance routine. Crazy."
April 8, 2019: "Hey John is it okay to say something like 'John is the first most well published and second strongest historian at Bonny Lane.'?"
February 20, 2020: "Hi John. Hope you are doing well. Just wanted to say that I am with you and really enjoy your perspective and information [in your latest] essay. Just a word of encouragement to keep up the fight. I try to be really careful to stay out of political stuff… but I wanted to tell you that." (Bob had cancer at this point and he was writing words of encouragement to me!)
As Bob struggled with cancer, his thoughts became deeper and more penetrating. He wrote about doubt and how he had learned not to judge the "unquestioning types" because, as he put it, underneath their "unwavering confidence and certainty lies fear, insecurity, or a simple lack of maturity to look directly at some cold hard facts."
He spoke honestly about his faith, his failures of faith, and the noisy gongs and clanging cymbals that often passed for real faith:
Sometimes all the repetitive singing, reciting, even the preaching, self-convincing hashing and rehashing, makes me numb. The sanitary churchy words upon words upon words upon words begin to mulch and garble resembling the (in truth) delicious food that now so often tastes like cardboard to my chemotherapy affected senses.
"Away with your noisy hymns of praise.
I will not listen to the music of your harps.
Instead, I want to see a mighty flood of justice, an endless river of righteous living."
Amos 23-24
But despite the dark moments, Bob always turned toward hope: "Suddenly your eyes are open to the wonder and beauty literally everywhere! You hear the music again."
Bob also thought a lot about the meaning of his illness. "Is it odd that I truly have no bitterness? No anger? No major regrets," he wrote in April 2021. He added this: "Where would I even direct anger and bitterness? Not-god, the formless void. The ever expanding entropy is not exactly looking for feedback, including anything near the notion of fairness. To expect anything at all is logically inconsistent…."
On June 18, 2021, I got my last Facebook message from Bob:
John, I really think it would be great and fruitful for all parties if you could be on Peter Enns (Eastern U) podcast. Or maybe the other way around? His guests and yours already have some degree of overlap. Some of the topics and discussions that come up on his podcast are right in YOUR wheelhouse, and maybe they walk away with partial answers or just not knowing. Just a thought.
Here was a guy fighting for his life and he was still trying to bring people together for a conversation about ideas.
About a week later, Bob posted the video of a recent collaboration between The Killers and Bruce Springsteen. It was a new version of the The Killers' song "Dustland." He wrote a simple response in the comments section of his post: "Sound of hope." When I saw the post I knew Bob was referring to this line:
And the decades disappear like singing ships, but we presevere
God gives us hope, be we still fear what we don't know
The mind is poison
Bob persevered. God gave him hope. Now there are no more fears. His questions have been answered. The mind of Bob Gorinski is redeemed.
I will miss you brother.