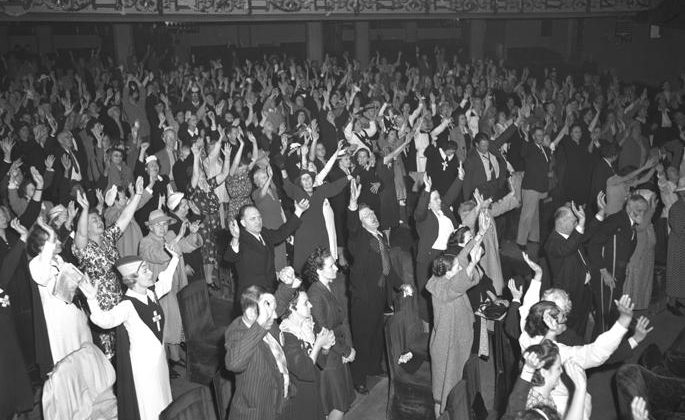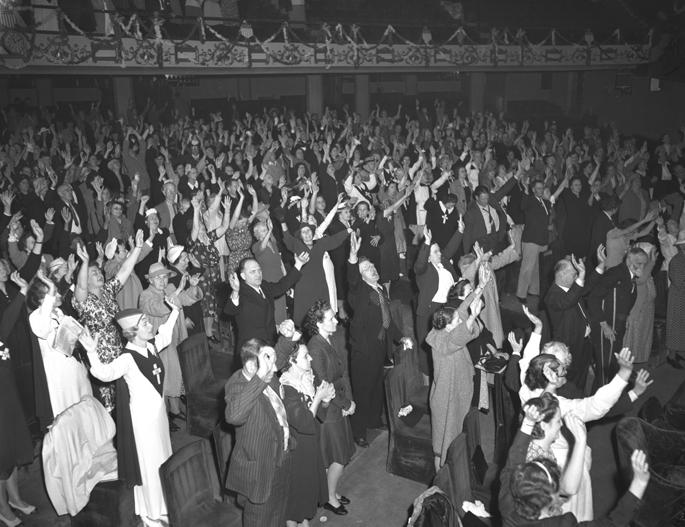 I first read historian Paul E. Johnson's 1978 book A Shopkeeper's Millennium: Society and Revivals in Rochester, New York, 1815-1837 in 1989 while I was studying church history at Trinity Evangelical Divinity School. Johnson argued that evangelical religion in Rochester, New York functioned predominantly as a tool of social control. Businessmen used the revival to strengthen their own work ethic, enforce discipline on their workers, and build the middle class of this burgeoning industrial city.
Like any good student trying to process a book on my comprehensive exams list, I looked-up a few academic reviews. Historian Richard L. Bushman–at the time he was teaching at the University of Delaware–reviewed A Shopkeeper's Millennium at The Journal of American History. Here is a taste of that review:
Johnson explicitly repudiates the idea that "entrepreneurs consciously fabricated a religion that suited their economic and social needs," but he does say that the employers' conversions resulted subconsciously from such needs. The book is reductionist. It attributes both the causes and effects of the revival to the need of one social class to dominate another for economic gain. Everything else follows from that single fact.
The argument should not be faulted for interweaving economic and religious phenomena. For the religious, faith and salvation encompass all realms of experience, particularly moral relationships, as Johnson points out in the beginning. The question is whether the independence of workmen who lived apart from their masters so worried and absorbed employers that only a religious conversion could quiet their troubled spirits.
All of Johnson's powers as an historian, his subtlety, his unusually graceful writing, his forceful use of evidence, are not enough to quiet the doubts of readers not already persuaded that class conflict controls human experience….It will take time to understand what should be learned from Johnson's excellent book, but the volume's main thesis, that revivals were above all the outgrowth of class tensions, remains at this point conjectural.
Bushman's review had a profound influence on my intellectual growth. He was not ignoring the role of class conflict in American history, but he was suggesting that evangelical revivals might actually have something to do with religion. What a revolutionary idea! Religious belief and practice should be taken seriously on its own terms, not as a guise for something else.
A few years later, as I pursued my Ph.D in American history, I was reading a lot of work on the links between the First Great Awakening and the American Revolution and noticed a similar phenomenon. Following Alan Heimert's lead in his 1966 book Religion and the American Mind, historians such as William McLoughlin, Harry Stout, Gary Nash, Rhys Isaac, and Patricia Bonomi were arguing that the evangelical revivals of the 1740s had something to do with the coming of the American Revolution. Once again, it seemed to me that these historians were interpreting an evangelical revival as something other than a predominantly spiritual or religious event. In other words, the First Great Awakening was important not for how ordinary eighteenth-century men and women experienced it, but for how it contributed to what happened in 1776.
The Yale historian Jon Butler threw cold water on Heimert and his disciples in his famous 1981 Journal of American History essay, "Enthusiasm Described and Decried: The Great Awakening as Interpretive Fiction." Butler suggested that the Great Awakening had little to do with the American Revolution. In fact, he argued, the "Great Awakening" never really happened. According to Butler, the religious event that supposedly helped to trigger the colonial rebellion against England was a construction of 19th-century historians. Princeton historian John Murrin followed Butler with a Reviews in American History essay titled "No Awakening, No Revolution? More Counterfactual Speculations." He concluded, "Without the Great Awakening and its successors, there would have been a revolution in 1775, but in all probability, no Civil War in 1861." (You will have to read the essay to see how Murrin makes his case about the Civil War).
After Butler and Murrin, a few historians continued to make direct connections between the Great Awakening and the Revolution. See, for example, Isaac's The Transformation of Virginia and Bonomi's Under the Cope of Heaven. (Both authors first advanced their arguments in the 1970s.) Other historians, ever-aware of Butler's critique, made what I would describe as "soft" connections between the evangelicalism of the revivals and the Revolution. For example, George Marsden writes in his 2003 Bancroft Prize-winning biography of Jonathan Edwards: "[Edwards] was in many respects a thoroughly eighteenth-century man–an eighteenth-century traditionalist. In American political and social terms, he was a pre-Revolutionary." In his 2001 book America's God, Mark Noll is cautious about making the connections between revival and revolution, but still suggests that the spirit of George Whitefield was a "frank expression of popular democracy and the sharpest attack yet on inherited privilege in colonial America" that "probably had much to do with the rise of a similar spirit in politics later on." Similar arguments have been made by historian Gordon Wood and Charles Royster. Thomas Kidd's biography of Whitefield is titled America's Spiritual Founding Father.
Whether it was Heimert, McLoughlin, Stout, Nash, Issac and Bonomi in the 60s, 70s, and 80s, or Marsden, Noll, and Kidd in 21st century (or a host or more popular writers and preachers in the last decade), efforts to connect the Great Awakening to the American Revolution have the potential of diminishing our understanding of this revival for what it was–a movement of spiritual renewal. (To be fair, Noll, Marsden, and Kidd did treat the revivals as a spiritual movement. There books were much more nuanced than those who wrote in the wake of Heimert's Religion and the American Mind. Yet, when writing about the First Great Awakening, a Heimert-inspired Whiggishness still tempted them.) For three interpretations of the first Great Awakening from historians who are not tempted by the Heimert thesis see Doug Winiarski's Darkness Falls on the Land of Light: Experiencing Religious Awakenings in Eighteenth-Century New England, Peter Choi's George Whitefield: Evangelist for God and Empire, and Kate Carte's Religion and the American Revolution: An Imperial History. Carte is my guest on Episode 87 of The Way of Improvement Leads Home Podcast. It drops tonight.
Paul Johnson reduced the early 19th-century evangelical revivals to a form of social control. The disciples of Heimert–some more blatantly than others– reduced the First Great Awakening to a precursor of America's birth.
This brings me to the present. I wonder if something similar is going on with recent books on American evangelicalism. Yesterday I wrote about evangelical Christianity as a spiritual movement–a religious experience that changed the trajectory of my life and the lives of others. Evangelical Christianity provides resources that draw me closer to God in both mind and spirit. It provides resources that help me more effectively love my neighbor and work for justice in the world. Even in the wake of Trumpism, and the ongoing power of the Christian Right in politics, it still seems that this is the way most American evangelicals think about their religious identities.

Most (but not all) evangelicals I know do not go to church with the primary purpose of mobilizing politically or advancing oppressive policies toward women and people of color. We still need to know a lot more about the lived religion of ordinary evangelicals. What do they hear from the pulpit every Sunday? We know they go to church, but why do they make attendance at church an important part of their lives? I am reminded here of Harry Stout's book The New England Soul. When Stout read the personal diaries and ordinary sermons (as opposed to published sermons on special occasions) of early American Puritans, he came away with a completely different understanding of this religious movement.
In recent years I have had many political and social differences with my fellow evangelicals–even people in my own congregation. Some of those differences have led me to speak out about what I believe to be their misplaced priorities. But in the end most evangelicals I know are still going about the work of bridging the gap between the reality of their sin-stained everyday lives and the life of discipleship that God called them to at the time of their conversion. That's why they find evangelicalism so appealing. I think future historians will notice this.
Kristin Kobes Du Mez is right about the problem of patriarchy in evangelicalism. Anthea Butler is right about the long history of racism in American evangelicalism. Samuel Perry and Andrew Whitehead are right about Christian nationalism. I still think I am right about the way evangelicals have succumbed to fear, power, and nostalgia in the political realm. But I also wonder if we historians should all be a little more cautious about taking a manifestation of Protestant Christianity that has brought hope, salvation, and purpose to millions of people (and still does) and reduce it to something else.
Just a few thoughts for your Saturday morning! 🙂