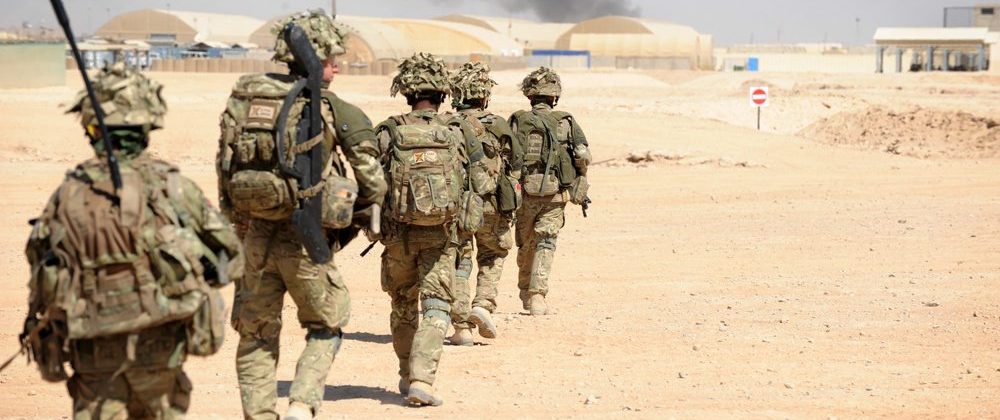 The trail in and out seems all too familiar
"This conflict was begun on the timing and terms of others," George W. Bush told the nation on September 14, 2001. "It will end in a way, and at an hour, of our choosing." If President Biden can make good on his choice, America's twenty-year conflict in Afghanistan will end by September 11.
Whether that will truly be the end remains beyond the grasp of his or anyone else's choice. History does not bend to men's wills so easily.
Every war is unique; all wars are similar. Our wars in Vietnam and Afghanistan bear more resemblance than most. Each lasted decades, led by multiple presidents of both parties. Each involved a nation that was no threat to the security of the United States, but that was connected to an ideological movement that was a threat (communism and jihadism). Each involved the U.S. in unpopular nation-building. Each brought much sorrow—and much hope—to people on the ground. Each saw the American people lose interest years before they ended. Each was extremely difficult to end. Each put our friends and collaborators on the ground at great risk when we withdrew. Each left a host of difficult questions in its wake about what we were trying to accomplish, why we failed, and whether it was worth it.
The U.S.'s quarter-century conflict in Vietnam (1950-1975) cost 58,000 American lives, three million Vietnamese lives, seven million tons of bombs dropped on the region, more than $686 billion (current dollars) for just the last half of it, the rending of America's civil fabric, and ongoing impacts that echo down the decades to the present.
For all that, it might as well have never happened. Today the American and Vietnamese navies conduct joint maneuvers. Had we simply skipped the war, we would have the same relations with communist Vietnam that we have now. History is full of surprises, sometimes called ironies.
The U.S. hasn't "lost" the war in Afghanistan in any military sense. But it has lost its belief that the effort is worthwhile, and that has led to it losing the will to persist. That's as much a way of losing a war as any.
Should we have seen that coming? Perhaps. A powerful nation losing its will to fight is a common enough feature in the history of military conflicts, one to which neither the U.S. nor Afghanistan is a stranger. It's how small powers beat great powers. We could have asked the Soviets, who waged a decade-long war in Afghanistan in the 1980s. Just as we could have asked the French about their experience in Vietnam. Or we could have read our Bibles: "I saw under the sun that the race is not to the swift, nor the battle to the strong, but time and chance happeneth to them all."
But, for understandable reasons, we did not. The end of the Cold War in 1989 stoked an unassailable confidence that "all of the really big questions had been settled" by the triumph of western-style capitalism and democracy. Our hundred-hour victory in the Gulf War of 1991 put the world on notice that the U.S. would henceforth be freedom's enforcer.
We spent the 1990s admiring our technology, our "full-spectrum dominance" of the battlespace, and our ability to fly a two-billion-dollar stealth bomber nonstop, round trip, from Missouri to Kosovo to drop bombs on a place even America's political leaders were barely familiar with. At the opening of the twenty-first century the Pentagon was the largest employer in the world. There had never been a military power comparable to the U.S. on planet earth. And in 2001, our GDP—a good statistic for gauging a nation's war-making power—was four million times greater than Afghanistan's.
One almost begins to sympathize with Secretary of Defense Donald Rumsfeld's concern after 9/11 that if the U.S. was going to get the terrorists' attention, it would need a more formidable target than the Taliban. It was inconceivable that America would do anything but win such a war handily.
It is likewise hard now, after everything that's occurred, to recall the indisputable sense of rightness we felt as we embarked on war that fall. With their public executions, barbaric treatment of women, and destruction of ancient Buddhist monuments, there was no entity more universally loathed than the Taliban—unless, after 9/11, it was al-Qaeda. Talk of "evil"—which had so recently seemed archaic and absolutist—suddenly came easily again. For the first time since 1945 America had a war it felt good about. American flags sprouted everywhere.
A young African American state senator from Illinois even antagonized an anti-war crowd in 2002 when he said he "would willingly take up arms" himself in the cause of fighting terrorism. Later, Afghanistan would be the "good war"—as contrasted with Iraq—that President Barack Obama made the centerpiece of his foreign policy in 2009. Where George W. Bush had botched it, he would finish the job through the application of a smart and adequately resourced strategy. The war on terror would be won after all.
But it wasn't won. The tragedy of America's adventure in Afghanistan goes much deeper than just another military failure, another check in the "lost" column. America really was trying to do good in Afghanistan. You may not agree, but I believe George W. Bush, Barack Obama, and Hillary Clinton at some level did want to make life better for the Afghan people, however they understood "better."
I know Victoria Stattel, a veteran of the war, wanted to. After returning home, she wrote an essay, "The Nights in Kabul Are Beautiful," in which she confessed her love, her sorrow, and her deep desire "that all those on the ground, the Americans, our coalition partners and our Afghan friends and foes, have the best chance of making the current 'Afghan situation' positive, somehow balancing out all of the pain in that country."
For all our efforts—those in good faith and not—we can see what waits in Afghanistan's immediate future. The Taliban will be stronger; another, even more vicious, jihadist group—the Islamic State—will be contesting it for power; the government will remain corrupt and inefficient; infrastructure will be inadequate; literacy will be low, poverty high; there's a good chance of a civil war which will tempt regional actors to interfere; violence will persist; women will lose what gains they have made; innocent people will suffer. All of this is occurring already, despite our presence, however, and we are out of ideas about how to stop it.
Fifty years ago we drew the lesson "No more Vietnams!" from that misadventure. To some this meant that we must avoid unwinnable wars; to others, avoid unnecessary wars; to yet others, if you are in a war, win it. Our war in Afghanistan has now violated all three of these prescriptions. But even more, it raises doubt about whether we are the kind of people who learn lessons at all. Americans are practical, forward-thinking, optimistic. This is our genius, and our fate.
John H. Haas teaches U.S. history at Bethel University in Indiana