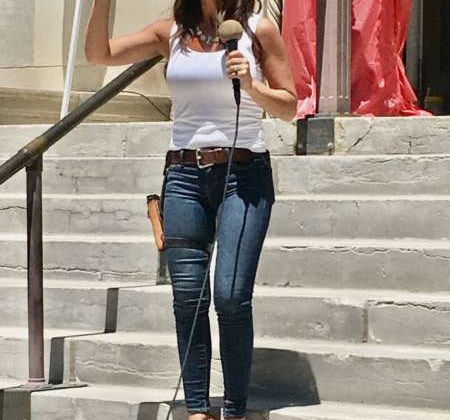 I might not pay attention to this kind of idolatry, blasphemy, and heresy if it wasn't coming from a member of the House of Representatives. According to the Christian nationalist theology of Colorado congresswoman Lauren Boebert, Jesus died to redeem the United States of America. Not the people of the United States–the nation itself.
Here is the Colorado Times Reporter:
Wearing jeans, a white tank top, red stiletto high heels, and a red hat that said "Save America" — along with her trademark holstered firearm — Boebert made a commanding presence as she began to speak.
Her speech, which was full of God references, started off curiously with a mention of Israel.  
"There are two nations created for God's glory – Israel and the United States of America," Boebert said.  "We stand strongly with Israel."
She went on to say how she was thinking of the Founding Fathers that morning and how they "dared to go against the King of England. They had faith in God and each other," she said.
"We will not back down until we have everything God has promised us," Boebert said. "We are an army for everything that Jesus has purchased for us and our children, and our children's children.
"It's not a coincidence that Independence Day is on a Sunday this year."
She also said that Donald Trump "looked good" (in appearance") because he has the "anointment of God."
Read more here.