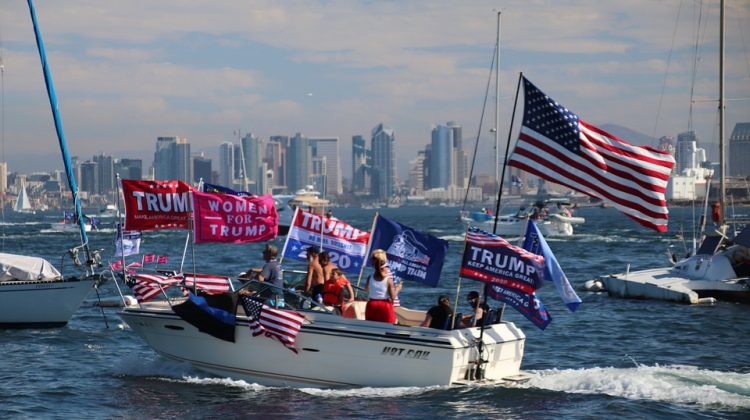 Here is Tom Boggioni at Salon:
Supporters of Donald Trump who have taken to the lakes and waterways to hold boat parades honoring the former president are being hammered by fellow boaters and maritime experts for literally leaving destruction in their wake after swamping other boaters and damaging the environment.
According to a report from the Daily Beast's Jose Pagliery and Asawin Suebsaeng, the pro-Trump boat parades that the ex-president praised for showing massive support for his administration, infuriated other boaters with their lack of seamanship and disregard for other boaters.
As the report notes, even some supporters of the president were upset with what occurred while on the water.
Case in point: Tommy Gravelle, a seasoned boater who set sail on Tennessee's Old Hickory Lake on July 4, 2020, who lost his vessel due to the parade even though he wasn't participating.
"I'm a seasoned captain. I've been in big waves," Gravelle told Beast. "If I knew there'd be that big of waves, I would've never left the dock."
According to the report, "Rapidfire crests — waves that came in too fast for a simple pontoon boat to recover — overtook the front of the vessel. Seats got tossed into the water. The frothy foam nearly reached the captain's chair. Gravelle was about to scream for his family to abandon ship, but he decided to rev the engine, cut through the next swell, and turn around. The insurance company considered the vessel totaled and cut him a check."
"We got on the boat for a family day on the lake, and it ruined the whole day," he recalled. "It was unorganized really. I think these people all meant well, they didn't understand what was going on."
Gravelle's boating accident tied to a Trump boating rally was not an isolated incident.
Read the rest here.
Destructive and disturbing wakes. Sounds about right.