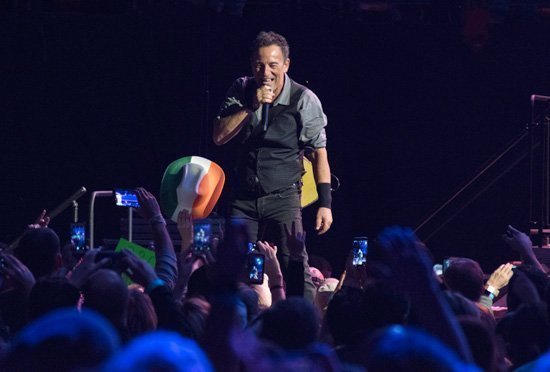 But he will not be playing an entire set or headlining. Here is the news from the Facebook page of the Springsteen magazine Backstreets:
NOT SO FAST, MR. MAYOR
Springsteen not a headliner for proposed Central Park concert. After weeks of buzz about a Central Park "homecoming concert" planned for August, with Clive Davis at the helm, New York City Mayor Bill de Blasio made an announcement yesterday, boosting the proposed event and even naming some of the artists on tap — including Bruce Springsteen.
We don't want to rain on any parades, but we do want to keep expectations in check. Hearing from fellow Springsteen fans already planning to travel some distance for the event, we did some digging to try and confirm the news, since few details are available about the Central Park concert.
So here are three key facts: it has yet to be officially announced by promoters. No date is scheduled. And, despite news reports, there will be no headlining set from Bruce Springsteen."
"Bruce agreed to make an appearance in a guest capacity," a source with knowledge of the concert arrangements tells Backstreets, "but he will not be a headliner for the show."
In The New York Times, Ben Sisario writes that "Springsteen is expected to perform a duet with Patti Smith, according to a person briefed on the plans." We can't confirm specifics, and no one really knows what Bruce is going to do until he does it, but that's likely the level at which he will be involved.
As our source understands it, 'Springsteen on Broadway' is his job this summer — that's what he's committed to, rather than putting together a headlining set.So how did that idea spread so fast, other than wishful thinking?
At de Blasio's press conference yesterday, he said excitedly, "Marking our rebirth, marking our comeback, it's going to be one of the greatest Central Park concerts in history," and he named Paul Simon and Jennifer Hudson as headliners. After raving about Springsteen's "amazing" return to Broadway, "starting the Broadway rebirth," de Blasio confirmed that "Bruce Springsteen will also be performing" at the Central Park show. "And headlining," he appeared to ad lib.
While we don't discourage anyone from joining the Central Park celebration, we do want you to know how much Boss Time to expect. Adjust your clocks accordingly.
For more on the Central Park concert featuring Springsteen, Paul Simon, and Jennifer Hudson (so far) check out this story at Rolling Stone.