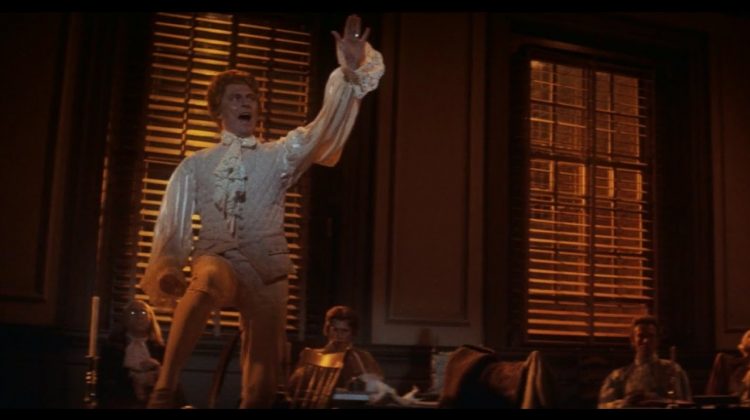 How about both?
Over at The Washington Post, historian Zachary Clary argues that the musical "1776" is a better portrayal of the American founding because it "tackles slavery head on." I have never seen the play, but I thoroughly enjoy the 1972 film edition.
Here is a taste of Clary's piece:
Despite the dearth of available historical detail, "1776" didn't shy away from showing the centrality of slavery to White Americans' wealth, power and freedom. One song, "Molasses to Rum," unsettled many northerners with the revelation that their ancestors were just as complicit in slavery as any Virginia tobacco planter.
The musical's portrayal wasn't perfect; it made the Founders seem much more anti-slavery than they really were. For example, in one scene, Thomas Jefferson announces, "I have already resolved to release my slaves" — a woefully inaccurate distortion of the real Jefferson's lifelong reliance on slavery. "1776" also veiled his role in founding scientific racism, overlooking documents like "Notes on the State of Virginia," where Jefferson had insisted that "the blacks … are inferior to the whites in the endowments both of body and mind."
Yet, on balance, "1776" tackled racism and slavery head on with more vigor than was mustered by even liberal, White chroniclers of early America at the time. Edward Rutledge, a South Carolina delegate to the Continental Congress and one of "1776's" villains, exposed the importance of slavery to the early American economy, in both the North and the South. In "Molasses to Rum," he asks his fellow delegates, "Who sails the ships back to Boston, / Laden with gold see it gleam? / Whose fortunes are made / In the triangle trade? / Hail, Slavery, the New England / Dream!"
Read the rest here. Let the debate begin! I need to think about this more, but right now I am leaning toward 1776. If you disagree, feel free to tell me to "sit down":