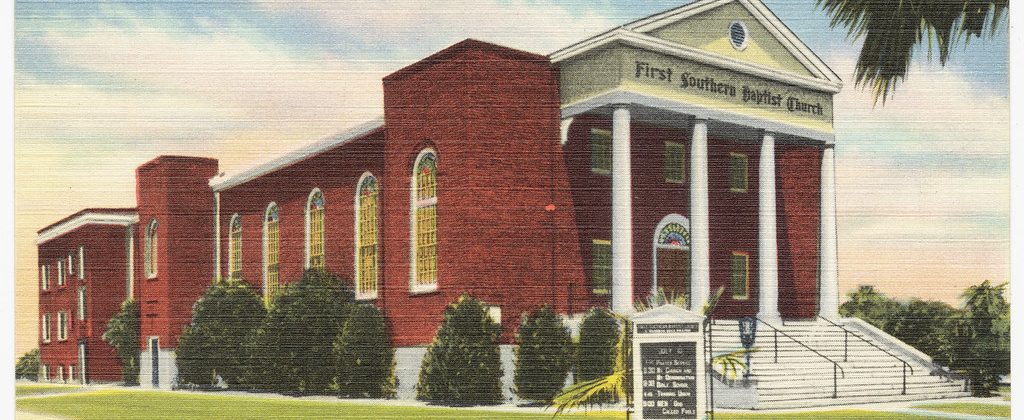 The moment seems promising. The movement is in trouble.
The 2021 annual meeting of the Southern Baptist Convention (SBC) was always going to be historic. It promised to reveal the pulse of America's largest Protestant denomination, as well as offer a preview of post-Trump American evangelicalism. The convention indeed delivered a historic moment. But its future remains uncertain—because the tradition of white American evangelicalism itself remains deeply flawed. Can white evangelicalism as a movement sustain the decisions of this moment?
Southern Baptists charted a course toward addressing sexual abuse and racial tensions by electing President Ed Litton. This is historic. But just 556 votes from a total of 13,131 ballots pushed Litton into office over the far-right candidate, Mike Stone. The thin margin shows a fragile, divided house. Either candidate's victory was expected to trigger an exodus. Now the far-right grapples with that path, while the borders of evangelicalism continue to be redrawn.
Messengers (the voting representatives of Southern Baptist congregations) strengthened the SBC constitution, allowing for removal of churches who harbor abusers or racism. Most notably, the messengers created a task force to investigate convention-wide mishandling of abuse. These are good intentions. But can they be implemented? That depends less on the good will of the moment than on white American evangelicalism as a movement. In the aftermath of a watershed moment for abuse survivors, one worthy of celebration, it's crucial to maintain a distinction between the moment and the movement. And white American evangelicalism as a movement is deeply flawed.
It was my own first convention in a decade that I witnessed from the outside. So too for many former SBC leaders, like Dr. Russell Moore, Dr. Charlie Dates, Nigerian American pastor and Atlanta-based entrepreneur John Onwuchekwa, and theologian Beth Moore. Their public exits from the denomination ended up being the cost the convention had to pay for its recent decisions.
Evangelical history tends to be a story organized around such names, moments, and institutions. Me? I fit none of those criteria. My leaving exerted little pull on the tide. But I gave my twenties to the SBC: studying in SBC seminaries, benefiting from networks and pipelines, pastoring in SBC churches. I met many kind and faithful Christians at every stop. Yet, as Primo Levi writes, "Monsters exist, but they are too few in number to be truly dangerous. More dangerous are the common men." So too a common culture. It wasn't the rot in upper denominational spaces that prompted my departure. That was simply what affirmed it.
No, what was dangerous, then and now, is an unexamined white evangelical cultural river, one Southern Baptists float down all the same. This culture is rarely up for a vote, but it has formative power to blunt good intentions. It is a culture deeply entrenched in historic affirmations of power, whether economic, political, or social. Evangelicals downplay the constant interplay of its culture's theology and its history. This interplay produces a culture that normalizes "We don't get political" as an acceptable, even "Biblical" response to injustice. They said it in 1968; I heard it in 2020.
In short, this culture is binding and blinding. I saw its damaging effects firsthand and stepped away believing the challenges require deeper theological work than the culture of white evangelicalism allows. Its blazing entrepreneurial spirit for growth demands speed, a sort of pragmatism that blunts attempts to examine it. This culture will remain unchanged so long as it's left unexamined.
Examining this culture requires looking beyond moments, good and bad, to the historical movement stringing them together. It means asking a different set of questions, which historian Jemar Tisby does well on the matter of race: "While the question most often raised is, 'Are black Christians evangelicals?' the more salient query is, 'What limits do white evangelicals place on black Christians?'" Tisby surfaces a culture predisposed toward concern for shared theological confession but blind to a practical theology that often sidelines black evangelicals calling for racial or social justice. To see the culture, look for the tensions. Then theological problems will surface.
Consider the tensions during and after the convention—like when a motion to denounce QAnon was never picked up. A resolution condemning the January 6 insurrection was dropped before it could be debated. An earlier resolution barring pastors guilty of abuse from ministry saw a surprising amount of debate on the floor before it was passed. It is hard to imagine a unified condemnation of the Capitol insurrection when there is debate on whether abusive pastors can remain in ministry. After the convention, the new leader of the SBC Executive Committee, Rolland Slade, publicly called out Southern Baptists continuing to harass abuse survivors. Tension marks the boundary of white evangelical culture's moral horizon, beyond which lie its deepest theological problems. How can this culture be challenged?
One way forward is to examine the story evangelicalism tells about itself. This story can blind evangelicals to deep theological fractures and fissures. It's a bit like going to a vet for a physical. You're limiting the potential for accurate diagnosis and prognosis. Keep going to the vet, and you're sure to miss something big and bad. Continuing to tell this story means evangelicals are bound to miss something, too.
Historian Jesse Curtis argues that "the popular story of partisan politics debasing white evangelicalism not only fails to study the roots, it absolves the movement of its deepest failures." Curtis is part of a generation of historians challenging the common story. Take for example Kristen Kobes Du Mez in Jesus and John Wayne. She claims that evangelical support of Donald Trump was not a departure from evangelical theology on masculinity but rather an instantiation of evangelical gender theology. Her argument is similar to Beth Allison Barr's in The Making of Biblical Womanhood, who contends that what passes as evangelical feminine theology was constructed to align with cultural norms masked as Biblical teaching.
These historians illumine a white evangelical culture diagnosing its problems not just by the Scriptures but also by a particular telling of its own history. As such, it is more likely to diagnose certain problems and not others. Why is this? This is a good example of an evangelical paradox. It is precisely the evangelical commitment to the Bible that often keeps us from engaging with our lack of commitment to the Bible. And when historians bring receipts that show with sharp clarity the costs of our choices, evangelicals react with denial, disdain, or dismissal.
Instead of labeling evangelical historiography as the work of cynics, I believe engaging with historiography is one way to work toward theological reform within. It's telling how often evangelical historiography deals in covert theological method. Historians cannot offer solutions, but they often imply them by where they assign value, how they organize the material, and how they tell the story. This creates an important space within which evangelicals can ask better theological questions of the movements they have inherited.
Some may point to the convention as proof the historians are wrong—that the moral and intellectual character of the denomination is not so deeply flawed as their narratives make it out to be. But if the SBC seeks to sustain reform, it must challenge the culture of white evangelicalism itself. Otherwise, it will continue to do what it has always done.
I myself am finding serenity in meditating on the question God asked his prophet Ezekiel: "Can these bones live?" It's a question he wisely answered, "Lord God, only you know."
Jared Stacy is a PhD Candidate in Theological Ethics at the University of Aberdeen. He holds an MDiv from New Orleans Baptist Theological Seminary. He has pastored in both New Orleans and outside Washington DC. He lives in Scotland with his wife Stevie and their three kids. You can connect with him on Twitter, @JaredStacy.