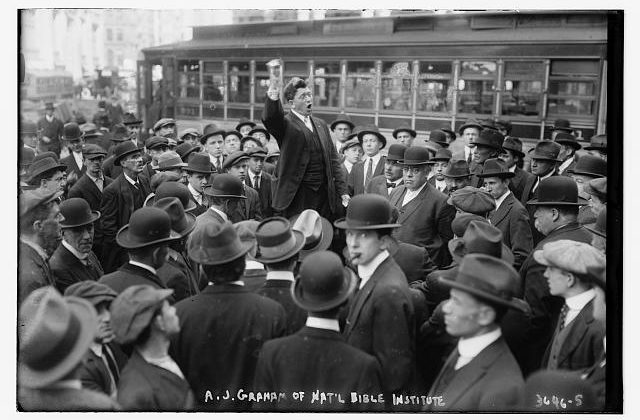 What is going on in Evangelicalland?
Some pics from last week's SBC meeting in Nashville.
Jack Graham is glad to be a Southern Baptist:
Christianity Today reporter Kate Shellnut on what she saw at the SBC Annual Meeting.
Last weekend's Faith and Freedom Coalition conference was more diverse then you think.
What folks were saying in the hallways at the Faith and Freedom Coalition conference.
Jack Hibbs is taking his act to Newsmax:
One of the Duck Dynasty guys.
Good question from Shane:
Blast from the Past:
Greg Thornbury on the divided Southern Baptist Convention.
Tish Harrison Warren is still hopeful about evangelical Christianity.
Worth considering:
Richard Land on critical race theory:
Evangelicals welcome Israel's new president.
Evangelical pastors are trying to get their congregations vaccinated.
A Trump court journalist defines "journalism":
Franklin Graham on Juneteenth:
Franklin Graham is happy about the recent Supreme Court decision:
Franklin Graham on Jack Phillips:
The man James Robison supported for president in 2016 and 2020 stomped-on the institutions that serve as the guardians of "principles" he discusses in this tweet. We are now left to pick-up the pieces and try to restore the strength of those institutions:
James Dobson vs. CBS, CMT, and Hallmark:
Jack Graham on Juneteenth:
Gary Bauer supports the Juneteenth holiday:
Robert Jeffress defends Pence. There is nothing in his tweet about how he spent more than four years empowering those who heckled the former vice-president.
David Barton's son Tim has a piece on Juneteenth at the pro-Trump Epoch Times. Dad loves it:
Charlie Kirk is still mad about Juneteenth:
As Jonah Goldberg recently wrote, and Justin Amash tweeted, Kirk seemed to like Juneteenth when it was a Republican idea:
Liberty University's Standing for Freedom Center has D'Souza's back on Juneteenth:
Metaxas is still upset about getting kicked-off of YouTube:
Salem Media is funding Dinesh D'Souza's latest documentary.
The Trumpers are not the only one's praying for a revival:
Wow–this piece on Al Mohler is rough.