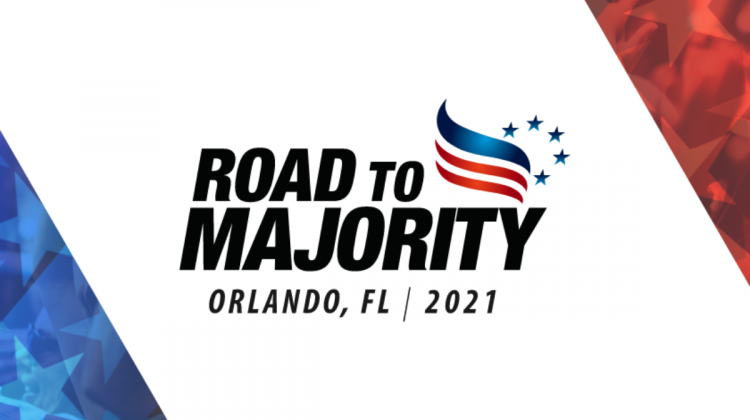 Yesterday we kept you up to speed on the 2021 Road to Majority conference sponsored by Ralph Reed's Faith and Freedom Coalition. If you want to get a feel for how Trump's evangelical supporters are handling his loss and the Biden presidency, this is a good place to start. Ted Cruz preached Dominionism and compared critical race theory to the KKK. The crowd heckled Mike Pence. Check out our posts here and here.
What is happening today, Saturday?:
Trump court evangelical Mark Burns is still around:
I don't understand this tweet. Isn't "loyalty to God" in politics an "interest":
Congressman Barry Loudermilk had some things to say. Wouldn't a Christian be at least somewhat concerned if what he says offends others?
Dinesh D'Souza was there. I think he needs to read Matthew Karp's recent Harper's essay. Here is what Karp says about D'Souza:
Thus the leading "historian" of the Trump era is the pundit Dinesh D'Souza, who, unlike earlier generations of conservatives, makes no effort to defend or even contextualize slavery, the Confederacy, or Jim Crow. States' rights play little part in his historical narrative. On the contrary, the central argument of D'Souza's best-selling books and movies is simply that all these racist evils were perpetuated by "radical" Democrats—men such as Calhoun, Davis, and the Mississippi segregationist James Eastland. Only "conservative" Republicans, from Lincoln to Trump, have faithfully defended American freedom and civil rights.
Left-leaning historians, myself included, have sometimes been tempted to debate this argument, whose particular claims are easily reduced to rubble. But this is a fool's errand, since D'Souza's shtick is immune to facts and logic, and frankly indifferent to ideological consistency. You could even say that the D'Souza thesis, widely reproduced in the right-wing media, takes progressive history literally but not seriously. ("Did you know that the Democratic Party defended slavery, started the Civil War, founded the KKK, and fought against every major civil-rights act in U.S. history?" asks one YouTube video produced by the conservative media company PragerU.) This sort of trolling offers no ideological counterblast to the progressive narrative that puts slavery and racial oppression at the center of the American experience. In fact, it essentially ratifies a version of that narrative, claiming the mantle of its heroes, such as Frederick Douglass, and declaring that its villains were the forerunners of Nancy Pelosi and Joe Biden.
And here you go:
D'Souza defends the January 6 insurrectionists:
Former Trump lawyer and Liberty University Falkirk Center fellow Jenna Ellis is fighting for truth. Let's remember that she has built her career in the Trump subculture by working with Rudy Giuliani to get the 2020 presidential election overturned. This is her "truth." I am reminded of Jeremy Sabella's Current piece on how the Christian Right is now the party of postmodernism.
And let's not forget Eric Metaxas:
Metaxas plays to the anti-Pence crowd:
There is a reason why there are only a "handful" of "leaders":
When the insurrection happened on January 6, Metaxas insisted these were not Trump supporters. On January 6, 2021 he tweeted, "There is no doubt Antifa infiltrated the protesters today and planned this." Now he has no problem calling them Trump followers who deserve GOP support.