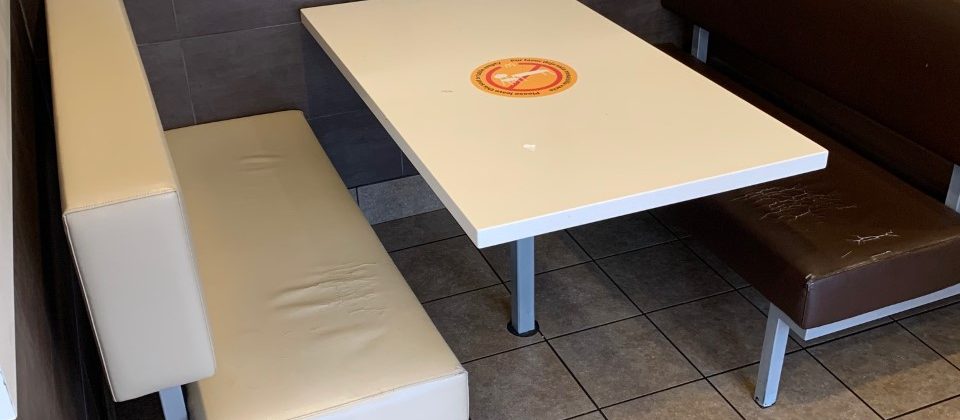 Last weekend Joy and I were driving home from Providence, R.I. on Route 287 and we stopped at the McDonalds in Boonton, New Jersey. Until recently, my parents lived in the Boonton/Montville area. I was raised there, although the McDonalds was not built until after I left home.
As we pulled-off the exit, I got nostalgic. Most of my mother's family settled in Boonton and most of them have either passed away or, like my parents, have left. I had not been in town since my parents moved to a 55+ community in the Philadelphia area so they could be closer to my sister and her family.
But I also got nostalgic about this McDonalds. Seven years ago I was staying at my parents' house and riding New Jersey Transit every morning into New York City to conduct research at the American Bible Society. I would spend eight hours in the archives, take the train back to Boonton (actually Denville), eat dinner with my parents, and then head-off to the McDonalds to write the book proposal and first chapter of what would eventually become The Bible Cause: A History of the American Bible Society (Oxford University Press, 2016).
This was a crazy book project. The American Bible Society asked me to write a scholarly, yet accessible, history of the organization to celebrate its 200th anniversary in 2016. Then a new administration took over the Society, moved it to Philadelphia, and made it clear to me and Oxford University Press that they were not happy with my interpretation of the history of the organization. (It's a long story, but they thought my book was not celebratory enough).
Finally, I wrote 120 blog posts related to the writing of the book.
The American Bible Society has recently opened the Faith and Liberty Discovery Center. I have yet to visit it, but I am curious if they are selling The Bible Cause in the gift shop. I am guessing it is not there, despite the fact that it is the most definitive treatment of the organization to date (354 pages of narrative history written as a trade book).
But I digress. While I was waiting for my ice-cream cone and coffee last weekend, I took a picture of my June 2014 McDonalds booth. (See above). 🙂 Ah the memories!
Update: The reason I went to the McDonalds to work is because it had WiFi and my parents' house did not. Thanks to reader Paul Matzko for reminding me that I left this part out! 🙂