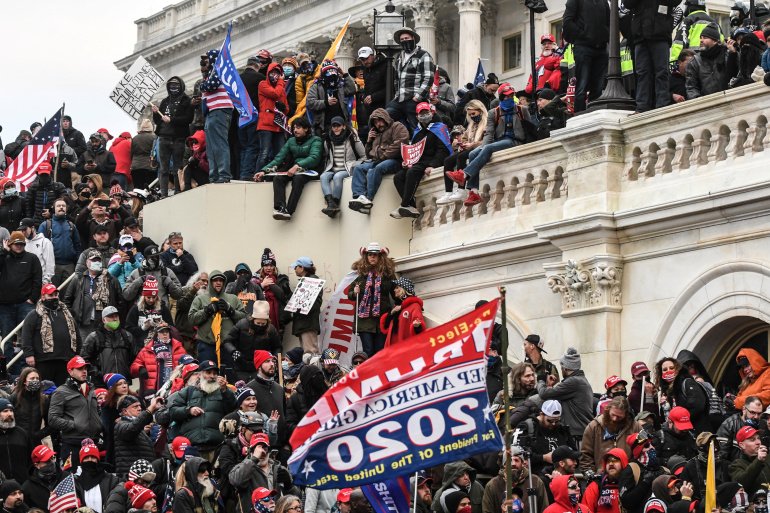 Matt Ford of The New Republic is waiting for it to happen:
Instead of the free and open denunciation of the Capitol riot, a growing number of Republican officials are softening their position from "It was Bad" to, at worst, "It was Not Good" or "It was … less than ideal." Foremost among them is Wisconsin Senator Ron Johnson, who freely admitted to Fox News over the weekend that he wanted to rewrite history to the rioters' benefit. "I think it's extremely important to create an accurate historical record of exactly what happened so the false narrative that thousands of armed insurrectionists doesn't last," he said.
The rioters assaulted dozens of Capitol Police officers, ransacked congressional offices, vandalized artworks, chanted, "Hang Mike Pence," and built a makeshift gallows nearby. Johnson said he didn't "condone" them for breaching the Capitol but nevertheless claimed that they "weren't rioting." He noted that many of the protesters were "staying within the roped lines in the Rotunda" and seemed to be "in a jovial mood." Johnson denied that the attack on Congress amounted to an insurrection.
Johnson isn't alone. Georgia Representative Andrew Clyde described the rioters' behavior inside the Capitol as akin to a "normal tourist visit." Jody Hice, another Georgia representative, argued that it was Trump supporters "who lost their lives that day," imparting a sense of victimhood upon the rioters. South Carolina Representative Ralph Norman suggested last month without evidence that the Trump supporters who attacked the Capitol may have been left-wing agitators—a theory also floated by Johnson but abandoned after he decided to start defending the rioters outright. On Tuesday, 21 Republicans in the House voted against awarding a medal of valor to the police officers who protected the Capitol; Representative Marjorie Taylor Greene said she voted against the measure on the grounds that the bill referred to the events of January 6 as an "insurrection."
Meanwhile, law enforcement agencies continue to investigate the riots and make arrests; numerous trial proceedings against those who illegally breached the Capitol that day are wending their way through the courts. What would these Republicans suggest be done with the rioters, if they had the ability to decide? Pardon them and commute their sentences? This is a hypothetical concern for now, but it represents a larger fear: If Republican lawmakers can move from open condemnation of January 6 to a mixed indifference toward it in less than six months, there's ample reason to believe that sometime between now and 2024, they'll have revised their position to a tacit or open support of something similar.
Read the entire piece here.