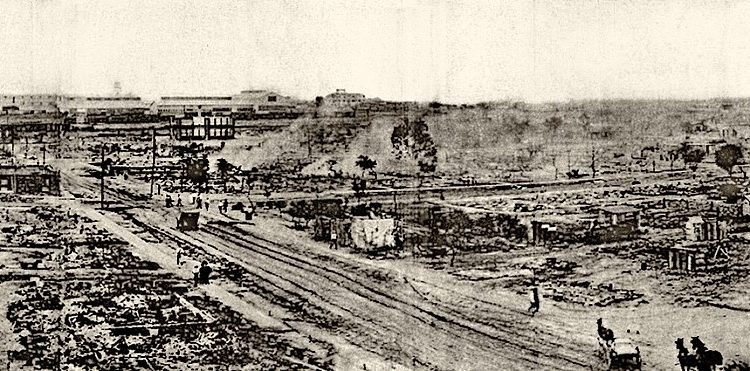 Today marks the 100th anniversary of the start of the Tulsa Race Massacre. If you are unfamiliar with this tragic event in American history, start here.
If you want to go deeper, here are some pieces from the last few days:
–Aaron Morrison, "At century mark, Tulsa Race Massacre's wounds still unhealed," Associated Press
–CNN has "Then and Now" pictures. USA Today has an illustrated history of the event.
–Another piece from CNN that is very well-done.
–NPR recommends three documentaries.
–At The New Yorker, Victor Luckerson writes about the women who preserved the legacy of the massacre.
–And in the midst of it all, the state government in Oklahoma is doing this. Here is a piece on why students in Oklahoma did not learn about the massacre.
–What were the true costs of the massacre? Here is Andrew Perry and his team at the Brookings Institution website. Also here.
–If you are in Tulsa or its vicinity, here is what is going on today.
–Neely Tucker of the Library of Congress offers some tips for people interested in researching the massacre.
–An episode of The Takeaway devoted to the massacre.
—Teaching the massacre (New York Times)
–The Greenwood neighborhood is still not on the National Register of Historic Places (The Atlantic)
–Some good scholarship on the massace (JSTOR Daily)
–A curator at the National Museum of African American History and Culture with some stories and objects
And if you want to go even deeper, here are a few good books:
Karlos K. Hill, The 1921 Race Massacre: A Photographic History
Hannibal Johnson, Black Wall Street 100: An American City Grapples With Its Historical Racial Trauma
Tim Madigan, The Burning: Massacre, Destruction, and the Tulsa Race Riot of 1921
Randy Krehbiel, Tulsa, 1921: Reporting a Massacre
Scott Ellsworth, Death in a Promised Land: The Tulsa Race Riot of 1921