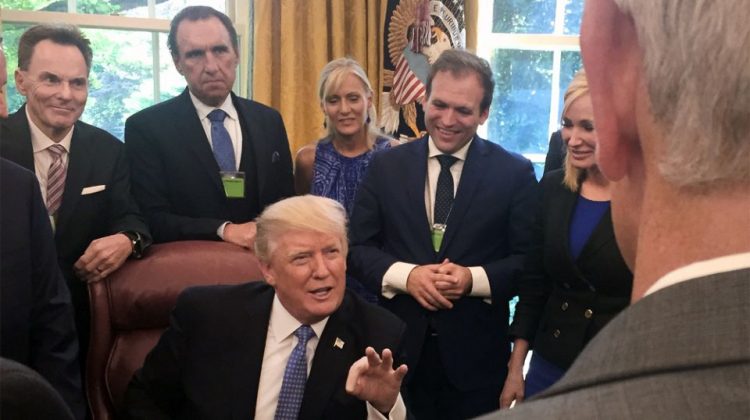 Donald Trump is the leader of the Republican Party. As MSNBC team notes, they had a chance to walk away from him after the January 6, 2021 insurrection on the U.S. Capitol, but instead they doubled-down in their support of the former president.
Is it too late for the GOP to turn back from their love-affair with Trump?
Here is Chuck Todd, Mark Murray and Carrie Dann:
Back in January, the Republican Party had a chance to walk away from Donald Trump — after his defeat, after Jan. 6, after his second impeachment and after he refused to attend President Biden's inauguration.
Instead, they stuck with him, which has led to many GOP members downplaying the Capitol attack, fighting the creation of a bipartisan commission to study what happened on Jan. 6, and watching the former president continue to question the legitimacy of a contest he lost fair and square.
And now they face the very real possibility of seeing their party's de-facto leader and potential 2024 frontrunner getting indicted in the coming months.
"Manhattan's district attorney has convened the grand jury that is expected to decide whether to indict former president Donald Trump, other executives at his company or the business itself, should prosecutors present the panel with criminal charges, according to two people familiar with the development," the Washington Post reported Tuesday.
"The move indicates that District Attorney Cyrus R. Vance Jr.'s investigation of the former president and his business has reached an advanced stage after more than two years. It suggests, too, that Vance thinks he has found evidence of a crime — if not by Trump, by someone potentially close to him or by his company."
It's important to note that this empaneled grand jury doesn't mean charges have been filed against Trump (at least not yet). And Trump has called yesterday's news "a continuation of the greatest witch hunt in American history."
Read the rest here.