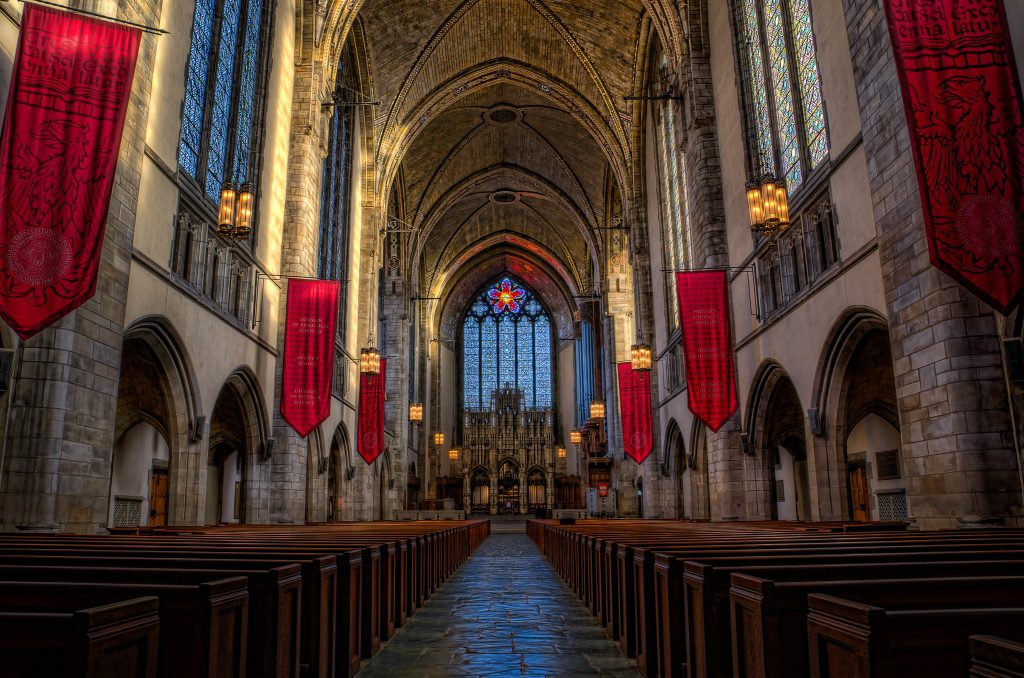 In the midst of commodification and conflict, the university pushes on—with or without its soul
American higher education has changed in some important ways since I was first working on The Soul of the American University thirty years ago. So in The Soul of the American University Revisited I have updated the story and also streamlined some of the earlier historical narrative.
Particularly intriguing is how much mainstream university education has changed, if one is looking for a "soul" in the sense of a common story or essence of the enterprise. Such changes have led me to alter my subtitle in a substantial way. In the original version it was "From Protestant Establishment to Established Nonbelief." In the 1990s we were still in an era when the WASP establishment and its disestablishment in the 1960s and 1970 was a formative memory for many in the professorate. Earlier Protestant privilege had been replaced by widely held assumptions that various forms of secularism should set the standards for the mainstream academy. Avowed secularists often dismissed viewpoints drawn from the more traditional Christian heritage as simply out of place. So I argued for "a more inclusive pluralism" that would welcome intellectually rigorous Christian perspectives along with secular ones.
That proposal led to strong pushback from some of my highly regarded academic contemporaries. Intellectual historian Bruce Kuklick said that the idea of Christian perspectives was "loony." And my friend David Hollinger argued that traditional Christians had had their chance in the academic mainstream but had failed.
In this new edition I shift to a more optimistic major key in the subtitle: "From Protestant to Postsecular." Some may wonder whether "postsecular" is an apt characterization for our era. The term, however, has considerable currency. I mean by it not that secularism is not still dominant in academia or that religion is necessarily making a comeback. Rather I mean that we are no longer in an era when, as in the later twentieth century, standard academic fare included the "secularization thesis"—the assumption that earlier religious eras inevitably would be replaced by various forms of secularist culture. Especially notable since the demise of the Soviet Union has been the persistence and even resurgence of religion in world affairs. It is no longer easy to assume that traditional religions will die out as modernity inexorably advances.
Bringing up to date the story of the mainstream academy turns out to be largely an account of an institution in disarray. Documenting that is not difficult, since one can readily assemble a long shelf of books sounding alarms about the state of twenty-first century American universities. Many of these volumes are laments over the demise of the humanities. When explicitly religious outlooks declined in higher education, the humanities typically took their place as the best way to help guide young people in gaining perspectives on things like the good and the beautiful. Part of the recent demise of the humanities is due to self-inflicted wounds, as the good and the beautiful have become targets in battlefields shaped by identity politics. More broadly, even as universities attempt to retain some moral purposes, balanced approaches are lost among competing non-negotiable stances in a world divided between "victims and oppressors." Each individual or group sees its moral claims as self-evident, and there is no common ground for adjudicating them. Debates over free speech become shouting matches.
Meanwhile, a university education has over the course of decades come to be seen by most as essentially an economic transaction. Many of the recent laments decry the extent to which the soul of university education has been shaped by "commercialization" or "commodification." Most students and their parents view it as fundamentally an investment in gaining vocational skills. Relatively few students, compared to earlier generations, see it as an occasion for developing or refining their philosophy of life. Many professors pursue their specializations and advancement of their careers with little concern for any larger mission of their university. Disciplines that might offer broader theoretical perspectives on life and culture suffer accordingly.
In the midst of this disarray various religious groups and interests have found ways to persist and sometimes flourish. That is well documented by John Schmalzbauer and Kathleen A. Mahoney in The Resilience of Religion in Higher Education (2018). Many who participate in American higher education are religious, and many religious groups minister effectively to these as clearly minority sub-communities. Among the professorate considerable numbers identify as religious believers, even if the percentage of such believers, especially at elite schools, is considerably lower than in the American population as a whole. There are some well-documented prejudices in hiring toward those who come from certain conservative religious groups. Yet these biases are also far from absolute. Traditionalist Christian scholars who do their work well can be warmly accepted in the mainstream academy, even when they are open about their faith.
That brings us to what I see as the most remarkable development of the past thirty years: the renaissance of high-level scholarship among traditionalist Christians. Mark Noll's landmark book, The Scandal of the Evangelical Mind, came out in 1994, the same year as The Soul of the American University. At that time, while we were hopeful that explicitly evangelical scholarship might thrive, Mark's lament concerning its struggling state captured a sense that many of us shared. At the time Mark and others of us were priming the pump, so to speak, with programs to promote Christian scholarship and scholarly vocations. Already by the end of that decade, however, the situation might be described more accurately as catching a wave rather than priming a pump. The more than one hundred schools of the Council for Christian Colleges and Universities (CCCU) had become one of the fastest growing parts of academia. Many excellent scholars affirming explicitly Christian perspectives were emerging with substantial academic publications and taking their places in CCCU schools or in mainstream institutions. With Christian philosophers having led the way, the intellectual viability of the traditionalist Christian mind was being well demonstrated.
All these developments are particularly striking if one compares them to the state of American evangelical intellectual life in the mid-twentieth century. In that era mainstream observers typically wrote off most evangelical Christian colleges as simply backward-looking fundamentalist "holdouts" and beyond hope for gaining intellectual relevance. So in updating the history I conclude with an "unexpected sequel" recounting the resurgence of Christian scholars, scholarship, and academic institutions. Today traditionalist Christian scholars in just about every field are part of flourishing international communities of accomplished likeminded academics, both Protestant and Catholic.
There are also serious challenges. As has been especially apparent in recent years, there exist troubling disconnects between the flourishing "evangelical mind" in academia and much of the populist evangelical community that remains militantly anti-intellectual. And there is a danger that, under economic pressures, Christian universities and colleges may go the way of the world in commodification, neglecting the disciplines that have made them most distinctive in shaping humane Christian outlooks. Nonetheless, the story of where they have come from to where they are now is fascinating.
George Marsden is Francis A. McAnaney Professor of History Emeritus at the University of Notre Dame. Among his many books is Jonathan Edwards: A Life, winner Bancroft Prize in 2004.