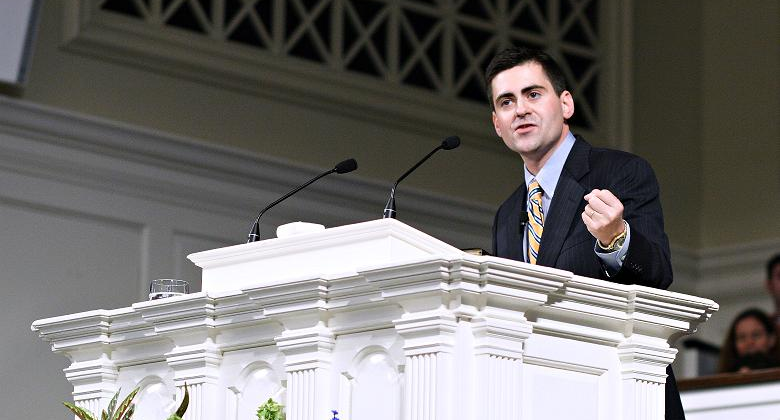 This was bound to happen sooner or later. Russell Moore, the president of the Southern Baptist Convention's Ethics and Religious Liberty Commission, is leaving his post to head-up a new public theology program at Christianity Today.
There are a lot of Southern Baptist conservatives who are no doubt happy about this move They have been trying to get rid of Moore ever since he spoke-out so strongly against Donald Trump. I am sure there are also a lot of Southern Baptists who are saddened by the news. Whatever the case, this will be a major topic of conversation next month in Nashville.
Here is Bob Smietana at Religion News Service:
Russell Moore, the embattled Southern Baptist ethicist and Never-Trumper, is resigning as president of his denomination's Ethics and Religious Liberty Commission, Religion News Service has learned.
Moore will be joining the staff of Christianity Today, the leading evangelical magazine founded by the late evangelist Billy Graham, as a public theologian.
In his new role, Moore will lead a new Public Theology Project, said Tim Dalrymple, president and CEO of Christianity Today. That project will host events and gatherings about public theology and publish content, including Moore's writing and his Signposts podcast.
"I've struggled with this decision, because my gratitude for the honor of serving the Ethics & Religious Liberty Commission is so deep. As I conclude my time serving Southern Baptists as ERLC president, I am filled with gratitude as well as excitement for the future," Moore said in a statement.
In his own statement, Dalrymple said, "We could not be more pleased with the addition of Russell Moore in this role. Russell is indisputably one of the most significant evangelical voices of our time. He illuminates the relevance of the gospel to the whole of life, from everyday matters of faith to the great debates in our society and culture. Importantly, he does all of this in a voice that demonstrates what we at Christianity Today call beautiful orthodoxy, weaving together a deep commitment to the historic integrity of the church with a generous, charitable, and humble spirit."
Moore will begin his new role this summer.
Read the rest here.
Here is the Christianity Today news release.
Some quick thoughts as I react to this news:
For most of the 1990s and 2000s, Southern Baptist conservatives were trying to form an alliance with northern evangelicals–the descendants of the neo-evangelical movement that launched Christianity Today magazine in the 1950s. When I was at Trinity Evangelical Divinity School (TEDS) in Deerfield, Illinois in the late 1980s and early 1990s, TEDS was carrying the neo-evangelical mantle in the wake of Fuller Theological Seminary's abandonment of biblical inerrancy in the 1960s. Ken Kantzer, a former Christianity Today editor, was still around. Carl F.H. Henry, the first editor of the magazine, was teaching a course or two each year at TEDS. Some TEDS professors were still assigning former Christianity Today editor Harold Lindsell's books on inerrancy. TEDS professors Kantzer, Henry, Harold O.J. Brown, John Woodbridge, and Walter Kaiser were all on the Christianity Today masthead.
There were few, if any, Southern Baptists on the Christianity Today masthead in those days. Southern Baptist students and professors were rare at TEDS when I arrived in 1989. But this began to change after I left Deerfield in 1994 to pursue a Ph.D. in American history. Church historian Tom Nettles, a key figure in the conservative takeover of the Southern Baptist Convention, arrived during my second year at TEDS. He was the first Southern Baptist I ever met. James Leo Garrett came up to Deerfield as a visiting professor. TEDS professors Bruce Ware and Mark Seifrid left TEDS for Southern Baptist Theological Seminary in Louisville.
Some of the earliest graduates of TEDS's new Ph.D program started finding jobs in Southern Baptist institutions. Steve Wellum, Andreas Kostenberger, Robert Caldwell, and Tim Beougher (after a stint at Wheaton) all come to mind. Southern Baptist theologians like Greg Thornbury started writing about Carl F.H. Henry. A bit later David Dockery, president of Southern Baptist's Union University, became the president of TEDS.
Russell Moore's move does not seem to be part of the SBC-northern evangelical exchanges that I have described above. That relationship was built around a common commitment to biblical inerrancy. And while both groups continue to belief that the Bible is without error, over the last five to ten years politics (Trump), immigration, COVID-19, and critical race theory have prompted the northern evangelicals at Christianity Today (and the National Association of Evangelicals) and the Southern Baptist Convention to move in different directions. Moore now seems to be taking a northern route.