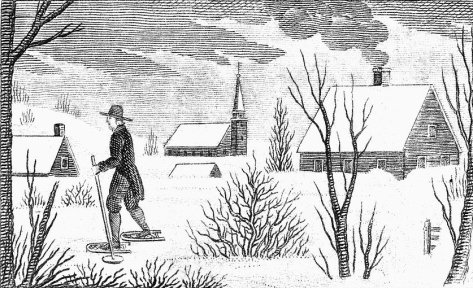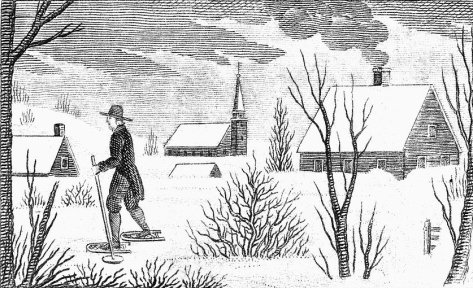 Two years before Jonathan Edwards preached "Sinners in the Hand of an Angry God" he suffered through what historian Philip Jenkins calls a "horrific period of extreme weather and glacial cold." Here is Jenkins at History News Network:
Scholars of many disciplines have studied that sermon, but virtually never have they stressed one fact that surely should be treated prominently, namely that Edwards and his audience had in just the previous two years lived through a horrific period of extreme weather and glacial cold. Across Europe and North America, nations recorded some of the most alarming death rates seen in half a millennium, while New England itself suffered the worst weather recorded since the time of European settlement. Perhaps the world's end really was nigh, as the language of apocalypse became alarmingly plausible. People felt utterly powerless and futile in the face of Nature, and of the God who ruled it. Of course they were willing to listen very attentively to the Reverend Mr. Edwards.
Of course, the climate-driven crisis of itself did not spark or create the Awakening, but it is impossible to comprehend the movement's explosive growth at that very time without acknowledging that component. Observers at the time dated the movement's full flowering exactly to the years 1740-41. Similarly, throughout history, when other climate-related disasters have occurred, they have commonly had wide-ranging religious consequences. How could they not? As climate conditions have changed over time, so they have affected human affairs, and shaped attitudes.
Time and again, climate convulsions have been understood in religious terms, through the language of apocalypse, millennium, and Judgment. Almost invariably, such visitations have involved famine and outbreaks of epidemic disease, giving a role to each of the notorious Four Horsemen. Often too, such eras have been marked by far-reaching changes in the nature of religion and spirituality. Depending on the circumstances, the response to climatic visitations might include explosions in religious passion and commitment; the stirring of mystical and apocalyptic expectations; waves of religious scapegoating and persecution; or the spawning of new religious movements and revivals.
Read the entire piece here.