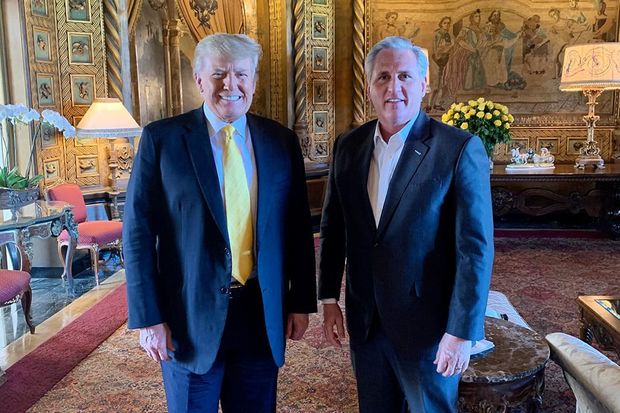 The GOP House minority leader can't be serious.
Here is Paul Kane at The Washington Post:
House Minority Leader Kevin McCarthy (R-Calif.) on Wednesday took a head-spinning tour through Washington.
First, he oversaw the roughly 20-minute meeting of House Republicans in which, by a simple voice vote after virtually no debate, they ejected Rep. Liz Cheney (Wyo.) from her position as GOP conference chair, the No. 3 post in McCarthy's team.
Her crime? Continually speaking the truth that Donald Trump lost to Joe Biden in the 2020 election and that the former president's claims of a stolen election were unfounded.
On Jan. 6, almost two-thirds of House Republicans voted against certifying Biden's victory, including McCarthy, effectively embracing Trump's violent rhetoric and making Cheney's comments uncomfortable, at the least.
About 90 minutes after Cheney's ouster was complete, McCarthy sat down in the Oval Office with President Biden and three other congressional leaders. It was McCarthy's first meeting with Biden after months of publicly complaining that he hadn't been invited to an in-person huddle — even though he declined to vote to certify the new president's election.
The meeting focused on Biden's proposals worth approximately $4 trillion for infrastructure and expanded social welfare programs. Afterward, McCarthy called the meeting "productive" and faced predictable questions about how he could plead for bipartisanship with a president whose legitimate election victory is not to be discussed in GOP circles.
"I don't think anybody is questioning the legitimacy of the presidential election. I think that is all over with. We're sitting here with the president today," McCarthy told reporters outside the White House.
Never mind that Trump continues to peddle falsehoods about Biden's win, and that McCarthy's choice to succeed Cheney, Rep. Elise Stefanik (R-N.Y.), fully embraced the unfounded work by Republicans in Arizona's state legislature who are conducting a secretive recount of Biden's victory over Trump there last fall.
Read the rest here.
Let's hope Trump doesn't see this interview. If he does, you can expect McCarthy to be on the next plane to Mar-a-Lago.