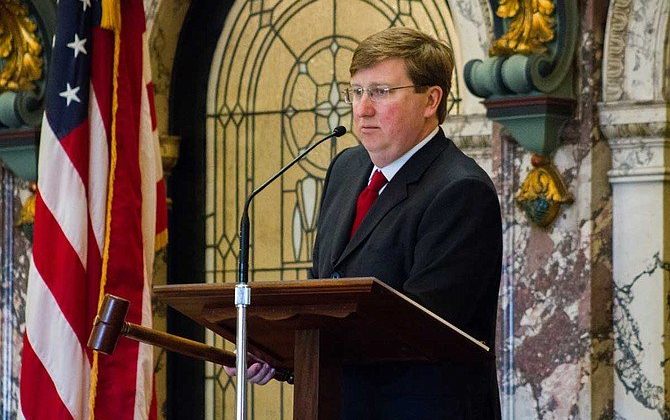 The group that organized Mississippi's National Day of Prayer ceremony this week–an event in which the state's governor Tate Reeves was a speaker–issued this press release:
We are excited to announce the 2021 National Day of Prayer observance will beheld Thursday, May 6th, 11:00 a.m. – 1:00 p.m. at the Mississippi Coliseum in Jackson, MS. All are invited to attend as we unite to praise, worship, and pray for our cities, state, and nation. Prayers will be offered by Governor Tate Reeves, Commissioner Andy Gipson, and other dignitaries, pastors, and local citizens for the seven spheres of influence in our culture: Government, Church, Family, Business/Commerce, Education, Media/Arts & Entertainment, and Military. Americans from all walks of life will gather on May 6th to lift up our country in prayer on the National Day of Prayer. Our nation has endured a year marked by unprecedented challenges, but we know prayer has carried us through these days and the hand of God will move us into a brighter future.
This year marks 70 years since Reverend Billy Graham stood on the capitol steps in February 1952 and called for congress and the president to establish a National Day of Prayer. By April of that year, President Truman signed the legislation intopublic law followed by President Reagan designating the first Thursday in May as the annual observance for the National Day of Prayer. Through the decades, the efforts of the National Day of Prayer Task Force has mobilized Americans to observe the National Day of Prayer in all 50 states and in U.S. territories to prayfor those who lead and those in need in our nation.
As we believe and pray in 2021, our theme echoes our prayers: "LORD pour out Your LOVE, LIFE, and LIBERTY." Once again proclaiming a promise of God in our theme verse, 2 Corinthians 3:17 NKJV, "Now the Lord is the Spirit, and where the Spirit of the Lord is, there is liberty."
"It is our prayer today and throughout 2021 that the Spirit of the Lord would pour out and pour through us across America," said Kathy Branzell, President. "We pray to see the Lord fill our lives, families, churches, workplace, education, military, government, arts, entertainment, and media, with Biblical, not cultural, not worldly, but Spirit-empowered, Spirit-filled LOVE, LIFE and LIBERTY as designed and defined by our Creator and Savior." (Emphasis mine)
What is Seven Mountain Dominionism? This is a view of culture espoused by Pentecostal and charismatic "prophets" associated with the Independent Network Charismatic (INC) movement. I've written extensively about this movement here.

INC prophets and apostles believes that they have been anointed to serve as God's agents in ushering in his future kingdom, a process that many describe as God "bringing heaven to earth." They are thus deeply attracted to the belief that Jesus will not return until society comes under the dominion of Jesus Christ. Drawing from Isaiah 2:2 ("Now it shall come to pass in the latter days that the Lord's house shall be established on the top of the mountains"), INC prophets want to reclaim seven cultural "mountains": family, government, arts and entertainment, media, business, education, and religion. The goal is to place God's appointed leaders atop these cultural mountains as a means of setting the state for the time when God will bring heaven to earth.
Here is Ashton Pittman at Mississippi Free Press:
Mississippi needs Christian leadership to steward the state through the coming tribulations as Armageddon draws near, Secretary of State Michael Watson, the top elections official, announced at a prayer event alongside other state leaders today.
"I believe we need Christian men and women in office today more than ever before. And if you're a believer, if you're a member of the church, you understand the signs of the times right now," Watson, the son of a pentecostal preacher from the Assembly of God denomination, said today. "In the last few years, no more than ever before in the history of the church, we see the end times."
Watson made the comments during the Mississippi National Day of Prayer event at the Mississippi Coliseum in Jackson. The organizers behind the event are part of a national evangelical organization, the National Day of Prayer Task Force.
Today's event in Jackson included leaders from each of what the national task force describes as "the seven centers of power" it wants to influence: government, military, media and arts, business and commerce, education, church and family. In its press release announcing today's event, National Day of Prayer Mississippi called them "the seven spheres of influence in our culture."
The organization borrows the idea from the New Apostolic Reformation movement's "seven mountains mandate" theology, which teaches that God has begun "raising up" Christian apostles and prophets in the United States to take dominion over the "seven mountains" (or "spheres") of political and cultural influence. 
Critics of the movement, which dates back to the 1970s, accuse it of promoting theocracy. NAR leaders and other proponents of the seven mountains mandate, also known as dominion theology, gained heightened mainstream prominence during the Trump administration. Trump's former White House spiritual advisor, Tupelo-native Paula White, is a practitioner of seven mountains dominion theology.
Jennifer Biard, the pastor of Jackson Revival Center Church, told attendees that she was there to "pray for the cultural mountain of education."
"Father, use our prayer today that our schools, our colleges and universities may become centers for revival. Father, we pray that instead of faith being torn down, faith would be built up. … We pray that the Holy Spirit would use Christian administrators and faculty members as mighty forces for good," she prayed.
Read the rest here.