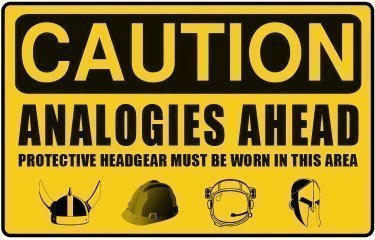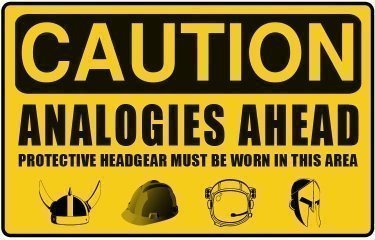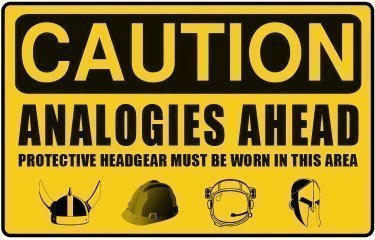 When it comes to understanding the present, historical analogies can only do so much. For a nice introduction to the use of historical analogies check out Current Managing Editor Jay Green's essay "Public Reasoning by Historical Analogy: Some Christian Reflections" in Confessing History: Explorations on Christian Faith and the Historian's Vocation.

After you read Jay's piece, check out David Perry and Matthew Gabriele at The Washington Post. Here is a taste:
When historical analogies are used to foreclose arguments, those analogies aren't actually historical — they are attempts to leverage one contemporary group's feelings to sell something. In what ways, really, is a mask mandate to help slow the spread of a deadly pandemic like a formal program of exclusion and, eventually, extermination waged against a group of people? (It's not at all.) But preventing people from asking too many questions is the goal of those making the analogy in the first place. It's an argumentative trick, in which the implicit logic is syllogistic rather than analogical: Nazis were bad. If we can liken something else to Nazism, it must therefore be bad, too.
This doesn't mean historical analogies are necessarily bad. To the contrary, useful historical analogies lead to further questions, pushing us toward deeper analysis. For example, there was a lot of conversation in 2019 about using the phrase "concentration camps" to characterize detention facilities on the southern border under the Trump administration. Similarly, there has been theatrical outrage over labeling as a new Jim Crow the new voter suppression laws that were just passed in Georgia (and are being considered in several other states, as well).
Obviously, both comparisons rely on a logic wherein a current thing is bad because it is like a bad thing in the past, but both comparisons also reveal vital truths. In the case of the "concentration camps," the comparison holds up because as one moves past the initial, visceral, comparison to the Holocaust, it pushes the reader to think about the long, very American history of this practice. In episodes of native genocide — the incarceration of Germans in World War I and the incarceration of Japanese during World War II, for example — the U.S. government created camps for arbitrary detentions without trials based on group identity. The historical analogy does work to both clarify what's happening in the present and place it in a long specific history, making it more difficult to regard today's camps as an aberration.
Read the entire piece here.