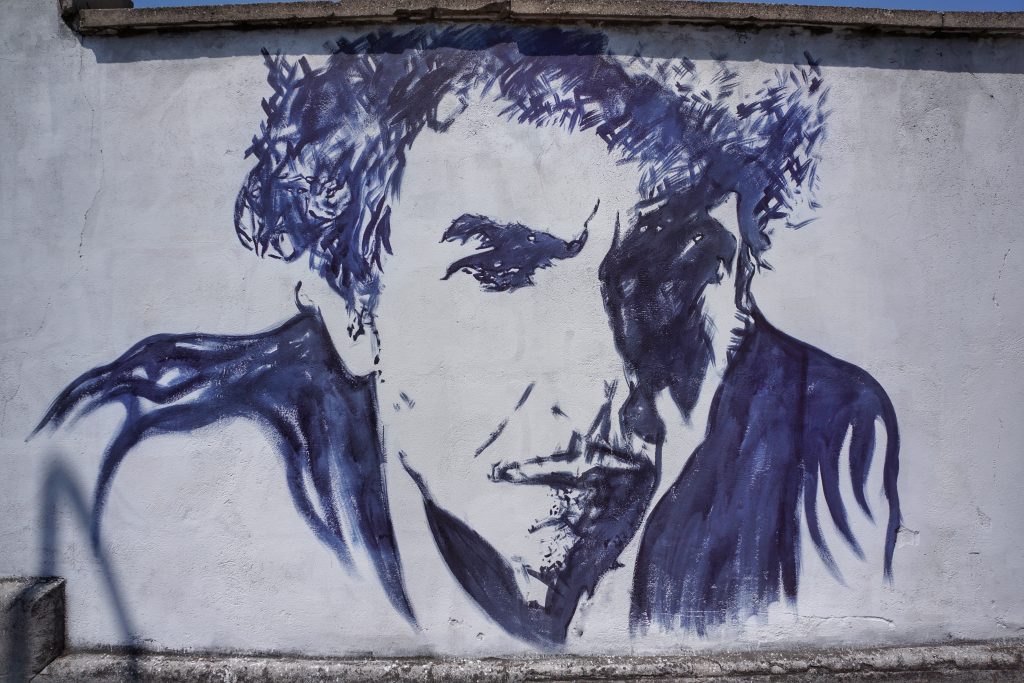 America's musical phantom turns 80
"I was so much older then, I'm younger than that now."
On May 24, Bob Dylan will turn eighty. In actuarial terms, he has never been older. But that's just the nature of space and time as most mortals experience it. Bob Dylan the artist has always operated as if time is an illusion to be sampled and dipped into a la carte.
Whether as a songwriter, a performer with a limitless repertoire of masks, or a cultural icon who cultivated an audience that mirrored his own inchoate restlessness, Bob Dylan has lived challenging the limits of what is imaginable.
When he recorded his eponymous first album in November 1961 he was twenty years old. But he flew through a short set of traditional folk songs and blues covers with the conviction of an old man who had finally settled down in the tuberculosis ward after decades of indulging sin and evading salvation. Why was the cherubic boy on the cover of Bob Dylan even attempting covers of Bukka White's "Fixin' to Die" and Blind Lemon Jefferson's "See That My Grave is Kept Clean," two songs steeped in an awareness of death most folks entering their third decade scrupulously dodge?
Though I'd heard his music all of my life, I became a casual fan of his music in the late 70s, while in high school. I loved "Lay Lady Lay" long before I attached the name Bob Dylan to it. I appreciated the Byrds' versions of Dylan's early 1960s classics before I heard the originals.
Because of the ubiquity of "Blowin' in the Wind," I associated Bob Dylan with a civil rights anthem, so I had no idea he was (a) a white guy and (b) the same guy who sang that weird circus-sounding song with the chorus "everybody must get stoned" that played on FM at odd times. He seemed to be some musical phantom who could dart between the shifting plates of American popular music at will.
As someone who passed on Street Legal and At Budokan (Live) when they were fresh offerings at my local Sam Goody's, I concede I was at best a fair weather fan whose nascent appreciation for Dylan had been shaped primarily by his two greatest hit collections. While he stumbled forward in search of new sounds, with gospel singers and a brass band at his disposal, I was marching backwards in time through his musical catalog in defiance of his advice to never look back.
My nostalgia for what I wasn't familiar with worked to my advantage on the rainy Saturday afternoon I picked up Blonde on Blonde, Blood on the Tracks, and Desire simply because they were on sale and could be purchased for less than $20, with plenty of change left over for a comic book and a movie.
Reconciling three such distinct recordings by one artist wasn't easy. The double album with the out-of-focus sepia-toned photo of Dylan on the cover sounded both bluesy and hallucinogenic. Each song shimmered with imagery that haunts me to this day. Blood on the Tracks generated feelings of desperation and anxiety, thanks to Pete Hamill's liner notes. Desire sounded like the aural equivalent of a blood-smeared newspaper. It had a foreign vibe, yet was also infused with a contemporary dread that was very much American.
Taken together, what I experienced that weekend was nothing less than a sensory overload that opened a portal to a wild musical journey. The seeds that would grow into an obsession with Dylan's music were planted that weekend, as I tried to make sense of lyrics like "to live outside the law you must be honest" and "ghost of electricity howl in the bones of her face."
Baby boomers like me find it impossible to talk about Dylan without pointing out how some part of our own origin stories intersects with his. It is the peculiar conceit of boomers to identify with our cultural heroes in ways that verge on the narcissistic. Why else would we take their successes and failures so personally?
The first "new" Dylan album I bought was Slow Train Coming in 1979, the first of a trio of Christian-themed albums that happened to coincide with my own spiritual journey.
Slow Train Coming was considered transgressive and reactionary by every major rock periodical except Rolling Stone, which lauded its musicality while politely dismissing its profession of faith as a persona Dylan had to take on to sing gospel music from an authentic space. To my nineteen-year-old ears, the brouhaha over Dylan's religious turn looked like a replay of the reaction he got at the 1965 Newport Folk Festival in which he "went electric" with the backing of a rock and blues combo.
I hadn't been a knowledgeable fan for long, but even I knew that it was folly to bet against Dylan's continued artistic relevance. As much as I enjoyed the Christian records, I knew they would merely be a palate cleanser for whatever was coming next.
As misfires like Knocked Out Loaded, Down in the Groove, and Under the Red Sky mounted, I consoled myself by retreating into a parallel universe of Dylan bootleg collectors. Dylan's catalog of unreleased music was far richer than anything officially released post-Infidels through Oh, Mercy. In its own way, hunting down potential classics perversely left on the cutting room floor was also a failure to wrestle with Dylan's mid-career struggle to redefine himself in ways that were sustainable for him. Ironically, there's something instructive in seeing even a great artist flail like an ordinary mortal.
Still, Sony/Columbia noticed how lucrative the underground market for Dylan bootlegs had become during his "slump," so it was a no-brainer to repackage, remaster, and market those lost tracks and hundreds more. A smart move for Sony may end up guaranteeing Dylan's iconic standing for generations to come.
Then along came Time Out of Mind in 1997. Suddenly Dylan's proximity to death wasn't the pose it was in 1961. His reported heart troubles coincided with the release of his most artistically satisfying album in more than a decade. It was steeped in the kind of observations about mortality you can only come by honestly. It looked to everyone like Bob Dylan was living on borrowed time.
That was twenty-four years ago. Dylan is still with us while an entire pantheon of rock gods, from Michael Jackson and Prince to David Bowie and Tom Petty, is gone.
We can all be forgiven for assuming that Dylan will always be there. But he won't, of course. At some point the Man in the Long Black Coat comes for us all. That's going to be a devastating day for many of us. It will be a disturbance in the Force.
The only question is whether the boomer conceit that Dylan will be celebrated 500 years from now, the way we celebrate Shakespeare, will be borne out. Really: Can Bob Dylan exist without boomers constantly dreaming him into existence?
Assuming his reputation precedes him by half a millennium, Bob Dylan will be remixed and reinterpreted so as to be comprehensible in those times. Maybe that's why he's always running down that road slipping in and out of time. If his latest album—recorded at seventy-nine—is any indication, he's just getting started.
Tony Norman is a columnist at the Pittsburgh Post-Gazette. He is also president of the National Society of Newspaper Columnists. Tonynormanwriter@gmail.com.