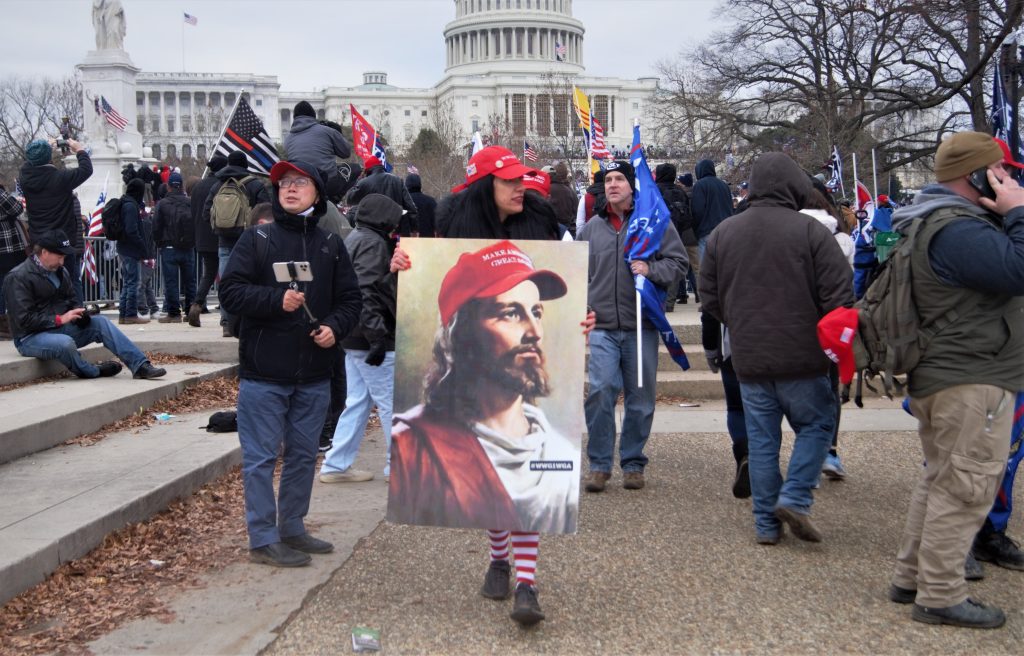 "I'm probably going to lose my job as a pastor after this."
Tyler Ethridge was days away from starting a new job as a youth pastor at an evangelical church in Florida. But before the former Texas high school football star moved with his wife and daughter to the Sunshine State, Ethridge decided to make a visit to Washington D.C.
On January 17, 2021 he tweeted a video of himself from inside the United States Capitol.
He recorded the video on January 6, 2021.
Here is part of what he said:
I don't want to say that what we're doing is right, but if the election is being stolen what is it going to take? Really? It is going to take people just talking about it? I'm probably going to lose my job as a pastor after this but what is it going to take? . . . And if this makes me lose my reputation, I don't care. I don't care about my reputation, I care about my nation. I care about it for my daughter and my child. That's what I care about. It's more than just talking, it's doing.
Ethridge is a graduate of Charis Bible College in Woodland Park, a school founded by a charismatic preacher named Andrew Wommack. While attending Charis, Ethridge took classes from Christian nationalist "historian" David Barton, Lance Wallnau (a "prophet" who gained fame in charismatic circles after he prophesied a Donald Trump victory in 2016), and William G. Boykin, a retired U.S. Army general who now serves as vice-president of the Family Research Council. He wrote regularly about what he learned from these men and others. The curriculum at Charis's School of Government includes courses with titles such as "Seven Mountains of Influence," "The Christian Heritage of American Government," "The Role of Pastors in Government," and "Principles of War."
During the summer of 2020, Ethridge urged his Twitter followers to join him in the fight to save America: "Awaken from your slumber. This is the greatest hour of our lives. Pick your side because it is coming in a much greater measure. Stand for Life, Liberty, and the Pursuit of Happiness." He added: "I stand with the gospel of Jesus Christ. Even if it costs you your livelihood and life. How will you be remembered? A coward in this hour or a person of honor and truth? . . . This election is a vote for freedom vs. bondage." Ethridge tweeted about pastors taking-up the cause of liberty, the threat of Sharia Law (referencing one of his Charis professors who taught him about this threat), and the time he met Ted Cruz when the Texas senator spoke at Charis during Ethridge's student days.
His January 17, 2021 tweet from the floor of the Capitol proved to be prophetic. The Florida church fired him before he even arrived on the job.
Tyler Ethridge was, among other things, a Christian populist—a phrase his former professor Lance Wallnau uses regularly on his social media sites to describe the pro-Trump evangelical movement. Populism has a long history in the United States. The word was introduced into American political discourse as an alternative name for the left-wing agrarian "People's Party" that nominated Iowan James Weaver for president in 1892. Most ordinary Americans became familiar with populism when William Jennings Bryan won the Democratic nomination for president in 1896 as a "populist" candidate.
While American historians find populism scattered across the political spectrum, such movements usually share: 1) a belief in the moral superiority of ordinary people; 2) an opposition to "elites," whether economic (as in the populism of Bernie Sanders and his ilk) or cultural (as in the populism of Donald Trump); 3) a distrust of experts that often lends itself to anti-intellectualism; and 4) an appeal to political strongmen and charismatic leaders to protect them from fears of social and demographic change.
Populists often understand themselves as victims. In the 1960s and 1970s, as prayer and Bible-reading was removed from public schools, non-Western immigrants began arriving to American shores, the Supreme Court legalized abortion on demand, and the federal government stopped protecting segregated Christian schools, evangelicals awoke from their political slumber. They formed political action groups such as the Moral Majority and the Christian Coalition to support candidates who would make America Christian again. They adopted a politics of fear that equated their loss of cultural power with suffering for Christ.
When Trump came along and said he would fight like hell for the conservative evangelical vision of America, he positioned himself to lead a populist revolution. The Christian Right's forty-year dream of a White House-led grass-roots movement to rid the country of "liberal elites," the "radical Left," and the "cultural Marxists" was underway, and God was using the most unlikely of presidents to lead the purge. Tyler Ethridge was ready to be a foot soldier in this populist Kulturkampf.
Successful revolutions usually require good ideas. But what happens when a revolution is built upon two movements—populism and evangelicalism—with long histories of anti-intellectualism? Not a problem. Evangelicals have their own set of experts. In their book The Anointed: Evangelical Truth in a Secular Age, scholars Randall Stephens and Karl Giberson describe how these experts have shaped evangelical views on a variety of issues. For example, when conservative evangelicals need to know something about science they turn to Ken Ham, the seven-day creationist, popular host of the radio show "Answers in Genesis, and founder of the Creation Museum in Petersburg, Kentucky. They get their psychology and understanding of the family from Dobson, the longtime culture warrior and founder of Focus on the Family. Their political philosophy comes from Fox News's Sean Hannity, radio personality Eric Metaxas, and Tony Perkins's Family Research Council. For American history they turn to Barton, the founder and CEO of Wallbuilders, an evangelical organization that peddles providential history to churches and lawmakers.
It is not a coincidence that many of the views of these evangelical experts intersected perfectly with the views on science, public policy, immigration, and American history championed by the Trump administration.
Barton and the rest of these evangelical "experts" embody what historian Mark Noll has described as the "scandal of the evangelical mind." They distrust any idea that comes from a secular university and use their platforms to criticize evangelical scholars who received PhDs from these universities. They invoke a providential God whom they claim is the author of all truth but reject the idea that God's truth might just be found in the words of Anthony Fauci, the dozens of federal judges who refused to hear election fraud cases, or the historical community who calls attention to racial injustice in the American past or challenges the idea that the United States was founded as a Christian nation.
Tyler Ethridge's story provides a direct link between evangelical populism and the insurrection at the United States Capitol. I am sure, if pressed, the folks at Charis Bible College will call him an outlier. But anyone familiar with this current brand of evangelical populism must conclude that on January 6, 2021 Ethridge was just taking his training at Charis to its logical conclusion.
John Fea is Executive Editor of Current