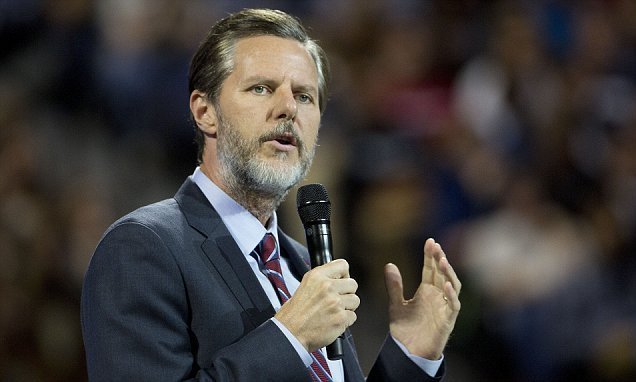 He claims that the event on his 500-acre farm is going to be the "real Liberty graduation."
Here is Emily McFarland Miller and Jack Jenkins at Religion News Service:
Former Liberty University President Jerry Falwell Jr., who left the school last year in the wake of multiple scandals, made an appearance at a gathering that included students over the weekend where he invited attendees to the "real Liberty graduation" at his own house next month.
Religion News Service has obtained footage of the moment that matches a shorter video circulating on Twitter claiming to show Falwell's invitation.
In the videos, Falwell, who resigned in 2020 as president and chancellor of the evangelical school, can be seen standing on an outdoor stage beneath handmade signs that include a cross, as a crowd attending what several people have identified as a comedy show look on. Holding a microphone, Falwell invites seniors to an event at "our farm" on May 8, saying, "We're going to have the real Liberty graduation."
"If you're not a senior but you're dating one, you can come, too," he added, according to the video obtained by RNS.
In the longer video, Falwell said he and his wife, Becki Falwell, were out to dinner when they heard from their daughter, a junior at Liberty, that she was at the show. He had only come to extend the invitation, he said.
He noted his daughter was "probably so pissed at me right now" and encouraged students to spread the word "as fast as you can" about the event on social media.
"We gotta move quickly," he said.
Reached by RNS on Friday (April 30), Falwell said he was joking about the party being the "real" Liberty graduation. The planned event at his 500-acre farm, where his family has lived for 33 years, is "my way of saying thank you" to the students, who he said have supported him through the past year of controversy.
Read the rest here.