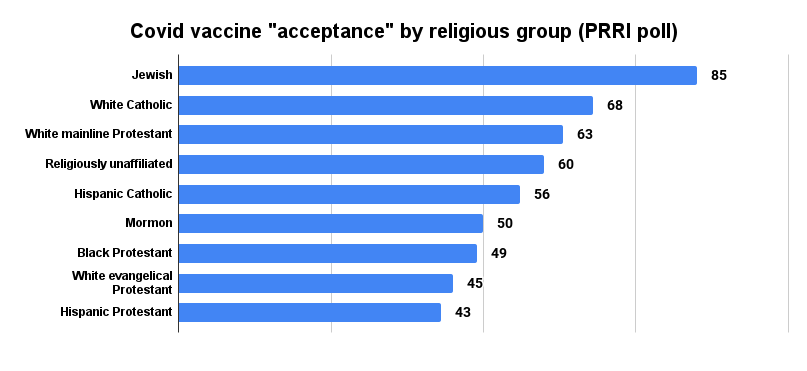 A significant number of evangelicals do not want to get the COVID-19 vaccine. Catholics, on the other hand, have a high vaccination rate.
Here is Robert David Sullivan at America:
In an attempt to more closely examine the link between vaccine acceptance and religious belief, PRRI also asked respondents whether getting vaccinated was "a way to live out the religious principle of loving my neighbors." The Catholic Health Association, in fact, is using the phrase #LoveThyNeighbor as part of a campaign to encourage vaccination.
But in the PRRI poll, white Catholics were not especially likely to cite love of neighbor as a reason for getting vaccinated. Only 57 percent of white Catholics agreed with the PRRI statement, not much different than the 55 percent among Hispanic Catholics or 55 percent among white mainline Protestants. Even among Americans with no religious affiliation at all, 53 percent said vaccination was a way to honor that "religious principle" of loving one's neighbor.
Among white evangelical Protestants, only 46 percent agreed that getting vaccinated was "a way to live out the religious principle of loving my neighbors," but that was almost exactly the same share (45 percent) as those willing to get vaccinated for any reason—whereas the share of white Catholics willing to get the vaccine (68 percent) was 11 points higher than the share who said getting vaccinated was a way to show love of neighbor.
There were two other striking differences between white Catholics and white evangelical Protestants in the PRRI poll. While 43 percent of white evangelical Protestants said they would "look to a religious leader" for information about Covid vaccines, only 27 percent of white Catholics said the same. Interestingly, there was no such difference between Hispanic Protestants (45 percent) and Hispanic Catholics (44 percent), suggesting again that the higher educational levels among white Catholics help explain their relatively high acceptance of the vaccine.
Read the entire piece here.