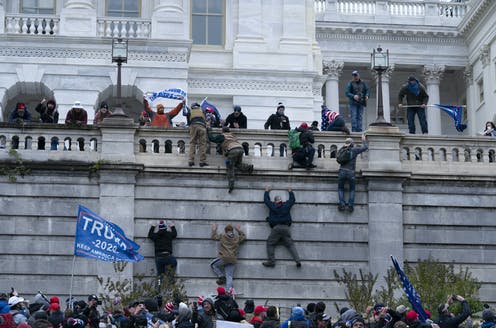 Esteban Castellanos is a 2003 graduate of the Air Force Academy. and a member of the Air Force Reserve. Here is a taste of his op-ed at Air Force Times:
In late March, the U.S. Air Force Academy held its Department of Defense-mandated extremism stand-down training to examine and to eradicate extremism and white supremacy within the ranks.
Superintendent Lt. Gen. Richard Clarke spoke of extreme ideologies on "both sides," rather than confronting the unique flavor of the extremism threat on display Jan. 6 at the U.S. Capitol. Cadets learn how to lead by the example set from their leaders. Whether they lead with honor and integrity in all aspects of their lives, and especially in moments of duress, depends on the standard of leadership that is set by people like Lt. Gen. Clarke.
Many USAFA graduates feel the mild response to the insurrection from the academy and its Association of Graduates failed to reflect these values and stands counter to everything they publicly expect of graduates. We are disappointed and feel that leadership has failed our graduates, the members they lead, and ultimately the citizens of this country.
Simply put, many of our leaders are underreacting to the attack. We need them to state, unequivocally, that the insurrection was wrong, intolerable and against our values and oath of service to the Constitution. They must state publicly and emphatically that those within our ranks who participate in, or are sympathetic to, the organizations that took part in the riot at the Capitol are not welcome in our ranks because they are supporting domestic insurrectionists and terrorists.
Read the rest here.