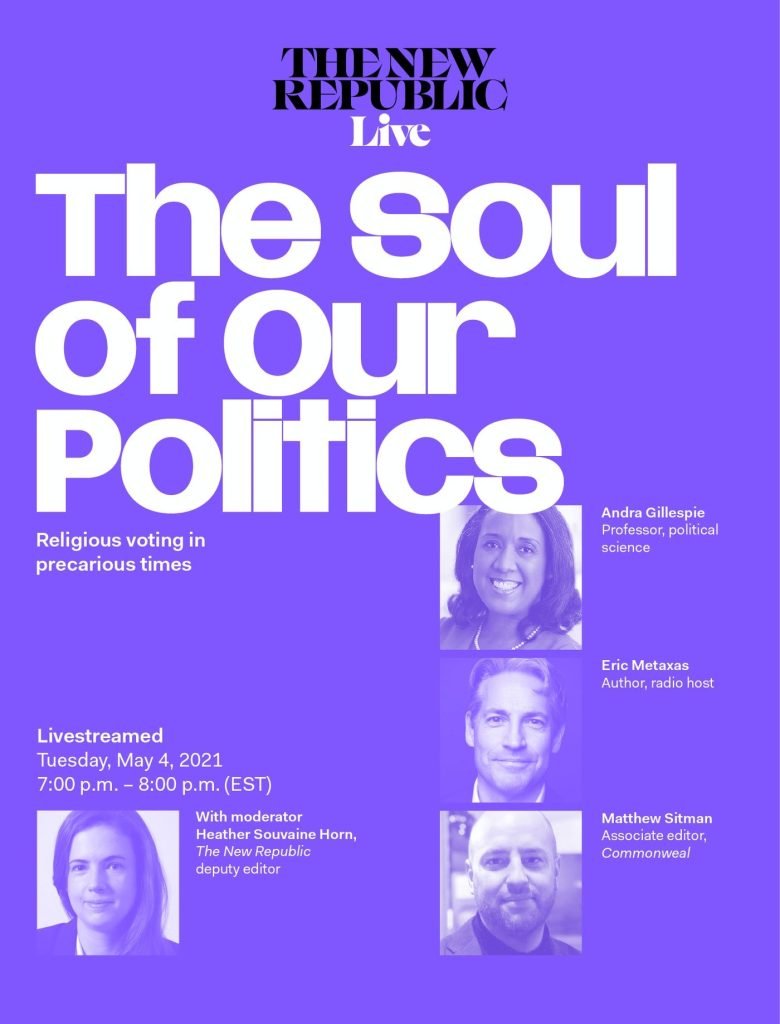 Earlier this month, The New Republic published a "debate" between conservative writer Matt Labish and court evangelical Eric Metaxas. Here is what I wrote on April 5, 2021:
…let's remember that Eric Metaxas:
Is Win McCormack (Editor in Chief) and Chris Lehmann (Editor) aware of Metaxas's views? (And I confined my list to Metaxas's "greatest" hits from 2021).
Why would The New Republic give Metaxas a platform? I am all for open debate and dialogue, but where are The New Republic's boundaries? Is The New Republic now a place where conspiracy theorists, anti-intellectuals, and "Stop the Steal" advocates can find an outlet for their ideas? Does The New Republic believe that entrance into the public square–the playground, so to speak–requires a basic adherence to truth, science, and evidence?
I imagine the regular readers of The New Republic will read this piece and get a better sense of exactly what Metaxas is all about. This is exactly what Metaxas wants. He is hoping that anti-Trumpers will mock him on social media. He doesn't care if this happens, because he believes he is right about everything. God told him. Like Mike Huckabee and the rest of the Christian Right culture warriors, he craves the kind of attention that comes through victimhood. The more attention he garners from places like The New Republic, the more famous he becomes in evangelical circles. This means more offers, more speaking engagements, more book contracts, and more money in his pocket. Metaxas believes that he is engaging the culture from his "Christian world view" and making significant strides in getting the secular public sphere–the gatekeepers at The New Republic in this case–to accept his views as legitimate.
Now The New Republic is sponsoring a roundtable discussion on American politics titled "The Soul of Our Politics." (See the image at the top of this post).
Why not just invite Mike "MyPillow Guy" Lindell to contribute to this conversation? When it comes to politics and Trumpism, he is essentially the same person as Metaxas.
I am reminded again of Eric Miller's Current piece "In the Arena." How do we decide who gets to play in the arena of democratic discourse? The New Republic apparently believes that Eric Metaxas is a legitimate player.
In the video below, Metaxas talks about his appearance on Mike Lindell's new social media platform and continues to promote the idea that Joe Biden did not win the 2020 presidential election. At the end of the video he goes into an anti-vaxxer rant.
He also complains that Newsmax canceled his appearance on the network so that it could cover the verdict in the Derek Chauvin trial. Metaxas says, "I was supported to be on the Stinchfield show yesterday and it got canceled because of the Derek Chauvin trial. Can you see my eyes glazed over at the thought. I mean we cover stuff in this country like the whole country has to be tuned in. I don't know."