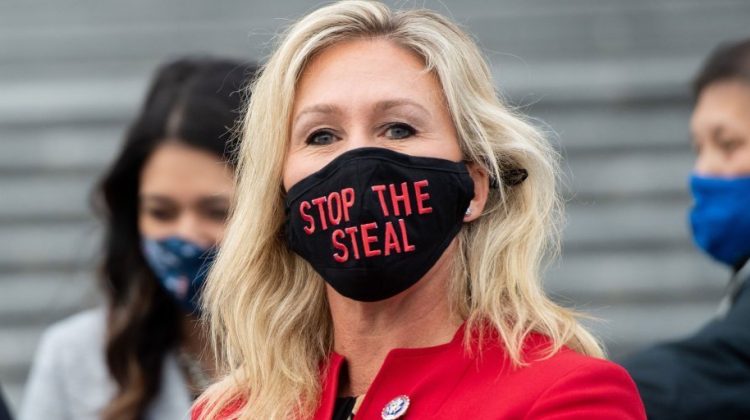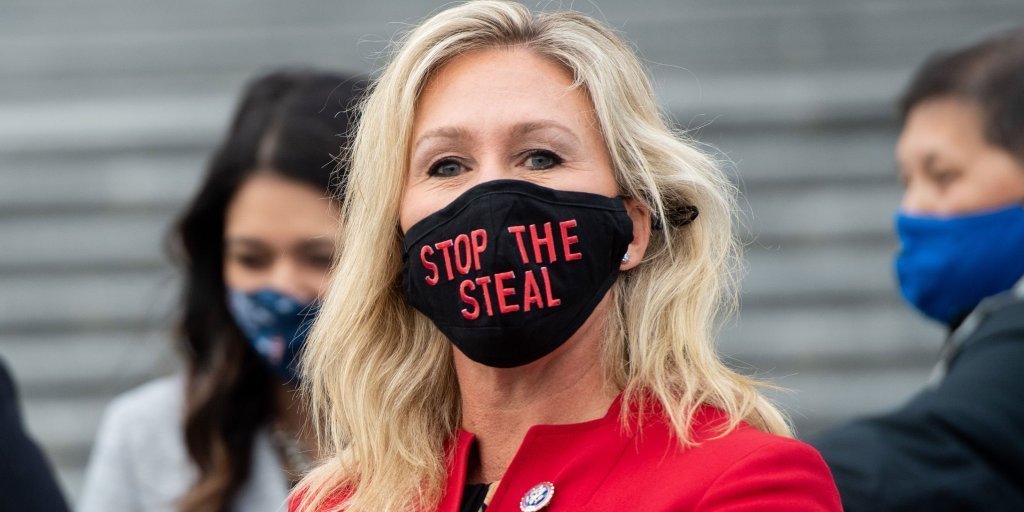 Yup. It looks like this might be a thing. Anglo-Saxonism is back. Reps. Marjorie Taylor Greene (R-GA) and Paul Gosar (R-Ariz.) are starting the "America First Caucus."
On election fraud:
Recent election results demonstrate a compromised integrity of our elections and made our election system a subject of global mockery. Across the country federal elections have been undermined by using voting machines that are readily compromised and illegally accessed whereby results appear manipulated, voters are disenfranchised, and faith in our system eroded. Mail-in voting, long recognized as subject to fraud, has become normalized. We will work towards an end to mail-in voting, implementation of national voter ID and substantive investigations into mass voter fraud perpetrated during the 2020 election.
On "sovereignty":
We will work to divest power from the federal government and give it back to the states and the people to restore the balance of federalism. We believe in, and will fight for, the principles of federalism and decentralization of political power; the government closest to the people is the best equipped to handle their concerns. At the federal level, this means exposing deep state actors, shrinking the regulatory state, and eliminating thousands of regulations and indeed entire bureaucracies.
This is not entirely accurate. It should read "We will work to divest power from the federal government and give it back to the states as long as those states are willing to restrict voting in their state." 🙂
On Immigration:
The America First Caucus recognizes that our country is more than a mass of consumers or a series of abstract ideas. America is a nation with a border, and a culture, strengthened by a common respect for uniquely Anglo-Saxon political traditions. History has shown that societal trust and political unity are threatened when foreign citizens are imported en-masse into a country, particularly without institutional support for assimilation and an expansive welfare state to bail them out should they fail to contribute positively to the country.…
Didn't the Greeks invent democracy? What about the Roman republic? I wonder if Greene and Gosar realize that the Greeks and the Romans were not Anglo-Saxon. And wait, don't Greene and Gosar want to make America a Christian nation? Wasn't Jesus a middle-eastern Jew? Was the apostle Paul an Anglo-Saxon?
On Infrastructure:
The America First Caucus will work towards an infrastructure that reflects the architectural, engineering and aesthetic value that befits the progeny of European architecture, whereby public infrastructure must be utilitarian as well as stunningly, classically beautiful, befitting a world power and source of freedom. As the Romans demonstrated with aqueducts, walls and roads, function and beauty are not at odds. Federally funded infrastructure, including roads, buildings, airports, seaports, bridges, should demonstrate a pride of workmanship. A bridge is not merely something to cross from side A to side B, it is a connection among peoples.
So it looks non-Anglo Saxon (Roman) infrastructure will be tolerated. Also, I wonder how the America First Caucus hopes to reconcile "pride of workmanship" without paying for that workmanship? Finally, the reference to a "bridge" as a "connection among peoples" is laughable following the nativist section on immigration above.
On Coronavirus:
Ever since the outbreak of the novel coronavirus originating from China and the first known case of coronavirus in the United States on Jan 21, 2020, the United States government and health organizations issued guidelines and policies that would hinder and destroy the American economy in many ways. These guidelines, which includes mask mandates and social distancing rules, are socially conditioning the culture and behavior of Americans…
On the Environment:
We oppose the globalist, vague, and irrelevant policies being pushed under the guise of combating climate change. If Americans want to conserve the environment, they should push for better waste management and other substantive remedies, not wasteful social justice programs like the Green New Deal.
On "America First Education":
The 20th Century saw the decline in many vital American institutions. None has been more damaging to the United States than our education system. The increased consolidation of educational spending came with it the ability for powerful left-wing special interest groups to redirect the focus away from preparing future generations of national talent to progessive [sic] indoctrination and enrichment of an out-of-control elite oligarchy. Even worse, our education has worked to actively undermine pride in America's great history and is actively hostile to the civic and cultural assimilation necessary for a strong nation. The future of America's position in the world depends on addressing the crisis in education, at both the primary and secondary level.
It looks like Louis Gohmert (TX) and Matt Gaetz (FL) will join the caucus.