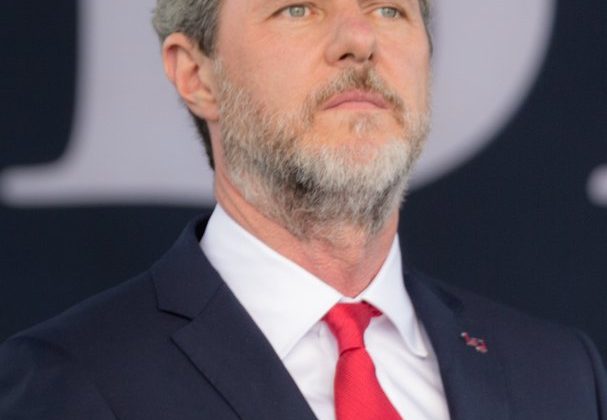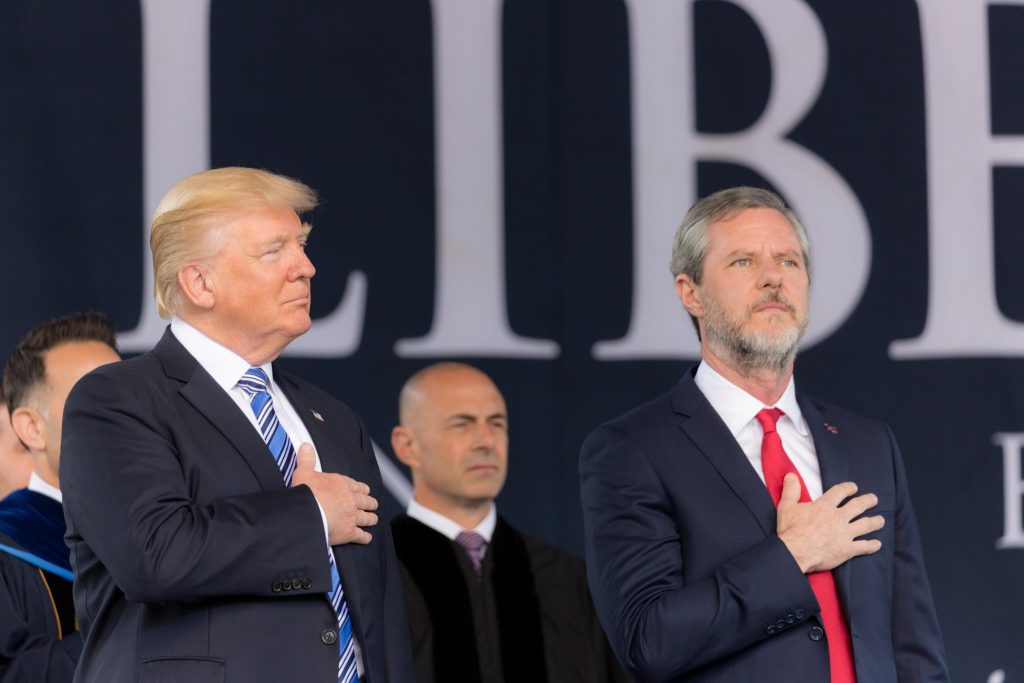 I can't keep up with all these Liberty University stories. Last week disgraced former president Jerry Falwell Jr. was touting the COVID-19 vaccine and catching a lacrosse game on campus. Earlier this week Liberty fired Trey Falwell, Falwell Jr.'s son. Yesterday the largest Christian university in the world announced that Mike Pompeo and Mike Huckabee would be joining its Standing for Freedom Center.
Now this from Ruth Graham at The New York Times:
Liberty University has sued Jerry Falwell Jr. for $10 million, exacerbating the messy divorce between the Christian university and its former president whose family name has been synonymous with the university since its founding.
The suit, filed on Thursday, alleges breach of contract and fiduciary duty. It claims that Mr. Falwell withheld scandalous and potentially damaging information from Liberty's board of trustees, while negotiating a generous new contract for himself in 2019 under false pretenses. Mr. Falwell also failed to disclose and address "his personal impairment by alcohol," the suit alleges.
In August, Mr. Falwell claimed that he was being threatened with extortion by a man who had a yearslong sexual relationship with Mr. Falwell's wife, Becki. The suit claims that by keeping the sexual entanglement and resulting "extortion" a secret, Mr. Falwell endangered and later damaged Liberty's reputation. Instead of divulging the active threat to Liberty's board, "Falwell Jr. chose personal protection," the suit claims.
A spokesman for Liberty University, Scott Lamb, said the school had no comment on the suit.
In a statement, Mr. Falwell said that he had always abided by the requirements for university staff and that the lawsuit was "full of lies and half truths" and "yet another attempt to defame me and discredit my record, following a series of harsh and unnecessary actions."
The university filed the suit on the same day that its board of trustees arrived in Lynchburg, Va., for its semiannual meeting, at which they are set to discuss the university's future, including its search for a permanent leader. Jerry Prevo, a close associate of Mr. Falwell's father and the former pastor of a large church in Alaska, has been serving as interim president since August. Mr. Prevo is also a member of the board's powerful executive committee.
Read the rest here.
Some highlights from the suit:
Liberty argues that Falwell Jr.'s refusal to reveal his wife's sexual affair with a Miami pool boy was a violation of "The Liberty Way," particularly as it relates to the" moral and ethical standards of the university." It argues that Jerry Falwell Sr., the founder of Liberty University, envisioned that the leader of Liberty University "be a standout spiritual leader for the college." Falwell Jr. failed to conform to these standards and thus damaged the university's reputation.
The suit states that the pool boy, Giancarlo Granda, demanded "hush money" from Jerry Falwell Jr. "ranging from $600,000 to $2 million. Falwell Jr. did not inform Liberty University about this extortion. The affair, and the failure to inform the university, damaged "not only the Falwells but also 'Liberty University'." The suit adds: "Instead of divulging to Liberty's Board of Trustee's Granda's active attempts at extortion, Falwell Jr. instead led a scheme to cover up the illicit conduct…The Falwells needed silence from Granda in order to safeguard their personal reputation, Jerry Jr.'s professional standing, and his employment with America's leading evangelical university."
Liberty argues that Falwell Jr.'s behavior–including the drinking of alcohol, the "fraternization in high-energy establishments," and the engagement in immodest behavior"–damaged the reputation of the university.
Liberty argues that Falwell's investment in a Miami hostel that housed a liquor store damaged the reputation of the university.
Liberty argues that the Falwells executed a "Granda Plan" designed to bring the pool boy into their family circle so he would not make his affair with Becki Falwell public. Between 2014 and 2020, the Falwell's hosted Granda at their Virginia farm, entertained Granda's girlfriends, and took Granda with them on a family trips.
Liberty argues that Falwell Jr.'s aggressive building campaigns at Liberty and his decision to bring high-powered political figures to campus gave Liberty a national spotlight that led to more criticism of the university and Falwell himself.
The suit explains Falwell Jr.'s endorsement of Donald Trump this way: "In 2016, Falwell Jr. surprised the evangelical world by endorsing Donald Trump for the presidency. This move was particularly delicate because Senator Ted Cruz, a leading Trump competitor in the primaries, had used an earlier appearance at Liberty to give his first speech after announcing a presidential candidacy of his own." In defense of Trump, Falwell Jr. went on national media outlets asking evangelical voters to "forgive" Trump rather than judge him for his many sins. As he told Erin Burnett on CNN :"We are all sinners; we all need Christ's forgiveness. That's why evangelicals are so quick to forgive." When Falwell Jr. made these statements in support of Trump he was covering up his own indiscretions in the Granda affair.
In 2019, with the very real possibility of the Granda affair going public, Falwell Jr. negotiated a contract with Liberty that would pay him $1.25 million a year with $2.5 million a year for two years of severance pay should Liberty need to remove him. He knowingly withheld the Granda information from the Board of Trustees when he negotiated this new contract.
To manage his stress, Falwell "began drinking significantly." The suit notes, "there were concerns that he smelled of alcohol during work interactions."
On the now infamous yacht photo the suit states: "The Falwell family took some floating vacations on yachts provided by business partners of Liberty…During that span, the Falwells held a costume party centered around the characters of the Canadian mockumentary the Trailer Park Boys….Promotional copy for the show bills the series as exploits by 'three lovable career criminals as they rob liquor stores, fence stolen goods, and dream of pulling off one last, big score.' Overall, the tone and content of the show is vulgar." The suit goes into specific detail about the characters on the show and the Falwell portrayals of those characters at the party. When the photo was released, Becki Falwell reported her husband's alcohol use to three members of the Liberty University board of trustees, expressing that "drinking was adversely overtaking Falwell Jr.'s thinking and actions" and he "needed to go away for treatment." The suit adds: "Becki's heartfelt appeal made an impact on Liberty's leaders and helped provide a context for understanding Falwell's questionable public comments, worrying behavior, and inappropriate social medial posts." On August 7, 2020, Falwell announced that he was taking a sabbatical from his work as the president of Liberty University. The Board agreed to pay his rehab.
On August 24, 2020, Falwell issued a 1,200 word statement to the Washington Examiner about the Granda affair as a way of pre-empting what he knew was Granda's decision to reveal everything about his relationship with Liberty' first family. The suit notes that Falwell Jr.'s contract "forbade him from publishing without the Liberty Executive Committee's prior assent to the copy." Reuters published Granda's side of the story the same day. Falwell resigned on August 25, 2020.
On October 28, 2020, Falwell filed a defamation lawsuit against Liberty. It was clear to the Liberty Board of Trustees that "Falwell Jr. had re-emerged willing again to practice his particular brand of disdain for those who would challenge him–even those who built the platform that made him the household name Falwell Jr. is today." In his complaint he blamed his wife for the Granda affair. The suit notes: "He shows little empathy for the woman who sought treatment for him for alcohol abuse…."
Falwell Jr. refused to use his liberty.edu e-mail address for communications about Liberty business. He maintained a "third party internet service provider, for which Liberty paid."
Falwell Jr. went "to great lengths to avoid storing his communications and other business data on the Liberty system."
Falwell Jr. has not returned his Liberty laptop and other devices that carry sensitive and confidential information
Read the entire lawsuit here.
I have so many thoughts and questions.
For example, how does Liberty University, a school that believes in an inerrant Bible that should be interpreted literally, reconcile its suing of Falwell with 1 Corinthians 6?
It seems as if Liberty University has a strong case. Indeed, Jerry Falwell's behavior has damaged the reputation of the school. Liberty's lawsuit openly admits that Falwell took them down a wrong path. One wonders if Falwell's, and by extension Liberty's, fall from grace would have happened if Donald Trump did not run for president.
Which leads to my next set of questions:

To what extent is the Liberty case a microcosm of what the pursuit of political power, ambition, and support of Donald Trump has done to the evangelical church at large? If Liberty University trains "Champions for Christ," and Falwell's behavior, which was partially related to his endorsement of Trump, hurt its ability to train such "champions," then wouldn't the larger evangelical community's embrace of Donald Trump have the same effect on the witness of the Gospel in the world? Of course the pool boy scandal predates Trump's presidential campaign, but this entire affair, and the damage it has done to Liberty University, is inseparable from the culture of the Trump years. Future historians will tell the story this way.