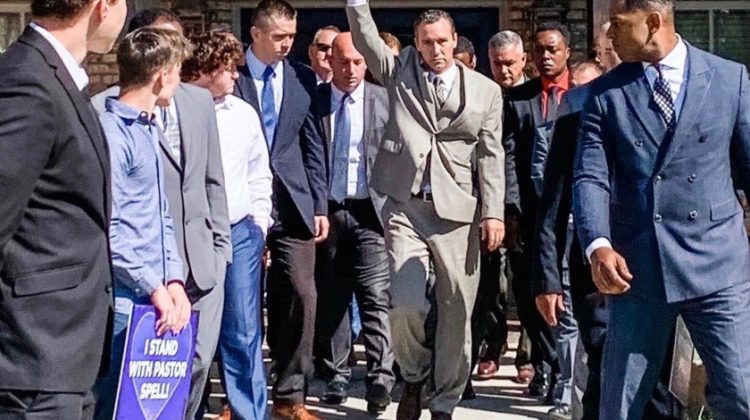 CNN's Elle Reeve apparently wanted to do a story on evangelicals and the COVID-19 vaccine. So she went to Tony Spell's Life Tabernacle Church in Baton Rouge, Louisiana. This is what she came up with:
A few thoughts:
The fact that 28% of white evangelicals say they will not get the vaccine justifies the coverage this story is getting.
At about the 00:20 second mark of the video, Reeves notes that resistance to the vaccine remains strong among white evangelicals. She adds: "This is not a fringe group. A quarter of Americans are evangelicals." There is nothing wrong about this. But as she says these words, the video shows Spell screaming an anti-vaxxer message and people dancing in the aisles (one women is barefoot). There are a lot of evangelicals like Spell and his congregants. There are also a lot of white evangelicals, apparently more than 70% of them, who believe in science and vaccines. In fact, as the piece notes, 95% of evangelical leaders said they would get the vaccine. That statistic appears on the screen for three seconds. I could not read it all without having to back-up the video.
Unlike Spell, most evangelicals I know who oppose the vaccine do not connect their opposition to "mail-in-ballots" and the Biden administration. Nor do they connect it to Bill Gates.
The pro-Trump woman at the 3:40 party mark (Patricia Seal) confirms my thesis that this minority group of evangelical anti-vaxxers do not take their marching orders from Donald Trump.
In the end, Reeve has produced an interesting short piece about fringe evangelical Tony Spell. But let's not pretend that her piece is representative of the way most evangelicals are thinking about the vaccine.
If you want a more nuanced, and more interesting, story on evangelicals and the vaccine, check out Lexington Herald-Leader health writer Alex Acquisto's article. Kudos to Kentucky.com for giving Acquisto the space to unpack this story in a complex way. Here is a taste:
When Pastor Sean Daniels heard his name called in the Food City parking lot in Harlan, he didn't expect to be asked whether he thought the COVID-19 vaccine was an instrument of the biblical end times.
Daniels is a pastor at Friendship Missionary Baptist Church in Cawood, Kentucky, and this woman knew it. Having heard on social media and from friends that the vaccine was the Mark of the Beast, as it's referred to in Revelation, she thought it made sense to ask a man of the cloth.
He recalled that conversation last Wednesday, sitting in the front pew of his church, which sits at the base of a hill a few miles outside Harlan. It was nearing 6 p.m. Cars were pulling in the parking lot and people were beginning to gather at the doors of the sanctuary, in anticipation of his mid-week evening service. "She wanted to know, "'Is this true? Is what I'm reading online really true?'"
For the record, Daniels doesn't believe the vaccine forebodes the end times, and he told her as much as they both stood there, holding their groceries. In fact, he was one of the first pastors in his southeastern Kentucky county to post a picture of himself getting the coronavirus vaccine back in January, when he first became eligible as a chaplain at one of the local hospitals.
But increasingly Daniels and other Harlan County church leaders are getting peppered with fear-based questions from their congregations and community about the vaccine, which they try to gently bat down. Though their denominations vary, most are white and all are evangelical.
Read the rest here.
For the record: I identify as an evangelical Christian. I got my second Pfizer shot last week and I am doing fine. I'm with Francis Collins: