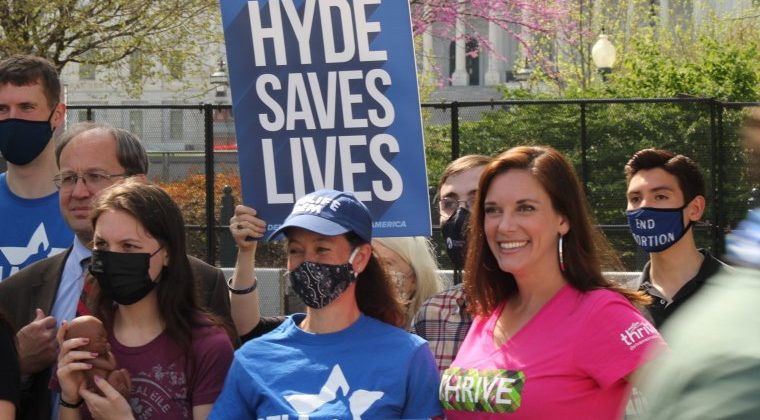 I don't see many news outlets covering this story.
Here is Ryan Foley at The Christian Post:
A group of pro-life Democrats and other pro-life activists gathered on Capitol Hill and across the country Saturday to oppose the exclusion of a long-standing ban on federal tax dollars being used to fund most abortions in a recently passed spending bill. 
The Democrats for Life of America hosted a "Save Hyde National Day of Action." The flagship rally took place in front of the U.S. Supreme Court, with the U.S. Capitol Building in the background.
Satellite events took place in 21 different locations nationwide. Dan Green, DFLA's national communications director, estimated in an interview with The Christian Post that up to 1,000 people would likely attend the events.
The day of action comes just one month after President Joe Biden signed into law a coronavirus relief package that did not have Hyde Amendment protections guaranteeing that federal tax dollars can't be used to pay for abortions in most cases.
"If [Democrats] keep going down this road, where they want to fund abortion and ignore the needs of women, … it's going to be a tough 2022 for Democrats," DFLA Executive Director Kristen Day told CP. 
Terrisa Bukovinac serves as president of the DFLA's board of directors and is the founder and executive director of Pro-Life San Francisco, another group of pro-life Democrats.
Speaking with CP before the event, she declared that she hopes people understand that the "Hyde Amendment is one of the most effective resources we have as Americans to limit the number of abortions that are occurring in our nation."
"Giving voice to this cause … and really magnifying our grassroots efforts will help bring attention to this issue, will help bring the attention of the senators and the members of Congress on this issue," Bukovinac said. "So, we're hoping that it will moderate some of their opinions, that they will see that there's a nationwide effort to support the Hyde Amendment and that will compel them to protect it."
Bukovinac criticized the Biden administration's newly announced commission to study possible reforms to the Supreme Court, including expanding the number of Supreme Court justices and limiting the amount of time justices can serve on the bench.
"We would be very, very concerned that expanding the court would be detrimental to the unborn," she said. 
While Bukovinac identifies as a liberal and an atheist with no intention of changing parties, she made her discontent with the Biden administration's abortion policies quite clear.
"The Biden administration is the most extreme, most radical pro-abortion administration in the history of our nation," the activist said. "Repealing the Hyde Amendment and forcing the taxpayer funding of abortions would increase abortion dramatically in this country at all gestational ages, and that's absolutely terrifying."
Read the rest here.