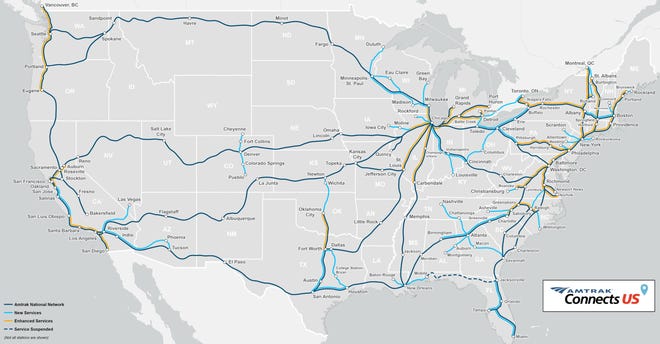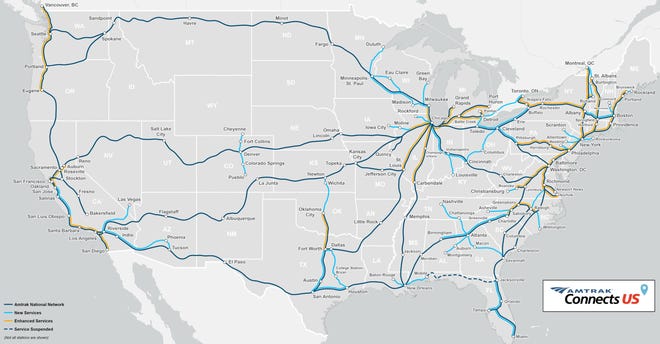 Joe Biden spent most of his senate career commuting to Wilmington, Delaware to Washington D.C. via Amtrak. His new infrastructure plan will give $80 billion to the rail line. Here is Joseph Spector and Joey Garrison at USA Today:
How about a train ride from Nashville, Tennessee, to Atlanta, Phoenix to Southern California, or Louisville, Kentucky, to Indianapolis?
Amtrak late Wednesday released a proposed map of new and expanded service if it can land the $80 billion President Joe Biden proposed for the rail service as part of his American Jobs Plan, a massive $2 trillion plan to rebuild the nation's aging infrastructure.
Amtrak's vision calls for bringing new intercity rail service to up to 160 previously unserved communities over the next 15 years, including 30 potential new routes and enhanced services with more daily trips on existing routes.
New service is identified for major cities that currently have no Amtrak service such as Las Vegas, Nashville, Columbus, Ohio, and Phoenix. The cost for each of the projects is unclear.
Read the rest here. Politico breaks down the plan here.
How about a new line from Harrisburg to Washington D.C.?
I wonder if Amtrak is considering expanding its writers' residence program?