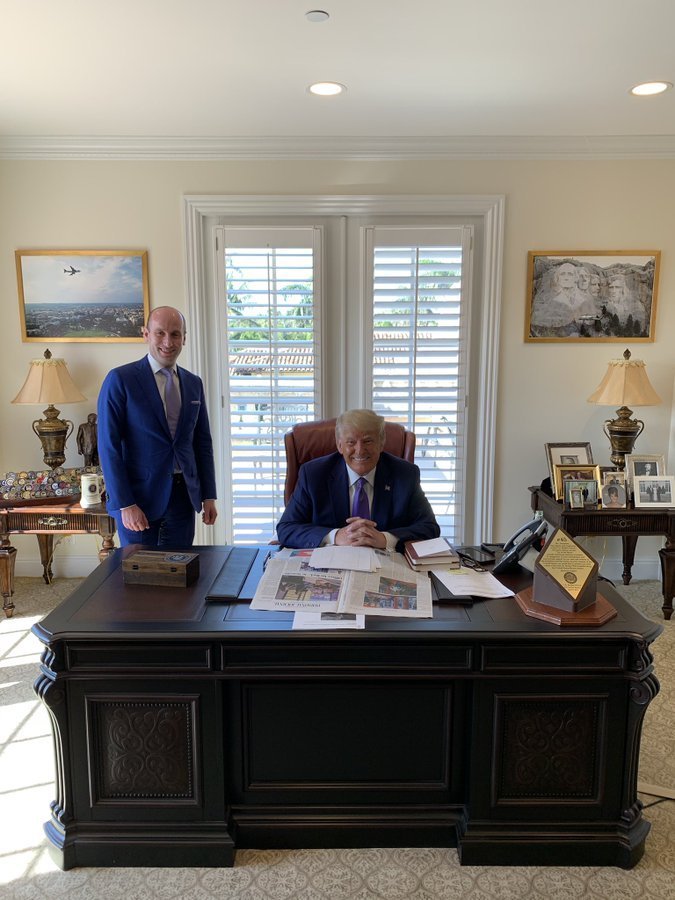 Stephen Miller, Donald Trump's nativist speechwriter and adviser, recently shared a picture of himself with Donald Trump after a meeting in Mar-a-Lago:
Over at Politico, Daniel Lippman interprets the picture in a masterful piece titled "What a photo of Trump's new office reveals about how he wants to be remembered." Here is a taste:
THE INFAMOUS SHARPIE: Trump also has at least one big black Sharpie — the fat, marker-like pen that he has wielded for years to write and autograph items for friends and allies, and occasionally to mark up critical articles he didn't like and send it to the offending journalist.
READING GLASSES: Trump is famously image-conscious and didn't like to be seen wearing his reading glasses while in office, and few news photographers snapped pictures of him wearing them. The New York Times reported in 2019 that Trump often didn't tweet when other people were around because he didn't want to have to wear glasses to see his phone screen. Dan Scavino, his longtime social media expert, often printed out suggested tweets in large fonts so Trump could sign off on them.
BOTTLE OF COKE: Trump, a long-time Diet Coke fanatic, appears to have a half-drunk glass bottle of Coke next to his phone even though he urged Americans to boycott Coca Cola, based in Georgia, for criticizing Georgia's new law that restricts voting. In a statement last Saturday, Trump said: "Boycott Major League Baseball, Coca-Cola, Delta Airlines, JPMorgan Chase, ViacomCBS, Citigroup, Cisco, UPS, and Merck. Don't go back to their products until they relent. We can play the game better than them."
PLAQUE COMMEMORATING THE BORDER WALL: The former president has a piece of the U.S.-Mexico border wall that was one of his main 2016 campaign promises. While Trump had promised a "big beautiful wall," only 80 miles of new wall were built during his time in office out of a total of 452 miles of the wall built on his watch. The U.S. Border Patrol plaque praises Trump for "defending America's borders."
Read the entire piece here.