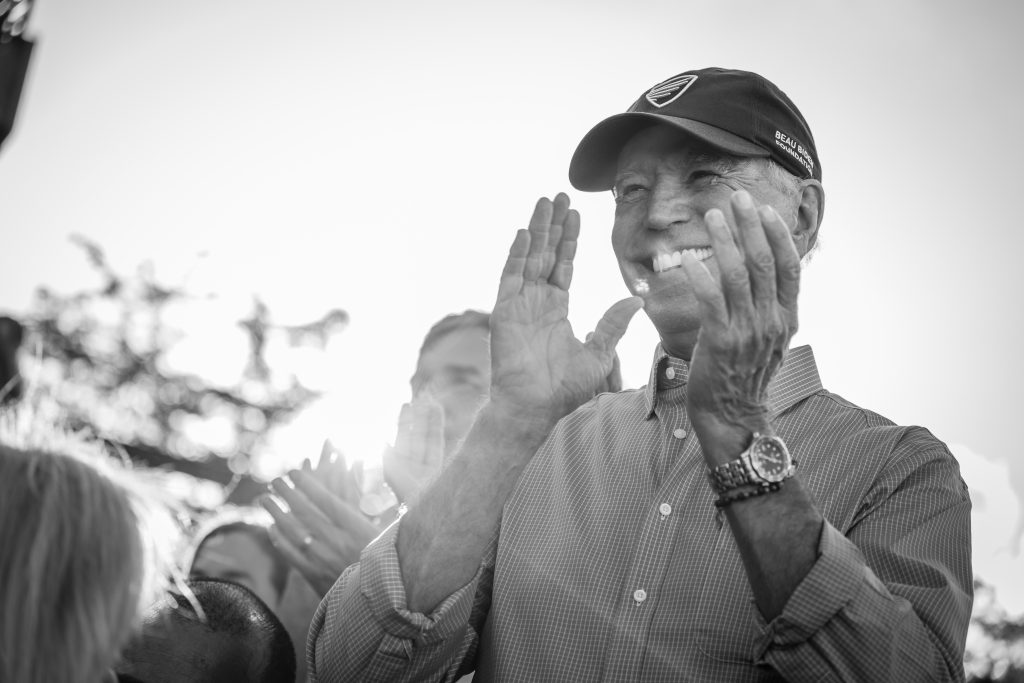 For Joe Biden, there is no individualism apart from solidarity
In his 2006 book The Audacity of Hope, Senator Barack Obama wrote, "I reject a politics that is based solely on racial identity, gender identity, sexual orientation, or victimhood generally." This universal vision of "hope" and "change" for all Americans carried him to the White House.
Fifteen years later, Obama's vice-president has adopted a similar message, but not without his own touch. And it's unmistakably spoken in his own voice.
In his inaugural address, Joe Biden sermonized on the nation's articles of faith: opportunity, economic security, virtue, sacrifice, hope, progress, and justice. He asked "all Americans" to imagine themselves as part of a common story rooted in these sacred values.
All presidents use their inaugural addresses to appeal to unity, shore-up the foundations of democratic life, and instill in their hearers a kind of spiritual confidence in the exceptional nature of the American experiment. Obama, facing the worst economic downturn since the Great Depression, urged Americans to "choose hope over fear" and "unity of purpose over conflict and discord."
Four years later, the first African-American president called citizens to "affirm the promise of our democracy" and "recall that what binds this Nation together is not the colors of our skin or the tenets of our faith." What "makes us exceptional," Obama said, "is our allegiance to an idea articulated in a declaration made more than two centuries ago."
Obama's economic agenda helped to pull the country out of the recession. Although his optimistic dream of healing a country in the throes of what historian Daniel Rodgers has called an "age of fracture" was largely unsuccessful, he kept Americans focused on the common good. He even won a few victories—the most prominent was the Affordable Care Act—along the way. In his farewell address, Obama reminded the nation that democracy requires "a basic sense of solidarity: the idea that for our outward differences, we're all in this together; that we rise or fall as one." Little had changed in his thinking since he captivated the nation at the 2004 Democratic convention, when he said "there's not a liberal America and a conservative America—there's the United States of America. There's not a black America and a white America and Latino America and Asian America; there's the United States of America."
Biden has inherited a country deeply divided over the politics of identity. The murders of George Floyd, Breonna Taylor, and Ahmaud Arbery have empowered the politics of antiracism. Debates over gender identity raise controversial questions about school sports and public restrooms. The #MeToo Movement has triggered a renewed interest in women's rights. The Trump administration unleashed a populist brand of politics that appealed to disgruntled white workers and white supremacist groups.
Biden's task may be greater than Obama's, but the message is the same.
While the 44th president talked about our role "as our brother's keeper," the 46th president enters American republicanism through the politics of human dignity. Since he took office on January 20, Biden has used the word "dignity" in forty-eight speeches, statements, executive orders, and public appearances.
The founding fathers believed that human dignity was endowed by the Creator. Although we live with the consequences of the founders' failure to apply this Enlightenment vision of human rights to all people, especially communities of color, their ideals still have the power to shape a national future. Even the most cursory glance at American history reveals that the pursuit of human dignity inspired the nation's greatest reform movements, from abolitionism to women's rights to labor to civil rights.
A politics of dignity unites rather than divides. It offers a vision of national unity and democratic life in which individualism cannot exist without human solidarity. It provides a set of guiding principles that "we the people" must enact whenever we fail to live up to the standards we set for ourselves at the founding. Such an approach to politics, rooted in a healthy merging of Enlightenment ideals about the nature of human beings and Christian teaching on the dignity of the human person, always tilts toward hope, reconciliation, and justice.
We are only months into the Biden presidency, but thus far it has done much to promote a politics of human dignity. Biden's initial policy priorities speak volumes on this front.
His massive COVID-19 relief package benefits all Americans. This virus does not discriminate on the basis of gender, race, or sexual orientation, but some Americans suffer more than others. The American Rescue Plan provides money, rental assistance, food stamp benefits, child tax credit, improved health insurance, and better testing to those crushed under the weight of systemic inequality.
Biden's recently proposed infrastructure bill also benefits all Americans. We need better roads, bridges, and grids. The American Jobs Plan meets the needs of those who lack adequate methods of transportation, well-built schools, and broadband internet. Its focus on environmental justice is based on the belief that when the earth groans, we all suffer.
Even Biden's support of the Equality Act, a bill currently under consideration in the Senate (after it easily passed in the House) that would amend the Civil Rights Act of 1964 to prevent discrimination on the basis of sex, sexual orientation, and gender identity, fits well with Biden's politics of human dignity. A society that does not provide basic civil rights to all its people, regardless of gender or sexual orientation, is not truly free. And although Biden needs to consider more seriously how to reconcile the Equality Act with the religious liberty clause of the First Amendment (I support the "Fairness for All Act"), his support of this bill is an attempt to value the worth of all Americans.
As a Democrat in the tradition of the FDR's New Deal and LBJ's Great Society, Biden is marshalling the federal government to carry-out his politics of human dignity. He is not a socialist, but the socialist emphasis on the dignity of working people offers a compelling critique of the identity politics that divides the men and women Bernie Sanders often describes as "The 99%."
Although Biden is opposed to racism, he rarely speaks the language of antiracism. Although he has pointed to the August 2017 race riots in Charlottesville, Virginia as the moment he decided to run for president, and he believes systemic racism is real, he has not publicly used the words "white privilege" or "critical race theory" since he took office. While deeply concerned about racism in America, he does not reduce all of the nation's problems to the single category of racial injustice.
Biden, of course, rejects Donald Trump's brand of populism. But his politics of human dignity, as evidenced in his first two spending bills, strengthens manufacturing, helps rural communities, and has the potential to contribute to the economic livelihood of poor people anywhere.
Biden will never be taken for a member of the Christian Right. His views on Roe v. Wade, the Hyde Amendment, and the Mexico City policy do not resonate with those who see abortion as the most important human dignity issue of our age. But his commitment to aid the poor by providing them with health care will inevitably keep the number of abortions in America on its current downward trajectory.
Will Biden go down in American history as a "consequential" president? Yes, as long as he continues to champion the value and worth of all Americans and exhorts them to live in solidarity with their fellow citizens. He is off to a good start.
John Fea is the Executive Editor of Current.