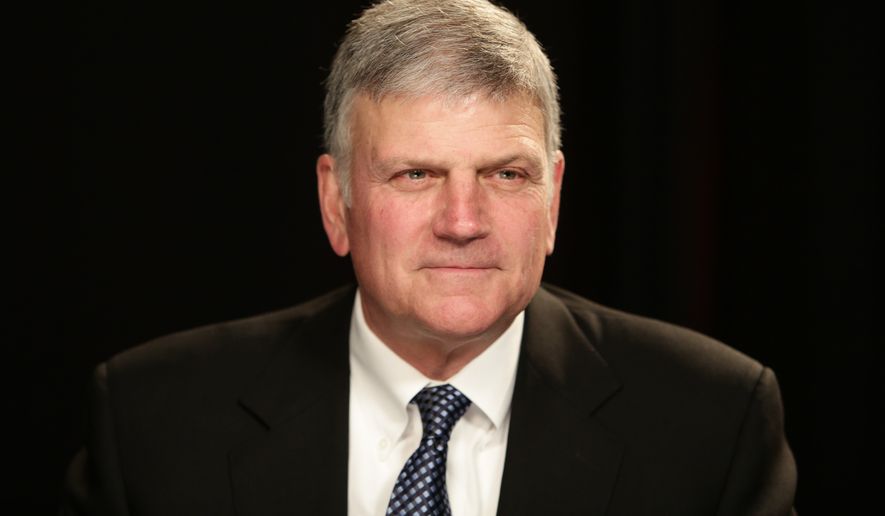 In a previous post, I suggested that Donald Trump can do very little to convince his evangelical followers to take the vaccine. White evangelicals are the least likely group to take it. As part of that post, I wondered whether Franklin Graham might have any luck getting white evangelicals vaccinated.
Here is Graham's recent Facebook message:
The internet is full of articles, theories, data, and opinions concerning the COVID-19 vaccines—both positive and negative. There's a lot out there for you to read. I have been asked my opinion about the vaccine by the media and others. I have even been asked if Jesus were physically walking on earth now, would He be an advocate for vaccines. My answer was that based on the parable of the Good Samaritan in the Bible, I would have to say—yes, I think Jesus Christ would advocate for people using vaccines and medicines to treat suffering and save lives. In this Scripture passage, Jesus told about a man beaten and wounded, lying on the roadside as religious leaders passed by and didn't help. But a Samaritan, considered a social outcast of the day, becomes the hero of the story when he stops and cares for the injured man—pouring oil and wine, which were the top medicines of the day, on the man's wounds. We also know that Jesus went from town to town healing "every disease and sickness." He came to save life—to offer us eternal life. Did Jesus need a vaccine Himself? Of course not. He is God.
So, my own personal opinion is that from what we know, a vaccine can help save lives and prevent suffering. Samaritan's Purse has operated COVID-19 emergency field hospitals, and we have seen the suffering firsthand. I also have staff and their family members who contracted the virus and spent weeks on a ventilator and months hospitalized as a result—I don't want anyone to have to go through that. Vaccines have worked for polio, smallpox, measles, the flu and so many other deadly illnesses—why not for this virus? Since there are different vaccines available, my recommendation is that people do their research, talk to their doctor, and pray about it to determine which vaccine, if any, is right for them. My wife and I have both had the vaccine; and at 68 years old, I want to get as many more miles out of these old bones as possible!
And then came the comments. Here are a few representative ones:
Did you even research the ingredients……the history of the developers? The patent information? I am extremely disappointed in your stance, Mr. Graham…..
Wrong! you are misleading your constituents
This is not a vaccine but genetic coding. Very disheartening.
Wow! Words cannot express how disappointed I am to hear you advocating for "pharmakacia" that uses tissue from aborted fetuses for testing rather than trusting in our immune system designed by God. The wheat is being separated.
Jesus would probably NOT approve of injecting a vax containing cells from aborted babies and cancer cells from lung cancer patients.
Disappointed, and unfollowing
I worked in a covid unit the whole time….i never got sick…i eat healthy and take care of my body… God gave me an immune system that works well…why would I insult Him by injecting poisons in my body? Those shots contain chemicals that are carcinogens…sorry Mr. Graham.. I love ya, but i have to disagree…theres more to it than meets the eye.
I love you and agree with most everything you say and post but I don't agree that you are promoting this vaccine. I think that is irresponsible. This covid vaccine is not like other vaccines over the years that were tested for a period of time before releasing to the public. This vaccine is experimental and everyone who takes it is being a Guinee pig for the government and the pharmaceutical companies. Just one step closer to testing their control of the people. Let's pray that there are no repercussions months or years down the road.
We will all have to account for our lives before Jesus. I'm a God-fearing believer and when I stand before the Lord with aborted babies' blood on my hands, I can't Imagine telling Him, "But Lord, Franklin Graham said that You said it was okay!" Mr. Graham, you've crossed the line on speaking for Christ on this. I will not follow you to hell or on Facebook. Bye, bye.
So sorry to hear you say this. The so called vaccine is not a traditional vaccine at all. Many above comments are correct. Many respected doctors have spoken out against this. If you know what is in this vaccine and the witchcraft it was created with I cant believe you would recommend it to anyone. So disappointing.
Please don't bring Jesus to a human level. This vaccine has caused more deaths than the normal flu shot and its basic intent was not to save lives.
You've lost my time to ever listen to you again. I had a friend who lost 3 people in one month after their 2nd Covid shot. For a virus started by evil intent and for a patten to have been in play before this intentional bio weapon was thrust upon the world. No my dear Mr Graham. It is not what Jesus would advocate for. I am also stopping my giving to your organization. My heart is sad very sad about your inserting yourself into this intentional control over people. It is a choice and your voice should not thrust your opinion into this critical debacle. Not everyone wants it and we don't want to be forced nor our children forced to take this poison. Your compliance is a big help for this power grabbing government and will cause much trouble for those of us, yes, Christians to be outcasts for denying it. No Thank you for that. You should have kept it a quiet personal choice.
What about the woman with the issue of bleeding who saw doctors and became worse? I do not feel Jesus stood far from the sick, wearing masks along with social distancing, but instead went to them by sending his word, even laying upon one who had died, and laying hands on them. It's about connection & relationship, not false science that pushes political agendas. This is heartbreaking that with your sphere of influence, you would encourage vaccines… ps-it's not a vaccine, by the way, bc it's still in a trial period. Also, it was birthed on the backs of aborted babies-so NO JESUS WOULD NOT HAVE GOTTEN IT. I completely disagree. For those that actually have looked up the ingredients in it or are interested, check for the aborted fetal cells.
The fascinating part of all this is that Graham's relief ministry–Samaritan's Purse–uses medical professionals to serve those in need. He is now facing blowback from the anti-intellectual, anti-science wing of evangelicalism, a wing that he helped cultivate as a diehard supporter of Donald Trump. We will see if this leads to a drop in financial support.