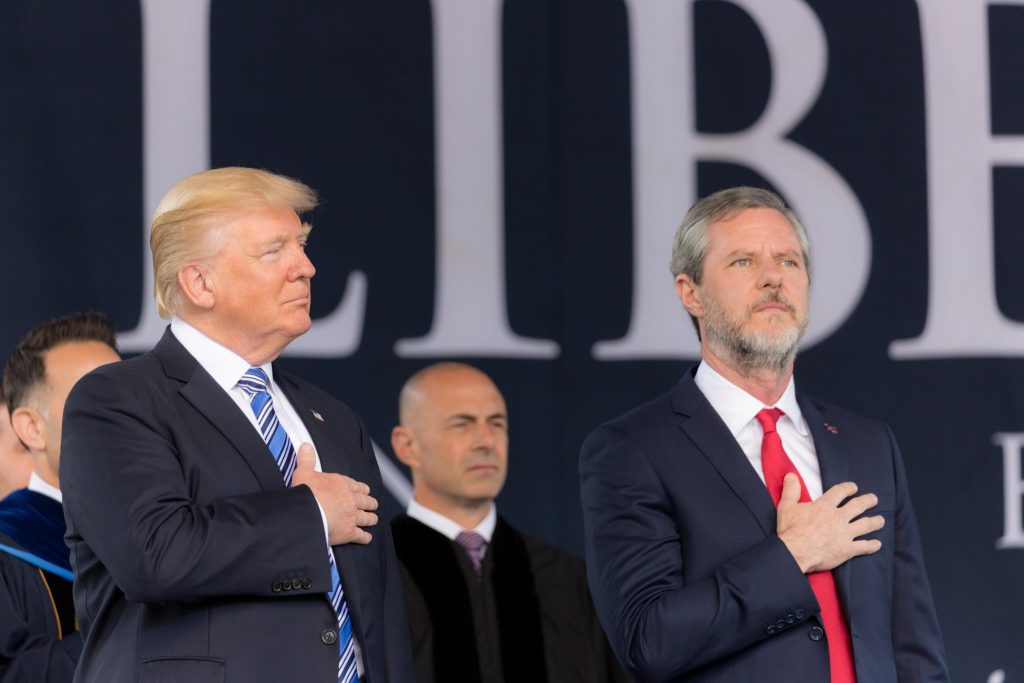 Liberty University has renamed The Falkirk Center.
The school's school's culture war wing, originally named after disgraced former president Jerry Falwell Jr. and Trump wonder-boy Charlie Kirk, will now be called The Standing for Freedom Center. Kirk is out. So is David Harris Jr.
The website now has a section under the "Meet Our Team" page that is titled "Former Fellows." It includes pictures of Kirk, Harris, Erika Frantzve, and Antonia Okafor. Conspicuously absent from the "Former Fellows" page is Salem Radio broadcaster and former Donald Trump adviser Sebastian Gorka.
Here is the press release:
Liberty University's Falkirk Center for Faith and Liberty has officially been renamed the Standing for Freedom Center.
Aside from the name change, operations of the center will remain the same, keeping its original mission of defending life, liberty, and truth in an increasingly secular and hostile culture.
The conservative think tank launched in November 2019 and has amassed hundreds of thousands of followers across its social media platforms, mobilized a team of student ambassadors, hosted three nationally broadcasted summits, and partnered with an array of conservative public figures to promote Christian and traditional values.
The center's original name was derived from one of the major battles between the Scots and England in the late 13th century — the Battle of Falkirk. Although steered by the infamous William Wallace, the Scots could not handle King Edward I's vast numbers and lost the battle, but the defeat was a drastic turning point in the war for Scottish independence.
The Standing for Freedom Center will continue shining light on America's political and cultural issues — including rights of the unborn, right to bear arms, limited government, and free markets. The center believes that Christian citizens have an obligation to be salt and light in every vocation, including the public sphere.
In just over 16 months, the center has partnered with New York Times Bestselling author and conservative commentator Eric Metaxas, former attorney to the president Jenna Ellis, and former governor of Arkansas Mike Huckabee.
The center's podcast, which has powered roughly 100 episodes, has brought in pastors and faith leaders from around the nation, including Tim Lee, Richard Lee, Jason and David Benham, Virgil Walker, Darrell Harrison, Jack Graham, and John MacArthur.
"It is critical that we, as followers of Christ, understand the threat that cultural leftism has on the global church and the nuclear family," said Executive Director Ryan Helfenbein. "At the Freedom Center, we want to continue to be that educational resource on everything regarding Christians' responsibility in the public sphere."
Note that the press release ignores the fact that the center was named after Falwell and Kirk.
Back in September 2020, I suggested that Liberty should close the Falkirk Center as the best way of moving forward in the post-Falwell era. They apparently did not listen to me! 🙂