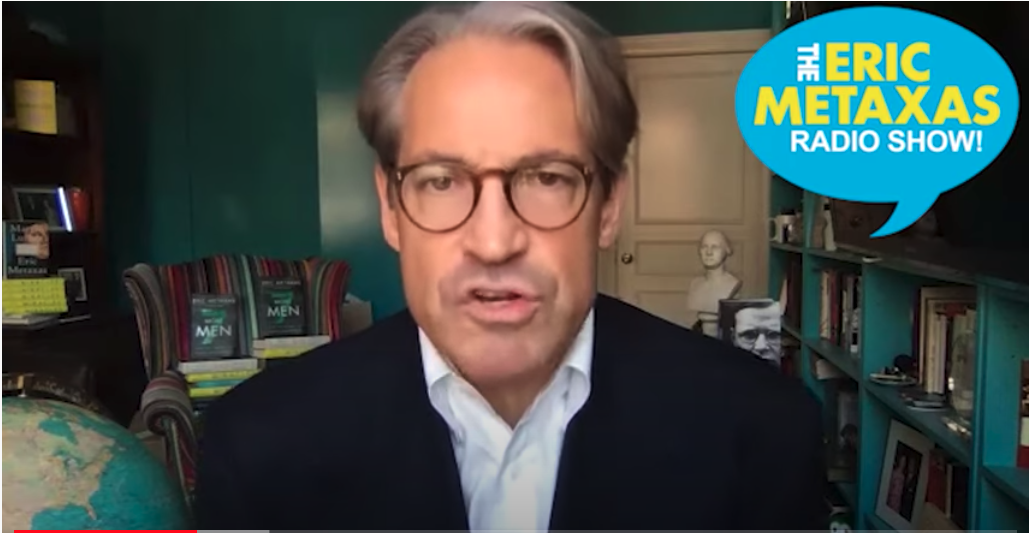 If you are a Trump evangelical looking to promote your book, your platform, or the latest conspiracy theory about the 2020 presidential election, COVID-19, or the insurrection on the U.S. Capitol, then Calvary Church-Chino Hills (CA) is the place for you. Jack Hibbs's church is becoming an important part of Trump's lost cause evangelical infrastructure.
Back in January, Trump wonder-boy Charlie Kirk, the co-founder of the Falkirk Center at Liberty University (another important institution in the lost cause evangelical infrastructure), appeared at Calvary-Chino Hills. You may remember his visit. In the span of about an hour, Kirk canceled rapper Lecrae, called the congregation to engage in "battleship Christianity," and, of course, invoked Godwin's Law. Hibbs sat back in his chair and tossed provocative softball questions for Kirk to hit out of the park. The crowd cheered as these two evangelicals stoked a politics of fear and victimization. It was all quite pathetic. And Jesus wept.
Now it is Eric Metaxas's turn to make a stop at Hibbs's church. His speech today was a combination of sermon, self-promotion, and culture war harangue. But at least the worship music was good. No, really, it was! 🙂
Watch:
Metaxas's appearance at this church begs for analysis. So here goes:
The church was packed for Metaxas's talk. No masks. No social distancing.
Hibbs said that Metaxas is "shaking so much of the Christian world and beyond."
The pastor noted that Metaxas is one of the writers of Veggie Tales. This is true. Here is Veggie Tales creator Phil Vischer:
Metaxas starts with a joke about Mike "MyPillow Guy" Lindell. He tells the church to use the "code word Eric." He says the "woke" culture does not have a sense of humor. (Metaxas obviously thinks hawking pillows on a Sunday morning is a problem). Metaxas adds that when he tells such jokes like this the Left thinks he is being serious.

Actually, I think a lot of people are offended by jokes about "Hitlery Clinton." Some people find it blasphemous when Metaxas describes Trump with the phrase, "Is there anyone like unto him." There are also people who think jokes about Black vernacular are not funny. But Metaxas doesn't care. He is an American with free speech.
Metaxas's use of Kuyperianism to explain the goodness of his upbringing is worth considering. As the grandchildren of immigrants, I could relate to this part of his talk.
But then he uses his mother's experience in East Germany to explain the current state of American culture. (His mother fled communism and taught him to fear this ideology). Metaxas believes that the greatest threat to America is the socialism and communism that he believes to be manifested most clearly on the political Left. He is incapable of seeing that the greatest threat to American democracy is actually Trumpism, anti-intellectual populism, and the kind of blind partisanship that voted to acquit a man who incited a riot on the United States Capitol.
This leads Metaxas into his spiel on American exceptionalism. He accepts Ronald Reagan's view of John Winthrop's sermon "A Model of Christian Charity," even adding, like Reagan did, the word "shining" to the phrase "city on a hill." (The word "shining" was not in the original sermon). There is so much good scholarship right now that rejects Reagan's and Metaxas's view of Winthrop's lay sermon. I would encourage Metaxas to listen to my interviews with historian Daniel Rodgers and literary scholar Abram Van Engen. But I am guessing that he won't listen to these interviews because if he does it might mean he will have to revise his thinking on this issue, and that might hurt his platform. Instead, Metaxas will just announce that all the scholars who have spent years and decades studying Winthrop, Puritanism, and American exceptionalism don't know what they are talking about. (He does the same thing with the Bonhoeffer scholars who trashed his biography). In the end, virtually everything Metaxas says about the "city upon a hill" is wrong. Yet he uses this faulty understanding of the past to promote his evangelical Trumpism to the members of the Calvary-Chino Hills congregation and the people who will watch and share this speech on his YouTube and Rumble channels.
Metaxas then moves to his experience at Yale University. He says he is not proud he went to Yale. This sounds disingenuous. Metaxas is an evangelical celebrity today partly because he attended this prestigious institution. Evangelical gatekeepers fast-track the careers of Ivy-League graduates who have born-again experiences in the same way that they give book deals and speaking engagements to athletes like Tim Tebow or artists like Justin Bieber.

I think Metaxas could learn a lesson here from writer Richard Rodriguez's Kenyon College commencement address in which Rodriguez tells the story of meeting one of his literary heroes. Rodriguez thanks this writer (he does not name him) for publishing a book that had a profound influence on him (Rodriguez) during an earlier part of his life. The literary hero responds by saying that there is not a day that goes by that he does not regret writing that book. Rodriguez is angered and saddened by his hero's comment. Why? Because this literary hero so easily rejects his past. He fails to see that "life is a whole."
Earlier in his sermon, Metaxas quotes Abraham Kuyper's famous line: "There is not a square inch in the whole domain of our human existence over which Christ, who is Sovereign over all, does not cry, Mine!" Yet he talks about what he learned at Yale as if the knowledge he imbibed there was somehow not part of the world God created. Here Metaxas reveals the Manicheanism and fundamentalism of the Christian Right movement he represents. Yes, there are a lot of things Christians can criticize about what is taught at Yale, but if all truth is God's truth, then certainly Metaxas learned something while a student there in the 1980s. I am sure Metaxas would agree with me here, but he could never say this publicly because it does not fit with his politics of fear. This approach to politics does not see nuance. It only sees black and white. Metaxas does not see Yale as a place of learning about the world God created. He instead sees it as a place that should invoke fear in every true believer. Don't send your kids to New Haven for college, Metaxas seems to suggest, unless they are going to Yale as missionaries with the goal of challenging their unbelieving professors like in the popular evangelical movie God is Not Dead.
When he talks about his experience at Yale, I get the sense that Metaxas is echoing William F. Buckley's God and Man at Yale.
Metaxas says a bit about slavery. He argues that William Wilberforce (the subject of one of his books) knew that slavery was wrong because he was a Christian. This is true. Metaxas says something similar about Dietrich Bonhoeffer. Metaxas affirms that Wilberforce and Bonhoeffer knew that there is no morality apart from the God of the Bible. But it is hard to reconcile these statements with Metaxas's failure to speak out against the immorality of the Trump administration. Does he really believe Wilberforce and Bonhoeffer would sit on their hands during the Trump era or, as Metaxas did, support this president and some of his policies? As I argued yesterday, House impeachment manager Jamie Raskin sounded far more Christian and biblical than Metaxas and the evangelicals in the Senate yesterday.
Metaxas insists that the evangelical embrace of Trump has not hurt the witness of evangelical Christianity in the world. I think there are millions and millions of Americans–Christian or otherwise–who would beg to differ. I hear from them on a regular basis. Many of them filled-out my survey. (Which is still open, by the way).
Then Metaxas, who hosts a nationally-syndicated daily radio show and is on a national book tour (including an interview at The Atlantic today), starts complaining that he is being canceled for his views and not allowed to speak freely. Granted, there are a lot of people who do not care for what Metaxas has to say, especially when it comes to his claims that the 2020 president election was stolen. These people do not want conspiracies theories on their platforms. They do not want to publish Metaxas's books or have him speak at their events. They have the right to do this.

What seems to really bother Metaxas is that his views are not accepted by the very cultural elite that he spends so much time attacking. He desperately wants the educated classes–both within and outside of evangelicalism– to accept him. But all he's got is Calvary Chino-Hills. So he shows up on a Sunday morning, complains that he is a victim, references Camus and Woody Allen, and basks in the applause of the maskless evangelical Trumpers who fill the room. His ideas only resonate with the faithful. This fact appears to drive him crazy.
In this talk, Metaxas repeats his claim that he will "fight until the last drop of blood because there are people that have died for freedom." Metaxas mentions nothing about the people who died to defend the United States Capitol from the insurrectionists incited by the president who Metaxas helped get elected. Did Brian Sicknick die for his country?
Metaxas also repeats his belief that the people who stormed the U.S. Capitol were not Trump supporters. I think Kevin McCarthy and Jamie Herrara Beutler might have something to say about that. So might Mitch McConnell.
Near the end of the sermon Metaxas praises the people of Calvary-Chino Hills for not wearing masks. The crowd goes wild. Metaxas says "praise the Lord."
By this point Metaxas is on a roll. He tells the church to "speak-up against Black Lives Matter." He scares the congregation into believing that there are Marxists around every corner looking to destroy America. The applause lines are closer together.
Metaxas defines "courage" as "faith in a crisis." And then he applies this definition to himself. He says, "I'm going to do what I think is right because I know people are looking at me and they get strength from my courage and it helps them to be courageous. And if I am cowardly it leads to a spiral of silence that shuts up even more people." Interesting. Remember that earlier in this talk Metaxas said that he would shed his blood in the fight against those on the Left who want to destroy America. Did people "get strength" from this statement? Yes, people are watching you Eric. Maybe even some of the people watching you (or listening to your radio show) are the same people at the U.S. Capitol on January 6, the people who think the election was stolen, or the people who enabled the most corrupt president in the United States to run roughshod over American democracy. I am glad you finally admitted that you have some influence over the way evangelicals and others think about the world.
When he finished his speech, the people of Calvary Chapel-Chino Hills gave Metaxas a standing ovation. Then Hibbs blessed it all with a closing prayer. The praise band followed with a song exhorting the congregation to go forth in the name of Jesus. I am guessing this evangelical megachurch is used to this kind of God and country rhetoric. They get weekly doses of it from their pastor and his guest preachers.
And from what I have heard, this church is growing.
ADDENDUM (8:24pm): I just checked Amazon to see how Metaxas's new book Fish Out of Water is doing. It is ranked #65. Not bad for someone who is getting cancelled.