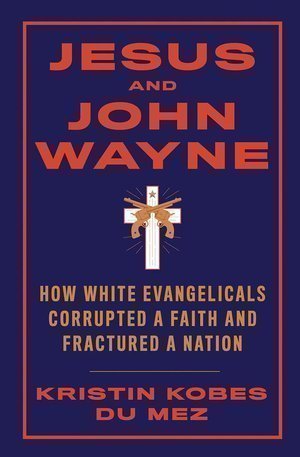 If social media is any indication, everyone loves Kristin Kobes Du Mez's book Jesus and John Wayne. The praise is merited. It's a strong book that says things about the recent history of American evangelicalism that should have been said a long time ago. I sung the book's praises in my interview with Du Mez in Episode 73 of The Way of Improvement Leads Home Podcast and I stand by those words. Every evangelical needs to wrestle with this book.
But I also think Jamie Carlson's largely critical, often courageous, and honest review of the book at Mere Orthodoxy raises some great points. Here is a taste of her piece:
However, despite the good I see in Du Mez' work, I have to admit my mixed feelings about it. Perhaps I'm a particularly needy reader, but if Du Mez hopes to persuade skeptical readers, you wouldn't guess it from the book. Due to frequent sarcasm as well as a lack of charity toward its critics and, at times, a lack of evidence to back up its claims, I fear this book will be rejected by many of the people who would most benefit from reading it
One of the first things I noticed about the book was that by parroting evangelical voices without using direct quotations or citations, Du Mez' tone unfortunately often reads as sarcastic. This makes it difficult to see her as a friendly critic. As a woman, I cringe at this oft-misused critique, but the problem was prevalent throughout the book so it seems important to mention. It's difficult to convey in its subtlety, but one example is in the chapter titled, "A New High Priest." This section, which includes no citations or direct quotes, offers a biting, sarcastic version of evangelical thinking about gender and masculinity in particular: "What makes for a strong leader? A virile (white) man. And what of his vulgarity?…Even sexual assault? Well, boys will be boys…If you wanted a tamer man, castrate him." Again, this is difficult to demonstrate in a short quote, but because it carries throughout the book it is hard to miss as you read. It will not win Du Mez charitable readings from skeptical evangelicals.
A more substantial problem was that Du Mez often wrote as if the beliefs of evangelical leaders are self-evidently immoral. In some cases (abuse, for example) their actions are easy to condemn. Sometimes she seems to think that the correct side in a controversial debate is self-evident, such that those on the 'wrong' side need not be proven wrong, but merely dismissed. This problem appears most clearly when she attacks elements of 20th and 21st century American evangelicalism that are, in fact, common American elements of even traditional Christian beliefs. Without this sort of nuance in her analysis, it becomes too easy for some to put her words in the same wastebasket as those who accuse them of being on the "wrong side of history."
One example occurs in her first chapter. Du Mez notes that Billy Graham used "athletic and military metaphors to make perfectly clear that his faith did not conflict with his masculinity," and similar metaphors to describe Jesus (23). She shares this without demonstrating that this language is unique to evangelicalism. For example, the apostle Paul uses military metaphors to describe the Christian life. Christ himself is pictured as a commander of an army in the book of Revelation.[1] Additionally, Just War theory goes back as far as the fourth century, so military support has, in some sense, long been a part of Christian culture. It's possible that American evangelicals use these images more often than others or in ways that are out of step with the biblical usage. But Du Mez uses this language to paint a picture of evangelical extremes without accounting for its broader use in Scripture and the Christian tradition more generally. What's more, she acknowledges at times that trends in evangelicalism corresponded to similar trends in broader American culture, yet she does not show how evangelicals set themselves apart as being uniquely bad in their embrace of these trends.[2] Her citations, then, seem to work against her argument. This places disproportional blame on evangelicals for ills that plague American culture more broadly.
Read the entire review here.
Addendum (12:59):
Today Mere Orthodoxy has published Gordon-Conwell Theological Seminary professor Kirsten Sanders's review of Jesus and John Wayne. Sanders echoes some of Carlson's concerns and adds some of her own. Here is a taste:
I really hate to dip my toe into this argument, but I must say a bit about KDM's easy definition of "evangelical". The stories she tells from Independent Fundamentalist Baptist Churches and Jake Schaap's horrifying sermons ring true with her thesis but not with the experience of many evangelicals. To raise such a concern is more than the "evangelical gerrymandering" she warns about. I've often wondered if the best definition of an evangelical is a person who likes to try and define what is an evangelical. This is one of the most tired and well-trod conversations of the last twenty years at least, and we need to start taking notice of our interest in the question.
You see, evangelicalism is hard to define because it is not a theological movement or historical epoch, marked by defined changes in power. Rather, it is a symbiotic relationship between theology, ideology, and markets. The best way to understand evangelicalism is to ask what it promotes and what it restrains, what it sells and encourages others to buy. (A study of the rise of "conferences" in identifying and encouraging evangelical identity is long overdue. It would need to examine the ways ex-vangelicals have borrowed wholesale this model for identifying and promoting their own brand.).
Bebbington's quadrilateral works because many like the vision of themselves it offers. The four principles he identifies (conversion, crucicentrism, biblicism, and activism) appeal to evangelicals. They like the picture of themselves as reasonable, focused, disciplined, faithful. But what KDM explains is that evangelicalism is other things too. These other things do not describe all of us, surely. So what should we make of her decision to include these kind of outliers? KDM repeatedly tells us that we must consider them: "it is the relationship between the centers and the margins that demands scrutiny" (293). I remain unconvinced.
Jesus and John Wayne is a trade book, written for popular appeal and a broad readership. It is eminently readable, but there have been scholarly virtues traded for popular appeal. Careful statements about correlation and sociological and anthropological secondary literature are often missing. What, after all, is "culture"? Is it more than what individuals entertain themselves with and what they buy? This is not a simple concept to throw around carelessly, and the literature on the interplay between culture, markets and religion is vast and would be useful here.
Read the entire review here.