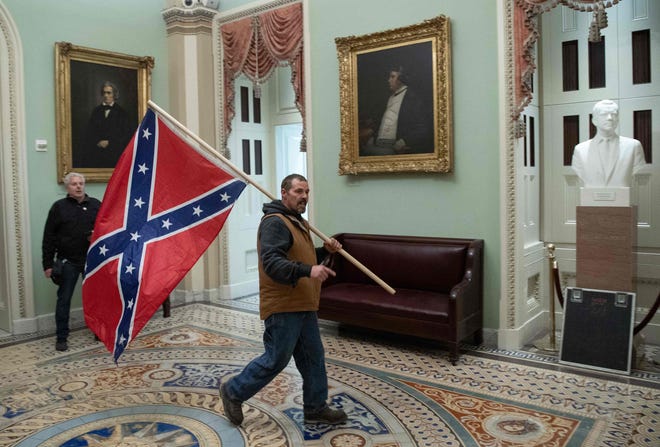 Felicia Bell is a historian at the Smithsonian National Museum of American History. In her recent piece at The Washington Post she reminds us about the people who labored to build the U.S. Capitol. Here is a taste of her piece, "Enslaved Black craftsman helped build the U.S. Capitol that a mob fueled by racist rhetoric stormed":
I stood in my living room motionless and stunned Jan. 6 as I watched an attempted coup happening in real time. Raging insurrectionists fueled by racist rhetoric and conspiracy theories had besieged and forced their way into the U.S. Capitol, intent on disrupting and halting a fundamental democratic process: the peaceful transfer of power. Their perceived loss of privilege and political power sparked violence that would result in the deaths of six people, including two U.S. Capitol Police officers.
I'd begun that morning with joy when I learned of the Rev. Raphael Warnock's historic win as the first Black senator from my home state of Georgia. However, upon hearing about the events taking place at the Capitol, all I could feel was dismay. This was not only an attack on democracy, but a violation of where democracy lives.
My joy gave way to disgust when I saw the unruly mob scaling the walls of the Capitol to implement their seditious act on Congress. My thoughts turned to the historical significance of the building and those who helped build it. The walls they were climbing, upon which they would unfurl their insurrectionist banners, were originally made of sandstone built by enslaved craftsmen.
Enslaved and free Black craftsmen were a critical labor force used by the U.S. government, as authorized by President George Washington, to build the Capitol. The commissioners of the District of Columbia were assigned by the executive branch to oversee the Capitol construction project. Although their records indicate the number of enslaved craftsmen fluctuated over years, it climbed into the hundreds: "We believe more than 800 mechanics and Labourers [sic] employed on public and private account in improving the City."
Read the rest here.