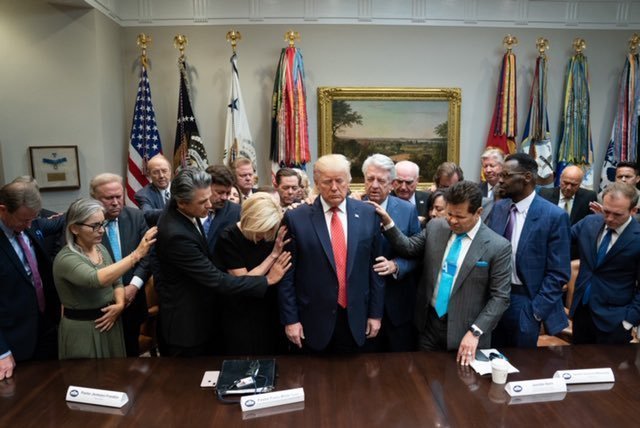 Donald Trump is getting out of town on Wednesday morning. The coward is escaping to Mar-a-Lago before Joe Biden is inaugurated the 46th President of the United States at noon. News outlets are reporting that Trump will drop dozens and dozens of additional pardons before he leaves.
As Trump loses power, so do the evangelicals who have supported him and made regular visits to the White House for photo-ops, prayer, and "advising." For the last four years we have called them court evangelicals. Let's see what some of them have been saying today, Martin Luther King Jr. Day:
Eric Metaxas has nothing to say about MLK Day, but he continues to deny that what happened at the U.S. Capitol on January 6 was an insurrection. Even after watching The New Yorker video he still believes that those involved in the riots were not Trump supporters. Metaxas is worth millions, but that does not stop him from using his platform to complain that he is losing money from the cancellation of speaking engagements. Of course there are millions of Americans out of work due to COVID-19. They are on food lines and wondering how to pay the rent.
On Friday, Mike Lindell, aka "My Pillow Guy," visited the White House in a last ditch hope to save the 2020 presidential election. Today Metaxas had him on his show. Metaxas asks Lindell if he has evidence of election fraud. Lindell says he has legitimate evidence that China, Iraq, and Iran were involved in undermining the election. Metaxas claims that the real problem is that Americans don't respect truth and virtue. Yes, you read that correctly–a diehard Trump supporter is complaining about America's lack of truth and virtue. The rest of the video is Metaxas boilerplate stuff on "cultural Marxism, "cancel culture," and "American naivety." Lindell says that two big box stores will no longer sell his pillows. He believes that the communists are attacking our country. Metaxas agrees. Maybe his next book will be a biography of Joseph McCarthy. In the time it took me to write this post, YouTube removed the video.
Metaxas is also pushing his new memoir. Here he is on Facebook:
I am THRILLED my new memoir, titled FISH OUT OF WATER: A Search for the Meaning of Life, has been given a starred review by Booklist, who called it "A profoundly moving memoir"! UNTIL FEB. 2nd, you can get a SIGNED copy for $25. Take advantage. An unsigned copy is $32.95 at Amazon. It's the story of my life — literally — and is by turns wistful and funny, and ALL TRUE — and would make a great gift for someone NOT on the same page as many of us here, either politically or theologically. Which is why I wrote it.
The Falkirk Center at Liberty University is appropriating Martin Luther King Jr. today:
In this tweet, the Falkirk Center at Liberty University, the center of pro-Trump evangelicalism, is appropriating Martin Luther King. Jr. to talk about "character":
Jenna Ellis, a fellow at the Falkirk Center at Liberty University, is no longer working for Trump:
Lance Wallnau believes that people who embrace the "progressive jihad" of "race, gender, and sex" are a satanic force trying to undermine America. Too many evangelical Christians are buying into this "jihad." As a result, Wallnau believes, they "are not showing up for the spiritual battle of their lifetime." The reason Trump lost, Wallnau says, is because the church did not stand with him when the going got tough. Wallnau still believes that Trump has the "anointing of Cyrus upon him" and encourages his followers to join the "war" against the Democrats so that evangelicals can reclaim America in 2022. He also says that "Q" is not a real prophet. He adds that Q is "80% accurate and 20% nut zone."
Here are some of the sixteen thousand comments on the aforementioned Wallnau Facebook video:
"It's not over for Trump…God is doing something."
"Please don't call [Harris] VP…she is not."
"Yes. President Trump is still President and yes he will have a second term another 4 years. God's will and prophesized (sic). If you go against God that is the worse (sic) thing you can ever do. God bless America. God bless President Trump."
"I would feel more comfortable about what you are saying if you didn't show your book 3 or 4 times a video. I believe and trust you until you push the book."
"I am soooo confused! I have been listening to prophets since Nov. 4 and President Trump was suppose (sic) to remain in office, serve his second term! What has happened?!!!"
"We need an earth quake here on the day Biden try (sic) to take over our country our America! AMEN
Court evangelical journalist David Brody wants to put an asterisk next to Joe Biden's name:
Robert Jeffress preached a sermon on Sunday titled "How Should Christians Respond to President Biden." He warned his congregation about "increasing persecution" against Christians. The Biden administration, he added, might "restrain our ability" to preach God's word "without consequence." Read more here. Watch the service here.
I wonder what Martin Luther King Jr. would say about Tony Perkins's ardent defense of Donald Trump during these past four years:
Here is Paula White using King to tweet about justice:
Franklin Graham remembers MLK's relationship with his father. What he doesn't say is that many white evangelicals did not like the fact that Graham let this "liberal" preacher join him on the platform. Would Franklin Graham allow Martin Luther King Jr. to join him in one of his crusades today? I have no doubt that Franklin would answer "yes" to this question, but his answer would reveal his failure to truly understand King's message.