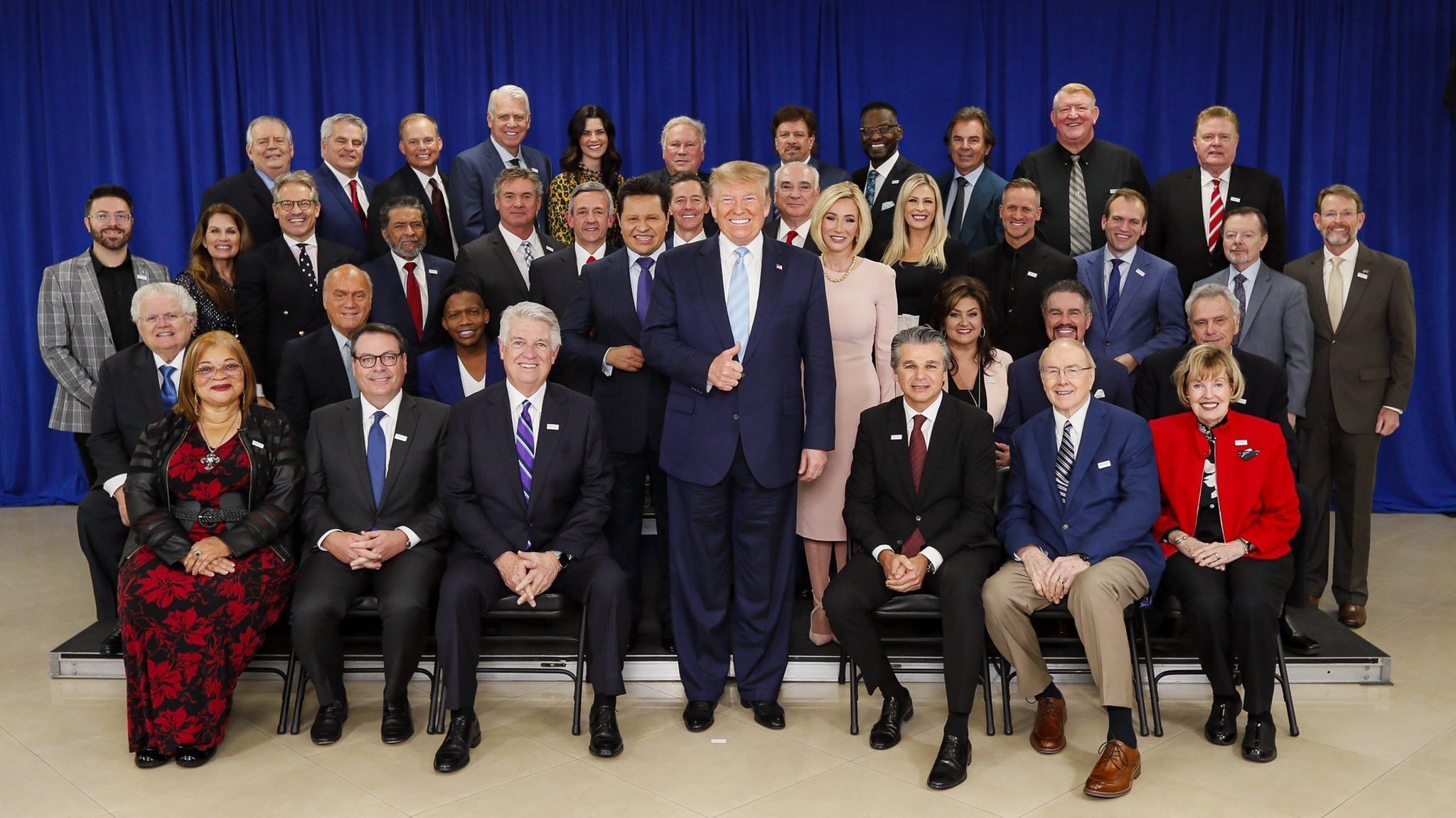 As I write, Washington D.C. is an armed camp. 25,000 National Guard members are ready to defend the U.S. Capitol during Joe Biden's inauguration ceremony on January 20.
Meanwhile, people are still dying of COVID-19. Incoming President Joe Biden is doing his best to deal with the pandemic and its effects while outgoing twice-impeached president is holed-up in the White House meeting with MyPillow guy Mike Lindell.
How are the court evangelicals responding?
Eric Metaxas is tweeting about martial law:
Ayanna Pressley has alopecia. But that doesn't stop Eric from doing this:
The other night Eric Metaxas talked about those willing to die for conspiracy theories as courageous martyrs for Christ. He also shared this.
Not specifically court evangelical news, but one Trump evangelical apologized.
Yesterday a Liberty University graduate published a piece at The Bulwark that called the Falkirk Center a "slime factory."
Apparently the Falkirk Center believes that American companies are "the left." So much for free enterprise. Businesses can refuse to bake a wedding cake for a gay couple, but they do not have the right to silence conspiracy theorists?
Charlie Kirk forgets about the time the MyPillow guy bailed out Kyle Rittenhouse:
Lance Wallnau tells his followers that impeachment is really about the elites screwing the working class. The elites currently control the "seven mountains" (as in Seven Mountain Dominionism), but the Christian working class will overthrow them. Wallnau claims that in 2014 the late "prophet" Kim Clement prophesied the words "impeach, impeach." The interpretation? Trump would be impeached twice by elites in both political parties and the people would rise up in a "new kind of war." According to Wallnau, this all has something to do with China and COVID-19. It also has something to do with a Jezebel-spirited "witch" in the White House.
Court evangelical David Brody talks with "presidential historian" Doug Wead about Trump's legacy. Wead expounded a conspiracy theory about Hillary Clinton trying to get control of the Catholic Church. He also claims that Amazon is no longer selling the books of "distinguished" theologians. Wead says that "two impeachments will only get historians to notice all of Trump's great accomplishments." I beg to differ. I think two impeachments will get historians and millions of school children to notice that Trump was the only president to be impeached twice. 🙂 Wead calls for national unity. He says Biden doesn't care about national unity because he called U.S. Capitol insurrections "terrorists." Seriously, you can't make this stuff up!:
I am not sure what is happening, but something is going on with Samuel Rodriguez and Twitter:
On Facebook, Jim Garlow calls attention to Trump's "accomplishments" and still manages to get in a shot at the tech corporations who are persecuting him. He writes: "Never has a modern President accomplished so much (and been hated for doing so much good). If you want to see this before others (those who are re-writing history) remove it, you need to copy it now." (He links to this article).
Here is Garlow on Facebook on January 13:
What happened today? 1. Highest number of Covid deaths in the US ever. Horrific. But Congress obviously had more important (and nefarious) things to do than to care about the American people. 2. And… 232 "Benedict Arnold" traitors of the US Constitution killed our precious Constitution this day, defying it's very meaning … and – filled with hatred unlike anything we have ever seen – they are trying their best to destroy Donald Trump and the more than 74,000,000 people who voted for him. What a disgrace. Other than that, not much happened today.
On the same day, Garlow said this about the ten Republicans who voted to impeach Trump: "Remember the story of the 10 wimps who went into the Promised Land but they had no courage? "Well – they now have competition." (He then lists their names). Here are some of his follower's comments:
"They just flushed their career down the drain."
"Every single one of them need to be aggressively primaried"
"Hope they enjoy their shortened career."
"They betrayed our president"
"Just pray we have an election in 2020"
"Backstabbers"
Garlow also shared this post on Facebook from a "friend":
Today is a day that will live in infamy. One of the greatest Presidents of all time, probably top 10 and certainly the greatest since Reagan, was for the second time the victim of a purely petty, partisan, pathetic, vindicate and groundless impeachment. That Trump has endured 4 years of illegal investigations, spying, lying and corruption and then had the election stolen in the most blatant and obvious fashion and HE is attacked for the VERY things they have done for the last 5 years! It is truly breathtaking and history will show that Trump was correct and that the Left, the Media, and the pathetic spineless RINO's are the most shameful group of corrupt cowards ever to stain the floors of our Capitol. These are the 10 Republican lawmakers who supported the move to impeach Trump for incitement of insurrection"
Again, this post drew some interesting comments, including:
"Disgraceful and utterly absurd. The evil in the hearts of men is actually beyond my comprehension in this current day."
"Well, they are soon going to regret their act of treason. They need to repent quickly."
"Definitely top 10 and I would say top 5!! Republicans who voted to impeach, NOTED."
"I hope every single one of them is voted out. They are nothing better than traitors"
"Shame forever"
"Not just spineless. Traitorous."
Robert Jeffress had a run-in with Illinois GOP congressman Adam Kinzinger. In a now deleted tweet, Kinginger wrote: "I believe there's a huge burden now on pastors and clergy who openly spread the conspiracies of a stolen election, like @robertjeffress @beholdIsrael @FranklinGraham among many others, to admit their mistakes and lead their flocks out of darkness to truth." Jeffress claimed he never said the election was "stolen." (This is true. Although he came close). Jeffress, always ready to turn the other cheek, responded:
And Kinzinger's response:
Jeffress's exchange with the congressman seems to have re-empowered him. He was back on the Lou Dobbs show on FOX News last night to defend Trump's legacy. Jeffress doesn't regret a thing about his support of Trump and calls the twice-impeached, insurrection-inciting leader the greatest president in his lifetime. He talks about an "axis of evil" that tried to take Trump down and tells Dobbs to keep exposing the "darkness" and "lies" that are "sure to come" in the Biden administration.
Ralph Reed just can't seem to let go. Trump lost. Loeffler lost. Perdue lost. This is a pretty risky thing to say in light of January 6, 2021. Does Reed really think that Biden's inaugural will not be "marred by violent protests?"
Like Jim Garlow, Gary Bauer also turned to Facebook to call out the ten House Republicans who voted to impeach Trump. Here are some of the comments from his followers after he shared this Washington Examiner article:
"Remember that next Election Day; oh, I forgot–there will never be a fair election again."
"They are so blind and deaf, they are Democrats in wolfs clothing, I call for them to be removed/recalled and even kicked out of the GOP"
"praying for their hearts and eyes to be lifted up to Jesus to bring healing and deliverance from deception and unbelief…"
"Satan worked on their emotions and won. Their hearts were hardened."
"Wicked doesn't even describe what they have done and will continue to do. The evil devils in the demonkkkrat (sic) party along with their friends the liberal activists in the media have no qualms about using and abusing some one else for power."
A moderate Democrat and devout Roman Catholic will be inaugurated President of the United States on January 20, 2021 and James Dobson believes that "America and Western Civilization will never be the same." Here is a taste of his monthly newsletter:
The Left has now achieved ultimate power in the White House, in the House of Representatives, and in the Senate. Consequently, as I warned in December, there will be no checks and balances within our system of government. The most radical ideas promoted by President Joe Biden and his majority party will be enacted. We can infer from what they have told us that the years ahead will bring more regulation, less freedom, more taxation, less religious liberty, more socialism, less democracy, more funds for abortion, less support for the sanctity of human life, less funding for the military, more illegal immigration, more restrictions on speech, less patriotism, more wasteful spending, less support for families, more regulations on business, more appeasement of China, Iran, Russia, and North Korea, less support for the electoral college, trillions more dollars for climate nonsense, more LGBTQ propaganda, less moral compunction, more governmental corruption, less oversight of elections, more "cancel culture," fewer police officers, more gun control, and less government of the people, by the people and for the people. We can also anticipate quick passage of the horrendous "Equality Act." You might want to keep track of these items as they occur. This is just the beginning.
America and Western civilization will never be the same, because it is not possible to back up on a freeway. Once radical changes are implemented, they will become ensconced in law and culture. I am most concerned about what all this means for the next generation. Children are extremely vulnerable to leftist curricula in the public schools. Specifically, I am worried about parental rights and the legality of home schooling. It is the only protection for kids.
In conclusion, I will let you interpret this Franklin Graham tweet: