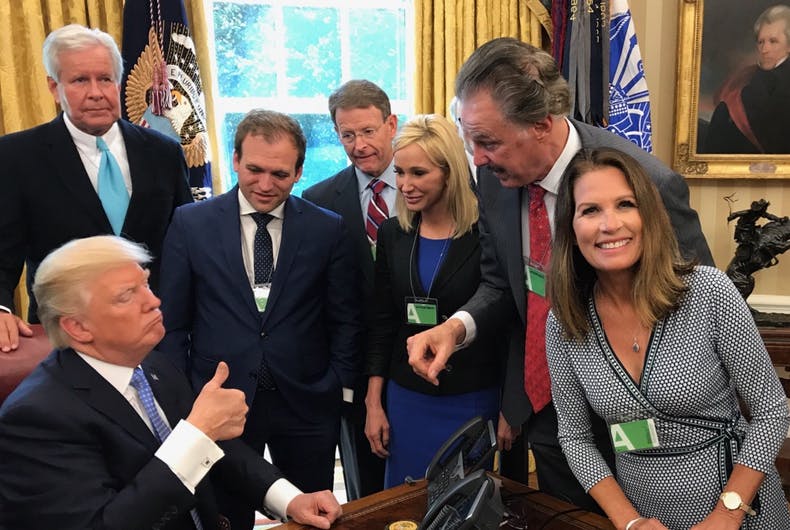 Eric Metaxas, radio host and fellow at Liberty University's Falkirk Center, is encouraging everyone to trust God in midst of this intense period of persecution for the church. The persecution, he claims, is coming from Marxists who removed him from Twitter for twelve hours yesterday. He quotes Patrick Henry famous phrase, "give me liberty or give me death." The difference between Henry and Metaxas is that Henry was responding to facts and Metaxas is responding to a conspiracy theory about the supposed stealing of the 2020 presidential election. He is still expecting God to perform a miracle that will allow Trump to stay in office and restore all social media accounts. Finally, Metaxas says not to "demonize" people. This is rich coming from a guy who has has used his platform to demonize Democrats for four years, even calling them Satanic. When he demonizes others he quickly says that he was "joking" about it. Watch:
One of Metaxas's guests today was former Minnesota congresswoman Michelle Bachmann. She was apparently in the U.S. Capitol as part of a "prayer force" when the insurrection took place on January 6, 2021. She was there to pray that Congress would not certify the 2020 Electoral College votes. Both Metaxas and Bachmann once again suggest that very few of the insurrections were part of the "happy" and "joyous" Trump supporters in Washington that day. Bachmann describes the entire riot as "identity theft." The Left, by spreading this narrative of the violent Trump supporter, is stealing Trump's identity as a great leader. What happened during the 2020 election, Bachmann believes, was a political coup–a takeover of a legitimate government. She is 100% sure that the Democrats stole the election. Metaxas and Bachmann are preparing for persecution.
Metaxas and Bachmann say that evangelicals who criticize them for their views on election fraud are "conforming" to the world. Neither of them present any evidence of election fraud. Metaxas just has a feeling about it based on the way Biden behaved in the weeks before the election.
Watch:
Bottom line: The Trump presidency may not make it to January 20. Metaxas and Bachmann are going down with it. Metaxas is positioning himself as the evangelical voice of Trump's lost cause. Bachmann is doing the same thing from her new post at Pat Roberston's Regent University.
The Falkirk Center at Liberty University is also talking about free speech. White evangelicals are in full victimization mode.
Believe it or not, Falkirk Center (Liberty University) founder Charlie Kirk did not tweet today. Did he get banned?
Kirk is now calling for unity. Over the last four years Charlie Kirk has been one of the most divisive people in the United States. As David Blight taught me years ago through his book Race and Reunion, calls for unity often ignore the unjust things that happened in the immediate past. They tend to paper over injustice. Historians will hold Kirk and his rhetoric partly responsible for the first attack on the U.S. Capitol in American history. These commentators on Majority Report are absolutely correct:
Samuel Rodriguez says repentance begins with him:
On Sunday, Rodriguez called the evangelical church to repentance for making "the person who occupies the White House more important than the one who occupies our hearts."
Court evangelical journalist David Brody says that the insurrectionists did not represent "#MAGA Nation":
A quick word about this tweet. As I argued earlier today, I don't think those who stormed the U.S. Capitol represent American evangelicals (Brody's primary audience). Nor do they represent all Trump voters. But they certainly represent the kind of people who attend rallies and scream "Make America Great Again." I would like Brody to explain the difference between these people and the people he calls #MAGA Nation."
I am still wondering what evangelicals did before Twitter and Facebook. At a time when they should be mourning the near collapse of American democracy and reflecting on how their view of Christian politics led to the enabling of Donald Trump, they are playing the victim. This is par for the course. Here is court evangelical Richard "unprecedented access" Land complaining about free speech.
Jack Hibbs, in an apparent act of protest, has left Twitter. He is fleeing persecution by retreating to his personal web page.
Robert Jeffress has no clue that he empowered this twice-impeached president. History, however, will remember.
You can't make this stuff up. Franklin Graham asks "Where does this hate come from?"