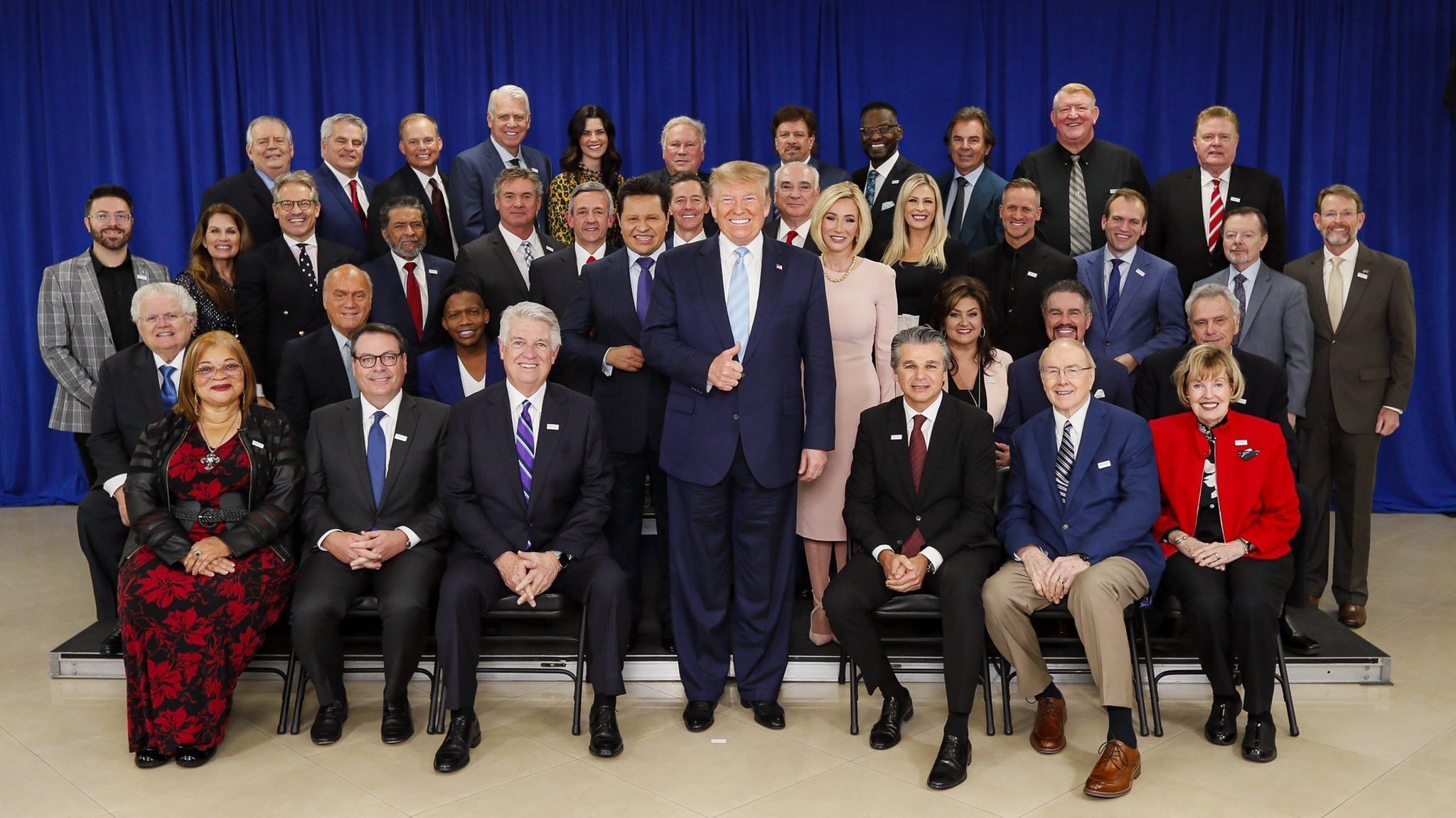 We all know what happened today. I wrote about it earlier tonight in a post titled: "What happened today is a fitting ending to the worst presidential administration in American history."
The court evangelicals, a group of pro-Trump evangelicals who regularly visited the White House during the Trump presidency for the purpose of flattering him, "advising" him, and getting their picture taken, are partly responsible for today's insurrection.
Let's see what they are saying (and not saying) today:
Conservative anti-Trumper Rod Dreher wants court evangelical Eric Metaxas to "own" what happened today:
Tonight, Metaxas joined other court evangelicals in a "prayer meeting." According to Bob Smietana's reporting at Religion News Service, the participants prayed for a miracle. Michelle Bachmann said that the mob who invaded the U.S. Capitol today were "paid rabble-rousers." "Don't think for a minute," Bachmann said, "that these were nasty, naughty, ridiculous, hillbilly Trump people." Metaxas then prayed: "We need to wake up to the tactics of the enemy who will do anything to win, because there are no values but power." Bachmann and Metaxas continue to see this as a spiritual battle.
Earlier today, Metaxas tweeted: "There is no doubt the election was fraudulent. That is the same today as yesterday. There is no doubt Antifa infiltrated the protesters today and planned this. This is political theater and anyone who buys it is a sucker. Fight for justice and Pray for justice. God bless America!"
This is why people thinks Metaxas has lost his mind. He claims, with no evidence, that Antifa was behind today's riot.
Jenna Ellis of the Liberty University Falkirk Center has decided to stake her future on Trumpism:
She is also upset with Mike Pence's decision to carry-out his constitutional responsibility:
The Metaxas claim that the rioters today were part of Antifa appears to be a popular court evangelical response:
Lance Wallnau:
The Liberty University Falkirk Center is calling for prayer. Will the Falkirk Center season of prayer be focused on repentance? After all, the Falkirk Center's primary mission is to promote division in the country. The Falkirk Center also seem to think the Trump era has not damaged the proclamation of the gospel. Here's the tweet:
Court evangelical journalist David Brody thinks Mike Pence got a raw deal:
Brody is also retweeting Kayleigh McEnany on the Georgia election:
The other day Brody said that "journalism is dead." And today he retweeted the president:
Most court evangelicals are condemning the violence:
I am glad that these court evangelicals condemned the violence, but there words could not ring more hollow. There is no recognition that these men and women empowered Donald Trump or encouraged their followers to vote for him. These court evangelicals spent four years praising Trump as the greatest Christian president in American history. They used their platforms and influence to support the president who triggered the insurrection in Washington D.C. today. Now they pray for peace, unity and the preservation of the American republic. But there is no moral or intellectual equivalency here. One side believes in facts, evidence, science, the rule of law, and the Constitution. The other side believes in conspiracy theories, lies, an unhinged president, and an absolute certainty in their knowledge of the will of God. These two sides cannot be reconciled. What are Franklin Graham, Metaxas, and the Falkirk Center praying for?
Only Mohler, the guy who convinced thousands and thousands of Southern Baptists that it was OK to vote for Trump in 2020, said the president is responsible for what happened today.
It would be best if these court evangelicals (and Mohler) just kept quiet. Or better yet, they could admit their complicity in the insurrection and political terrorism that occurred in Washington D.C. today and repent.
Who will be first?