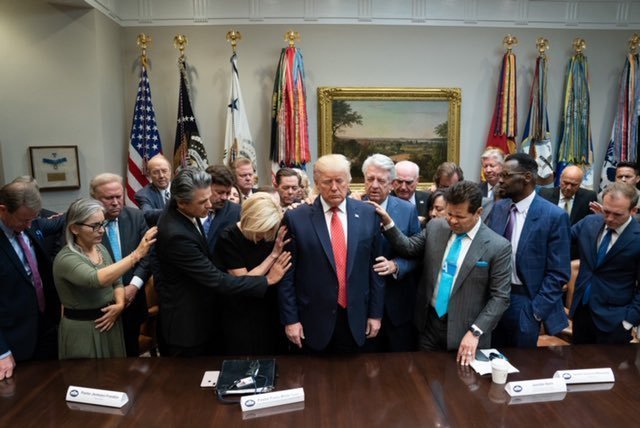 So what has happened in the United States since our last court evangelical update?
Donald Trump continues to claim he won the 2020 presidential election, refuses to sign Congress's COVID-19 relief package, and pardoned two murderers and two members of Congress who pleaded guilty to crimes. As I type Trump also pardoned Roger Stone, Paul Manafort, and Jared Kushner's father. The latter committed a crime that Chris Christie, the prosecutor of his case, called "one of the most loathsome, disgusting crimes" he has ever prosecuted. Meanwhile, thousands and thousands of people are dying from COVID-19, health-care workers are at the breaking point, and Americans are standing in food lines.
Just another day in Trumpland.
The number of the president's advisers and friends is getting smaller and smaller by the day. We are now in a race to January 20, 2020 and are all hoping the lame duck president does nothing stupid. As I type, David Gergen is on CNN saying that this is the "most dangerous point of the Trump presidency."
Meanwhile, the folks at the Liberty University Falkirk Center are still fighting for the president. They are still talking about "standing on truth." This is getting embarrassing. What "line" are they holding? What "stand" are they taking? They support a president who pardons murderers and crooks, cannot tell the truth, vetoes aid to suffering Americans, and is trying to undermine the presidential election. Is this standing up for the Gospel? Really?
Humility and repentance? Seriously? Have you read your Twitter feeds lately?
Charlie Kirk is the founder of the Liberty University Falkirk Center. He is upset about the COVID-19 relief bill and wants the government to give more money to the American people. I think Kirk and the Democratic Party may have found some common ground. I am sure Nancy Pelosi would love Kirk's help in getting more cash to ordinary Americans.
Kirk is saying nothing about Trump's veto of the bipartisan defense bill. Trump vetoed the bill because it would provide the funds necessary to rename ten military bases currently named for Confederate leaders.
Jenna Ellis, a fellow at the Liberty University Falkirk Center, is also in favor of more government spending on the stimulus. Maybe she should be working for Pelosi instead of Trump.
Eric Metaxas is in legal trouble. But he is still pushing the election fraud narrative. He claims that there are "forces at work that are as wicked as we have ever seen" and Americans don't truly understand "evil." Then he compares anyone who "looks the other way" on this so-called "election fraud" to the "evil" of the Chinese communists. "If you can't take this seriously," Metaxas says, "I can't take you seriously." He says that unless Biden is stopped "we cannot move forward as a country" because God is on Trump's side. He knows a Trump victory is "God's will." Watch:
Lance Wallnau also believes God is on Trump's side:
Court evangelical David Brody interviews Metaxas. Metaxas thinks Trump will win because "more and more Americans" believe the election is rigged. This is interview clarifies the nature of Metaxas's mission right now. He wants to instill enough doubt and fear in the minds and hearts of ordinary evangelicals so that they do something to stop Biden's inauguration. What will happen when the Senate certifies the vote of the Electoral College on January 6 and when Biden is inaugurated on January 20. Does that mean he was wrong about God's will? Will he call for an insurrection–a holy war of sorts?
Brody also interviewed Newt Gingrich. The former Speaker of the House believes the Democrats stole the election, but the legal team needs to do a better job:
In this tweet Brody makes it sound like he is either waiting for the rapture or a strong weather system:
Christmas is tomorrow, but David Barton is still fighting over the Thanksgiving. In this piece, he tries to argue that there are two Americas. One has its roots in Jamestown and slavery and the other has its roots in the Pilgrims and liberty. And, of course, he calls us to follow the example of the Pilgrims. (Of course he fails to note that much of the theology the Pilgrims brought to America influenced pro-slavery ideas in the 19th century). This reminds me of when Barton was on the Eric Metaxas show and said that both Jamestown and Plymouth were "Christian" colonies, but only Plymouth was "biblical."
Former Minnesota congressperson Michelle Bachmann will lead the Pat Robertson School of Government at Regent University. She is hoping to expand the university's "biblical worldview." Tony Perkins is very excited about it:
Jack Hibbs supports the president's decision to veto the stimulus package:
The last time we saw Jim Garlow he was hosting Alt-right leader Steve Bannon on his "election integrity" prayer call. Today he is on FB pushing this conspiracy theory and telling some of his court evangelical and political friends to "get this to the right people":
Went to vote today 12/21/2020 early voting and while standing in line; a white car parks across the street in front of Island's Library on Whitemarsh Island, GA in front of voting entrance. The car is not in a parking space and the driver had on the emergency blinking lights. They rushed to the voting area door and went inside. I took a picture of their car when I noticed it had a Florida tag. A few minutes they returned with a green plastic container. They opened their trunk and then went to the back seat of the car and removed bags that looked like empty suitcases and put them in the trunk. One lady grabbed a small bag that had writing on it saying "Secure the Vote". They packed the green plastic container, put it in the car and drove off. They could be legitimate but I was left wondering after I enlarged the picture of the container and it said, "Absentee ballots to be processed". Tell me if you are suspicious?
Robert Jeffress is on Fox News giving leadership advice, praising Trump for his leadership, and attacking Biden. He calls Trump "President Trump" and he calls Biden "Joe."
Franklin Graham praises Newt:
Finally, I am struck today by how the Twitter feeds of the court evangelicals are filled with tweets about Christmas miracles interspersed, almost seamlessly, with election fraud tweets. This is sad. Because these Christian men and women are enabling the worst president of the United States. This president's immorality and shamelessness make Andrew Johnson, James Buchanan, and Richard Nixon look like saints.