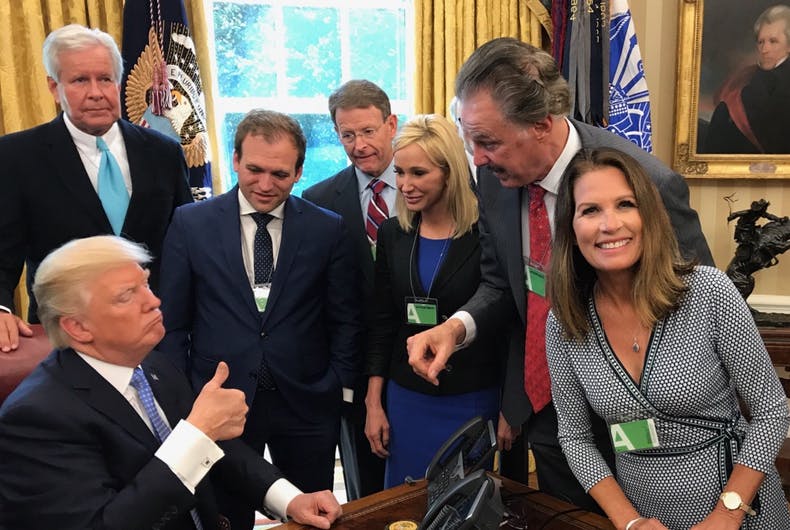 Yesterday Senate Majority Leader Mitch McConnell finally acknowledged that Joe Biden was the "President-elect of the United States of America. He also warned GOP senators to stop contesting the election.
Meanwhile, House Republican leader Kevin McCarthy has not said a word.
Trump continues to raise millions on his election fraud claims through his Trump Make America Great Again Committee. 75% of the money he raises can be used for his own political activity, including rallies, travel, and supporting other candidates. In other words, Trump is is building the infrastructure of a shadow presidency.
So what are the court evangelicals saying today?
The Liberty University Falkirk Center crowd is still fighting:
Interesting tweet from a Trump-supporting "think tank." Truth?:
So far the Falkirk Center has yet to acknowledge Joe Biden as President-elect.
Liberty University Falkirk Center fellow Jenna Ellis is not going down without a fight:
But she also seems to have been less than truthful about how things ended at a previous job.
Ellis also retweeted Trump. "Tremendous evidence":
She also retweeted Hershel Walker:
And of course she is quoting scripture:
Charlie Kirk criticized Mitch McConnell for congratulating Joe Biden:
In this tweet, Kirk claims to care about "unity & healing":
More on "congratulating" Joe Biden:
And in other court evangelical news:
Lance Wallnau believes Mitch McConnell is now part of the "deep state." He says that God is doing an "autopsy" on this election and if evangelicals keep praying we will all see that Trump won.
Court evangelical journalist David Brody interviewed Texas Attorney General Ken Paxton, the author of the recently dismissed Texas voter fraud lawsuit.
Jim Garlow is still holding "election integrity" prayer meetings.
Ralph Reed is rallying pastors in Georgia:
Tony Perkins is also focused on Georgia:
The people have spoken. The Electoral College voted. Who will be the first court evangelical to acknowledge publicly that Joe Biden is the next President of the United States?