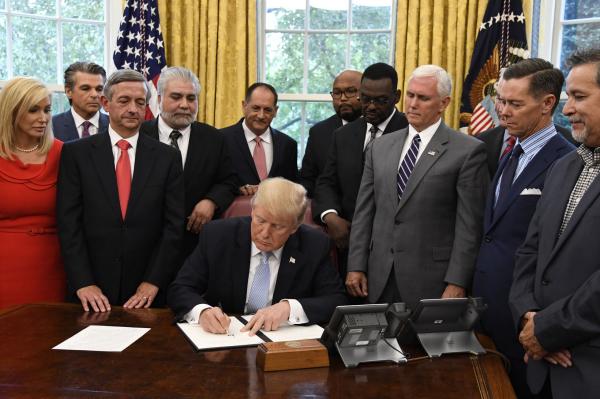 Yesterday COVID-19 cases in the United States topped the 15 million mark. One of those cases is Trump election fraud lawyer and court evangelical Jenna Ellis.
Joe Biden introduced his public health team. Donald Trump gave a COVID press conference, took credit for the COVID vaccine, and claimed victory over the virus. And then he claimed that Democrats stole the 2020 presidential election.
Trump is still fighting what he believes to be election fraud. Yesterday the Supreme Court refused to hear a last-minute Pennsylvania GOP request to overturn the commonwealth's election results. The Supreme Court rejected the request in one sentence: "The application for injunctive relief presented to Justice Alito and by him referred to the Court was denied." There was no dissent. This means that Alito, Thomas, Roberts, Gorsuch, Kavanaugh, and Coney Barrett all rejected the application. Just a reminder: Trump nominated Gorsuch, Kavanaugh, and Coney Barrett.
Today Donald Trump retweeted this:
I have no idea what this tweet means in light of yesterday's Supreme Court's decision.
So what are Trump's most loyal evangelical followers–the court evangelicals–saying:
Biden misspoke today and quickly correct himself. That is not good enough for Charlie Kirk, founder of Liberty University's Falkirk Center:
Charlie is willing to go down with the ship. He is going to build the rest of his career on the foundation of Trumpism:
Here is Ryan Helfenbein, the director of the Liberty University Falkirk Center:
The Founding Fathers said that if the people got too much liberty they would cease to sacrifice for the common good of the nation and the republic would collapse.
Court evangelical journalist David Brody interviewed GOP national spokesperson Liz Harrington on his program "Just the News."
Jim Garlow is still holding his "election integrity" prayer meetings.
Yesterday Eric Metaxas spent about 20 minutes talking about the online sale of his books. Then he moved into a segment on the upcoming Washington D.C. Jericho March on December 12. Pro-Trump evangelicals will march seven times around the U.S. Capitol Building and blow a shofar–just like the Israelites did with the city of Jericho in the Old Testament book of Joshua, chapter six. Metaxas believes that America experienced "every kind of possible fraud" in this election. He believes he is a modern-day Dietrich Bonhoeffer. He claims God will judge everyone who does not speak-up against election fraud.
Interesting tweet from Trump's spiritual adviser:
Paula retweeted Trump press secretary Kayleigh McEnany yesterday:
James Dobson is praying for a GOP win in Georgia:
Franklin Graham is tweeting an election fraud piece from the Alt-right Breitbart News. He believes "forces of evil" are at work: