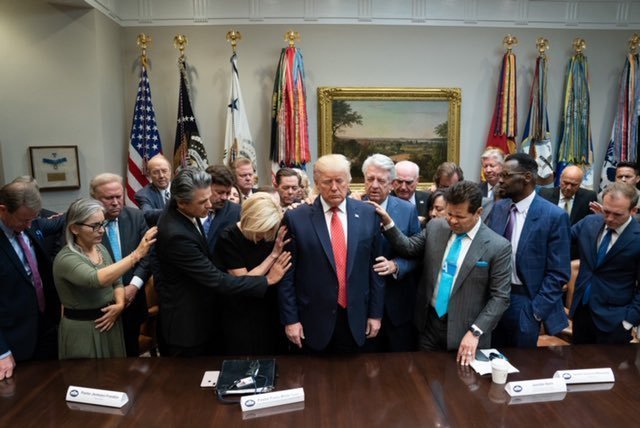 The election was seventeen days ago. A lot of Donald Trump's court evangelicals are moving on to other things. Ralph Reed, for example, is now focused on the upcoming Georgia senate run-offs. Robert Jeffress is upset about COVID-19 restrictions.
But others are doubling-down on voter fraud conspiracy theories.
Eric Metaxas, radio host and spokesperson for Liberty University's Falkirk Center, had Lance Wallnau on his show today to talk about "the prophetic." Wallnau, who was recently selling "King Cyrus coins" on the Jim Bakker Show, is hawking his new book. He claims that God told him that there would be problems with mail-in balloting and he reads a passage from his book to prove it. The book was published in October 2020 and Wallnau claims that God spoke to him about this in September 2020. Of course the narrative of possible election controversy due to mail-in balloting was all over the news for most of the summer of 2020. Anyone reading the news could have made such a "prophecy."
Metaxas believes that the "voter fraud" against Trump is "Satanic" and "wicked." He wants to "die fighting" against voter fraud. Then Metaxas compares his fight against voter fraud to the courage one needs to stop a heavily-armed man who is trying to rape or murder his child. Wallnau then re-ups on his prophecy that Trump will win this election. Metaxas agrees.
Watch:
In other court evangelical news:
Here is Liberty University Falkirk Center spokesperson Sebastian Gorka:
Liberty University's Falkirk Center spokesperson and Trump lawyer Jenna Ellis on Mitt Romney:
Liberty University Falkirk Center spokesperson Charlie Kirk wants more rallies. As I wrote earlier this week, we are seeing a new Lost Cause.
Lance Wallnau is still pushing the "Trump as King Cyrus" narrative:
Christians are not supposed to hate, but they hate the Clintons. Here is court evangelical journalist David Brody of the Christian Broadcasting Network:
Tony Perkins still believes the election has yet to be decided.
Jack Graham also believes the election has yet to be decided:
Conservative evangelicals and Catholics are holding a "Jericho marches" in capitol cities every day until the Electoral College votes in December. Pro-Trumpers will march seven times around the city and pray, and expect God to give Trump a victory in the same way He gave the Israelites a victory over the pagan city of Jericho. Will they blow horns?